Tonneau Cover Manufacturers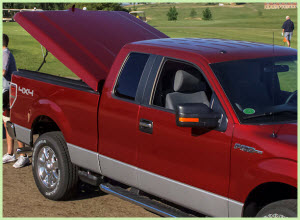 A.R.E. LSX Model Fiberglass Tonneau Cover is a popular choice among pickup truck owners.
Oh, my, my! There are more Tonneau Cover Manufacturers than Carter has liver pills. No wonder people get confused when they go out to buy one of these things! Let's simplify the job - here are some of the most popular manufacturers in North America along with a quick description of their product line. For more detailed company and product line info just click on the company name link. You'll also find a direct link to the manufacturer on each of these pages. The manufacturers website is a great place to start if you want info on accessories, parts, dealer locations, user guides, installation videos and usage tips.
In addition, the Miscellaneous Tonneau Cover Manufacturers page contains a list of some interesting tonneau cover manufacturers for which we have insufficient information to justify the creation a an entire page.

Protect Your Floor Mats and Truck Bed with Universal Absorbent Mat Protectors
Mud, water and other slushy gunky stuff commonly overflows your truck floor mats and gets trapped between your mats and the carpeting. Now you have mold and mildew with the resultant smells and other problems. Same thing goes for your truck bed if your have it carpeted. Moisture and mud sometimes penetrate the seal around your tonneau cover and wet the carpet. Moisture doesn't evaporate easily from inside the truck bed unless you intentionally leave the tonno open and air out the bed. Here comes the mold and mildew again. Universal absorbent car/truck floor mat protectors can help keep your floors and carpeting dry, reducing mold, mildew and dirt transfer to your shoes. This type of mat is easy to clean, so it'll also save you cleaning time and effort. 

---
Tonneau Cover Manufacturers
4Way Tonneau Covers
- 4Way Tonneau Cover truck bed cover

Advantage Truck Accessories
- TorzaTop, Hard Hat, Ironman and
  Sure-Fit truck bed covers

Advance Folding Cover LLC
- X5 Supra Tonneau

Agri-Cover Inc
- Access, Access Limited, Access Toolbox,
  Access Lorado, Access Literider,
  Access Vanish and Access TonnoSport
  truck bed covers

A.R.E. Accessories LLC
- LSX, LSII truck bed covers

ATC Truck Covers Inc
- ATC Classic, ATC Platinum and
  ATC Wrap truck bed covers

Back Country Accessories
- TekStyle truck bed cover

BAK Industries
- BAKFlip, TiltBAK, RollBAK truck bed covers

Century
- Evolution, Cargo Cover truck bed covers

Checkmate - G&T Truck Products
- Checkmate FX, Checkmate DX truck bed covers

CrafTecInc
- Soft Hatch truck bed covers

CYC Engineering's Armor Lid
- Armor Lid truck bed covers

DiamondBack Automotive Accessories
- Diamondback HD, SE, LT, X truck bed covers

Extang Corporation
- Revolution, Solid Fold, Express Tonno, Trifecta, Extang RT Tonno,
   Fulltilt, Classic Platinum, Black Max, Tuff Tonno truck bed covers

Fold-a-Cover
- LS Series, G4 Elite truck bed covers

Gaylords
- TL, X-2000, E.L. X-2000, Speedsturr Wing and
  Butterfly truck bed covers

Jason Industries
- Dimension, Rage and Hugger truck bed covers

Lazer Lite Covers
- LT Sport truck bed cover



Leer
- 800, 700, 550, 550R truck bed covers
Line-X 
- Line-X truck bed covers

Lund 
- Genesis Hinged, Genesis Roll-Up, Genesis Seal & Peel,
  Genesis Snap and Genesis Tri-Fold truck bed covers

Pace Edwards 
- Bedlocker Electric, Full-Metal JackRabbit, JackRabbit,
  Roll-Top-Cover,Utility Bedlocker truck bed covers
- Truck Bed Cover Tonno

Ranch Fiberglass
- Legacy, SportWrap Lids

Retrax
- Retrax, PowerTrax, Silver truck bed covers

Roll-n-Lock Corporation
- M-Series, E-Series truck bed covers

Rugged Liner
- Folding Cover, Snap Cover truck bed covers

Thacker Manufacturing Inc
- Herculoc truck bed cover

TonnoPro
- Tri-Folding truck bed cover

TracRac Inc
- TracTonneau roll-up truck bed cover

Trek Industries Inc
- Alumi-Tech truck bed cover

Truck Covers USA
- American Roll Cover, American Work Cover

Truxedo Inc
- Lo Pro QT, Edge, TruxPort, Truxedo Deuce,
  Tonneau Trax, Truxedo Plus, Original Tonno

Undercover
- Classic, SE, SE Smooth truck bed covers

Vertically Driven Products
- Tonneau Covers for Jeep products
Note: You must have an RSS Reader installed and configured before clicking on the Orange RSS Button. An RSS Reader allows automatic download of changes/updates made to this website without having to visit this page. Saves time, effort and keeps you up to date.


Click Orange RSS Button to Subscribe to Site Updates