Vertically Driven Products
Jeep Tonneau Covers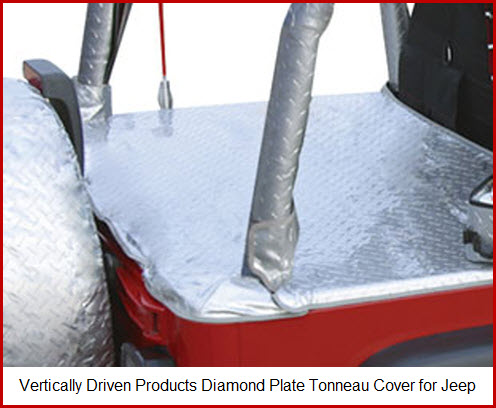 Quick Info for Vertically Driven
Products Tonneau Cover

Cover Type 1 : Soft Tonneau Covers, Soft Truck Bed Cover
Cover Type 2 : PVC/Nylon Truck Bed Cover, PVC/Nylon Tonneau Cover
Cover Type 3 : Snap-on Truck Bed Cover, Snap-on Tonneau Cover
Cover Type 4 : Custom Truck Bed Covers, Jeep Tonneau Covers

Manufacturer : Vertically Driven Products
Cover Weight :
Approx Price : $125
Tonneau Cover Parts and Warranty : 562-438-5112




Vertically Driven Products has been manufacturing Jeep accessories under the VDP label since 2002.
Tip: Protect the bed of your Jeep with a set of universal absorbent mats. They'll reduce moisture, dirt and mold/mildew smells in the truck bed area.
 For many years prior to 2002 VDP made Jeep accessories for branding by other companies. So you've got a company with a lot of Jeep experience and love here. VDP makes one basic soft tonneau cover for the various Jeep models. It's not full of a lot of features, but is relatively simple to install and is inexpensive. Here's some detail on VDP's soft tonneau cover offering for Jeep. Also check out the rest of the VDP product line.

VDP Jeep Tonneau Cover Features
- Made from heavy
  duty nylon fabric
  with UV inhibitor
- Covers the rear seat
  and cargo areas
- Reduces wind drag
  and improves gas
  mileage
- Keeps prying eyes
  from checking out
  your cargo area
- Helps protect your
  Jeep from the
  weather
- Access the bed and
  use tailgate with
  tonno in place
- Snap on installation after you replace factory screws with snaps
- Custom fit for your Jeep, CJ7, Wrangler
- 1 Year Warranty


VDP Jeep Tonneau Covers
- Many Jeep Wranglers 1980's, 1990's

Note: You must have an RSS Reader installed and configured before clicking on the Orange RSS Button. An RSS Reader allows automatic download of changes/updates made to this website without having to visit this page. Saves time, effort and keeps you up to date.


Click Orange RSS Button to Subscribe to Site Updates