Rubber Car Floor Mats

Rubber Car Floor Mats are typically molded/extruded from natural virgin rubber or a semi-flexible rubber like material like a thermoplastic polymer. Raised protective borders are sometimes used to contain water and dirt. So when I talk about rubber mats I mean mats made from real rubber or other rubber like materials.
The surface geometry of a rubber mat varies by manufacturer. WeatherTech uses sculpted channels on their All Weather Floor Mats to keep all the nasty stuff off you and your vehicle, while the design used on the Lloyd Mats Rubber Tite uses a shallow well configuration to protect you and vehicle. These different surface designs are used to direct water and dirt away from your shoes and the gas/brake pedals. Heel pads are available on some models to prevent wear through and drain water away from the gas/brake pedals. Anti-slip ridges or nib backing are used on the bottom of the mat to prevent slippage.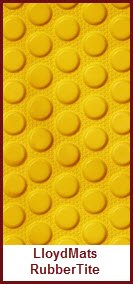 ---
Most rubber car mats are UV fade and stain resistant. Some even have a non-stick finish to allow easy cleaning and maintenance. The rubber or rubber like compounds these mats are from are engineered to remain flexible in sub-freezing temperatures and resist attack by chemicals, dirt, gas, wear & tear, and well you get the idea. They are designed to last!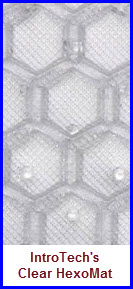 Typically rubber car mats are available in Black, Grey and Tan but the Hexomat line from Intro-Tech is a Clear Rubber Car Floor Mat.  Similar products to the ones described above are available from other manufacturers (see our Main Car Floor Mats Page). Cleanup for this type of vehicle mat  is quick with a damp cloth or hose and usually requires removal of the mat from the vehicle. For mare information on the cleaning of your mats see our Clean Car Mats section. It's full of cleaning ideas for your vehicle floor mats, both rubber and carpeted.

Getting your car mat to fit just right is one of the most important things you can do to prevent water and dirt from escaping the confines of the mat and invading your carpet. Both universal and custom fit rubber car floor mats are available. Most universal fit mats have edges which may be trimmed to improve the fit. One manufacturer even makes door-to-door, 1 piece rubber car mats with patterns for thousands of car models. The better the fit, the more protection there is for the vehicles carpeting and the less dirt, snow, etc. you get on your feet. So be aware of what you order for your car, it may be the difference between having a moldy smelling carpet and a sweet smelling vehicle. Or nice dry shoes and socks versus wet and smelly!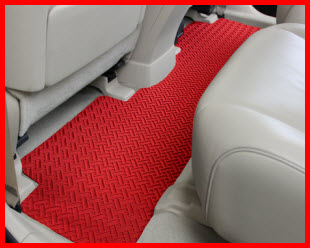 Lloyd Mats One Piece Rear Floor Mat to keep your feet and carpeting dry and clean. Nice red color, huh?
  Do you want to trim a universal fit mat or buy a custom fit mat to begin with? Usually the price will help you decide. Universal fit mats are typically less expensive while still providing excellent material quality and coverage.
Rubber car floor mats are great for kids and wet/muddy/dirty conditions but don't effectively trap dust, so they are not the best mat for use in very dry climates. Since they trap water and mud on or close to the surface of the mat you have to keep these mats clean and drained or you risk a flood of mud or liquid getting between the mats and your carpet. Once your carpet is wet the rubber mat prevents it from drying out and promotes the growth of mold and mildews.

A Universal Absorbent Car Floor Mat may be used in this case to contain and manage flood conditions and prevent mold, rot and mildew smells.


Sometimes the hard part of making a decision about a new set of floor mats is in not knowing whether the new mats will fit or look nice or live up to your expectations. Are rubber car floor mats better than carpeted mats? What about the smells associated with rubber mats - especially when they are new? Lots of questions that need answers. So for most of the products on this page you'll be able to find an online reseller on our Logo Floor Mat Buyers Guide. Check out the vendors and find the mats you're interested in. Almost all the vendors now have online reviews on a product by product basis. And, if you find sites with exceptionally great reviews please share the info with me and other readers of this site by filling out a contact sheet with the appropriate info.
Keep Your Carpeting Dry While Using
Rubber Car/Truck Floor Mats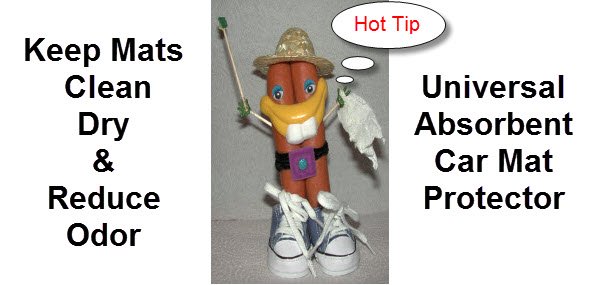 What's in Rubber Car Floor Mats ???

The rubber car floor mats you put in your car or truck can be made of several different materials. Some the more common materials are natural rubber, synthetic rubber, PVC and nitrile butadiene rubber(NBR). Natural Rubber is an elastomer that is made from the milky sap of the Para rubber tree or, if you're in a pinch, from the dandelion.

Latex, a natural polymer of isoprene, is the good stuff that's extracted from the sap to make rubber bands, car and truck mats and all those neat rubber things we use everyday. Natural rubber is soft, flexible and resistant to cold, moisture and punctures. But beware, ozone breaks down rubber and turpentine and naphtha are common solvents of rubber. So clean your car rubber mats with mild soap and water and forget about using paint thinner, turpentine, alcohol and other smelly solvents.
Synthetic Rubber is putting all the rubber trees out of business! It's made from polymerizing industrially produced monomers like isoprene, butadiene, isobutylene and chloroprene. All these monomers can be mixed in different proportions and with different additives to give a wider range of properties than natural rubber. So, your rubber car floor mats are probably made with synthetic rubber to enhance their resistance to chemicals and improve their cold weather performance. But like its natural rubber cousin, you shouldn't use solvents like turpentine, alcohol, etc to clean synthetic rubber products.
Nitrile Butadiene Rubber or NBR is a form of synthetic rubber. It's made from acrylonitrile and butadiene. It's more resistant to chemicals like oil and gas than regular synthetic rubbers and so its popular for use as rubber car mats. It's also more puncture resistant than normal rubbers, so if your James Bond knife-in-shoe malfunctions there is less chance you'll puncture your truck or car floor mat. Just like other synthetic rubbers you don't want turpentine or other aromatic hydrocarbons to come in contact with your NBR car mats.
Polinyl Chloride or PVC is a thermoplastic polymer. It's a really popular plastic that's used in contruction, to insulate electrical wire, to make water pipes, hoses and toys and all kinds of other consumer products like floor mats for your car, truck, van or suv. It's cheap and durable and more resistant to chemicals than natural or synthetic rubbers. They make a lot of modern day clothes from this stuff too, but I'd be worried about all the nasty additives they put in this stuff leaching out on me. I'd worry about the same thing if I used a PVC car mat. But if you need a tough mat for your car or truck and are on a budget, maybe a PVC car mat is for you.

Note: You must have an RSS Reader installed and configured before clicking on the Orange RSS Button. An RSS Reader allows automatic download of changes/updates made to this website without having to visit this page. Saves time, effort and keeps you up to date.


Click Orange RSS Button to Subscribe to Site Updates