Universal Car and Truck Floor Mats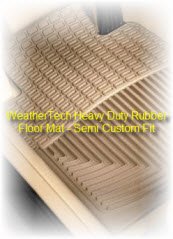 Yes, I know, OK!!! Universal car and truck floor mats only cost a fraction of what custom car or truck mats do! And you can get Universal Logo Mats with your favorite College, Military Branch, Comic Hero, Sports Team and all other kinds of logos for unbelievably good prices. A Hello Kitty,
Tinkerbell, Superman, Harley Davidson or Mossy Oak themed universal fit car mat may be the best deal for you. But are you really getting the best deal when you buy universal car and truck floor mats or even a semi-custom fit mat(A semi-custom fit is a mat that almost fits your vehicle floor pan and can be trimmed to fit even better). In many cases a universal car or truck floor mat is constructed of lighter material than a custom mat and may not quite fit the shape of your vehicles floor pan. You get a better fit and heavier construction with a semi-custom fit mat like the popular WeatherTech All Weather Floor Mat made from a heavy duty rubber like material or the semi-custom rubberized thermoplastic Husky Floor Mat from Husky Liners.

But if you trim any semi-custom fit mat you might have the same problem I did. I'm terrible cutting straight edges with scissors and my mats edges looked like one of my kindergarten art projects when I got done.

Sometimes the hard part of making a decision about a new set of floor mats is in not knowing whether the new mats will fit or look nice or live up to your expectations, i.e., do you want semi-custom car floor mats like the Weathertech or Husky, or, do you want some less expensive universal fit mats like I talk about below?. So to help you out here's where you can go to get a bunch of vendors who have reviews for many of the floor mats on this page. Just navigate to the vendor and car mat you are interested in and read the reviews. It usually helps me in my decision making process to see what others like or dislike about the product I'm interested in - I hope it helps you too.
Why Buy Universal Car and Truck Floor Mats?
So why buy universal car and truck floor mats? First, is price and availability. Kraco Floor Mats is one of the larger USA manufacturers of universal carpeted and rubber floor mats for cars and trucks. They have a great line of light to medium duty rubber and carpeted mats that won't make you crack open the piggybank and can be purchased through both large and small retailers. A link to the Kraco website, where you can find a list of Kraco retailers is on the Kraco Floor Mats link above. The AVM Floor Mat Series from WeatherTech is designed from the ground up to be trimmed to fit your vehicles floor. It's made from TPE and looks and feels like rubber. This mat is very sturdy and stays pliable even in the coldest weather.

Secondly, you'll find that the best logo mats are  Universal Logo Mats for Cars and Trucks from companies like FanMats, Specialty Products Group, Plasticolor and Premier. They all have a great selection of car and truck floor mats with professional sports(like ncaa, nhl, nfl, mlbb, nascar), collegiate, cat, dog, superheroes like Batman and Superman, military, plant and animal, western, religious, racing, GMC, Chevy, Ford, Harley, floral car mats, Ducks Unlimited, Mossy Oak and umpteen other logos.

Kraco Heavy Duty Rubber Universal Car and Truck Floor Mats are an economically wise choice when inclement weather is encountered.
Thirdly, you gotta match the car or truck floor mat you buy with the primary function of your vehicle. If you're in the asphalt business it's not fiscally responsible or cool to put custom sheepskin car mats in your tarry dump truck (the sheep really hate the sticky tar on your boots - it pulls their wool!). On the other hand, once you get home, get cleaned up and are wearing your Allen Edmond(still made in USA leather shoes) loafers whilst being driven to your favorite fast food joint in your Bentley, it's just not right to have to step on semi-custom fit Highland rubber floor mats that would fit just right in your dirty truck. So the lesson is your truck just wouldn't feel right about itself if you made it wear sheepskin and your Bentley doesn't like the look and feel of rubber mats!!!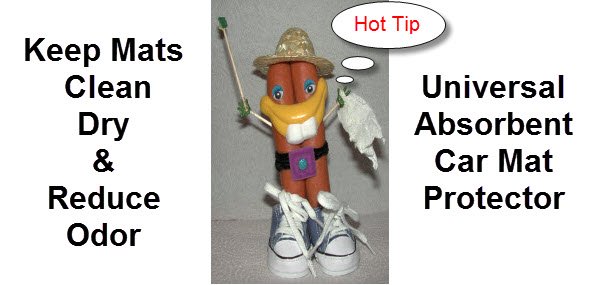 Thus the moral of the story is - give unto the tarry dump truck a less expensive rubber mat, and unto the Lexus or Caddy or BMW a luxurious sheepskin or custom carpeted mat with your initials embroidered on it.

But in the end you have to decide whether you want a perfect fitting plush cushy mat for your vehicle, or a really cool colorful creative and crazy mat to make your ride look like a million, or just a plain simple mat to keep the interior of your car or truck clean and dry? It's up to you. Go craaaaaaazzzy!!!
Note: You must have an RSS Reader installed and configured before clicking on the Orange RSS Button. An RSS Reader allows automatic download of changes/updates made to this website without having to visit this page. Saves time, effort and keeps you up to date.


Click Orange RSS Button to Subscribe to Site Updates