Universal Logo Mats

Uh, oh !!! Here I am again talking about Universal Logo Mats - my favorite kind of car and truck mat! I mean, what better way to tell your passengers who you are and what you're all about, than a logo floor mat for your car, truck, SUV or big rig.

 So do you want to brag about your favorite college, sports team, comic character, military branch, outdoor activity or whatever? Here's where you can start to get an idea of what's in store for you from such manufacturers and distributors of universal logo mats as Plasticolor, Signature Products Group (SPG), FanMats, Kraco and Premier Global Accessories.
To begin with the reason I picked these 5 manufacturers / distributors is because of the selection of colors, designs, motifs and pricing that fits almost any need and budget. Specialty Products Group, Plasticolor, FanMats, Kraco and Premier(Global Accessories Inc) all provide a diverse product line of awesome, universal fit logo mats. Each of the companies takes a slightly different approach to satisfying your need for personalized car and truck mats, so I'll give you some info on each of them. Wow, I almost forgot - if you need to know where to buy one of these mats, visit the Logo Mats Buyers Guide for cars and trucks I put together just for you! You'll find where to go for a good selection of logos, characters, symbols and all kinds of decorative ideas for your car from some of the top retailers on the internet and in the real world.
Plasticolor Inc.
Universal Logo Mats

Plasticolor Inc. has been around for about 40 years. All that time they've been making colorful logo mats for your floor and other products like steering wheel covers and spare tire covers to adorn and beautify your vehicle.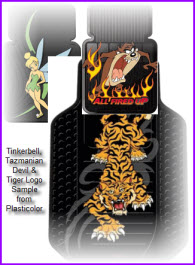 Most of Plasticolor's car and truck mats are made from a rubberized vinyl(or vinylized rubber) material that's flexible and durable. A small segment of the Plasticolor product line is carpeted and Plasticolor even makes a Bug series of mats that are custom fit. Anyway, you can wash any of these babies off with soap and water and not have to worry that the molded in color logos will peel or fade. Plasticolor puts rubber nibs on the back of all their mats to prevent slippage - at least as far as I know(but what the heck do I know?)! Most of these mats are universal fit, but Plasticolor makes a few which are trimmable to better fit your vehicles floor pan. Plasticolor's motifs and designs include (1) Vehicle motifs like Chevy, Ford, Dodge, Jeep, John Deere, Nascar and Harley, (2) Cartoon characters like Betty Boop, Tazmanian Devil, Tweety Bird, Yosemite Sam, Supergirl, Superman, Hello Kitty, Spongebob, Tinkerbell, Pooh and Mickey Mouse, (3) Logos like Happy Face, Flames, Palm Trees, Flip Flops, Cowgirl and Cowboy, Armed Forces and a bunch more.


FanMats Logo Mats

---
FanMats sells a heck of a lot of logo floor mats through their distributor network for a really good reason. It's because they have licensed an incredible array of Colleges, Professional Sports Teams, Vehicle Manufacturers and US Military Logos to be beautifully reproduced on universal floor mats for your car, truck, van, SUV or big rig.
Brilliant move on their part, eh? FanMats, owned by Sports Licensing Solutions makes all their mats down in Suwanee, Georgia. They bring them to you through kiosks at your local mall, college bookstores, big retailers and online. The mats are made from vinyl, vinyl/carpet or carpet backed with vinyl with a wide variety of your favorite logos available for each of the types.

TIP : Plasticolor, SPG, FanMats, Kraco and Premier Global all provide beautiful, colorful floor mats for your car or truck. To preserve the beauty and newness of these mats it may be beneficial to use universal absorbent mats that soak up excess liquids and gunk. Any of the vinyl mats will retain water and mud on the surface of the mat (which can get on your shoes) and trap moisture between the mat and the carpeting resulting in mildew smells and other bad stuff. The carpeted mats will absorb some of the surface liquids but still trap water between the mat and carpeting. The universal absorbent mat helps resolve these problems and as a bonus they are much easier to clean than a normal mat. Gator clips may be used to secure these protective mats to your existing floor mats to prevent slippage and keep them positioned where they'll do the most good.
Kraco Universal Logo Mats
Kraco has been manufacturing automotive accessories in the USA since the 1950's. Today the company manufactures and/or distributes car mats, seat covers, sunshades, rooftop cargo carriers and a bunch of other stuff. If you need a major accessory for your ride, chances are Kraco has it.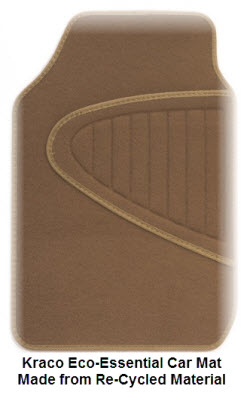 Kraco imports and distributes a standardized line of car and truck mats made from rubber, carpet, rubber/carpet and recycled materials.  The mats are all universal fit. You pick the quality of the mat you want. Typically there is a good quality mat at an extremely good price. If you need an upgrade choose a heavier rubber or plusher carpet mat. If you need to satisfy the little environmentalist angel that sits on your shoulder and says "Be Green - Don't be Mean to the Environment", you can buy a Kraco Eco-Esential Mat. Don't worry, that eco-friendly mat is just as tough and useful as its' fellow rubber and carpet mats.
These mats clean up with gentle soap and water. You can find them on-line and at retailers like SAMS, Walmart and Target. I personally have a 4 piece set of Kraco Rubber Mats for both my cars that I use as a backup for the OEM mats in the winter.

---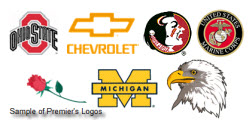 Premier
Global Accessories
Covercraft
Universal Logo Mats
---
Premier - Global Accessories Logo Car Mats are manufactured and distributed by Global Accessories Inc. Premier has a line of both custom and universal fit logo floor mats with a selection of embroidered designs, lettering and logos that challenges, but is complementary to both Plasticolor and Fanmats. 

The universal logo mats are made from a thick, durable, automotive grade, nylon pile carpeting with a nibbed backing to prevent mat slippage. They are washable and come in two colors - Smoke and Beige. To these two basic colors of carpeting you add a logo from Premier - Global Accessories large collection.
The really cool thing about Premier logo mats is that they embroider all the logos and designs into the mats. You gotta have a pretty fancy sewing machine to embroider a dragonfly or glow in the dark skull into a car mat! So check out the kind of logos and designs Premier embroiders on their mats. They've got (1) Sports Logos - like baseballs, flaming basketballs, golf balls, surfboards, tennis rackets, (2) Western Logos - like bulls, horses, cowboys, Dreamcatcher, (3) Plant and Animal Logos - like 4 leaf clover, bulldogs, spiders, flowers, butterflies, turtles, (4) Miscellaneous Logos - like flags, religious, NRA, peace, hearts, a devil girl and more and more. You just gotta see Premier Global Accessories Giant Logo Selection to believe it. But to check out the logo selection you have to go through the Design Your Logo Mat App at Premier Global Accessories.
And, to all you gazillionaires out there, you can also get a good selection of logos on a more luxurious car and truck mat at a significantly higher price if you want. Just check out my Custom Car Mats page to get you started on your way. Happy Hunting!


Note: You must have an RSS Reader installed and configured before clicking on the Orange RSS Button. An RSS Reader allows automatic download of changes/updates made to this website without having to visit this page. Saves time, effort and keeps you up to date.


Click Orange RSS Button to Subscribe to Site Updates