GlobalAccessories Car Mats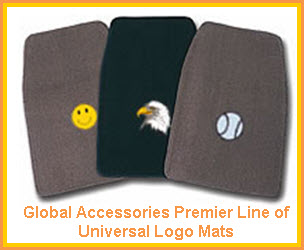 Global Accessories Car Mats  or Premier Logo Mats as they are sometimes referred to are manufactured by Covercraft Industries, Inc. Covercraft has been around since 1965 when it was started as a two man shop in Southern California. So for 50 or so years Covercraft has been making interior and exterior protection products for car and other vehicle enthusiasts.

Bob Lichtmann started the company in 1965 in Southern California making custom patterned car covers. The company is the largest manufacturer of custom covers today and has a library of over 80,000 patterns so your car or vehicle gets a perfect fitting cover.

But that's not all that Covercraft makes today at plants in Oklahoma, Texas, Mexico and Australia. Covercrafts' automotive accessories product line includes seat protectors, vehicle bras, dash covers, tailgate nets, tire covers, windshield screens and some dog/cat travel items. The company is headquartered in Pauls Valley, Oklahoma and has plants in the USA, Australia and Mexico where it manufactures the very colorful Premier Global Accessories Car Mats. The company acquired many of Global Accessories product lines, including he Premier Floor Mats line in their 2009 acquisition of Global Accessories. Ok, enough business stuff. Now on to the info you need on Global Accessories Car Mats.
Global Accessories Car Mats - Premier Line
Global Accessories Car Mats Premier Line is just the right way to do Logo Floor Mats. The product line actually consists of two styles; a universal fit and a custom fit line of car floor mats.

Keep Your Mats and Carpeting Clean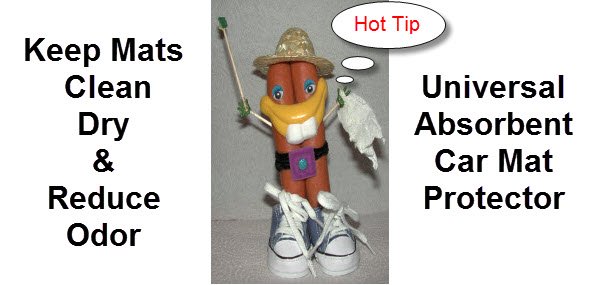 Universal Fit (no longer available)
The universal fit, two piece mat sets from Premier - Global Accessories comes with or without a logo in a basic beige or smoke carpet color. These mats fit most cars, pickup trucks, minivans and SUVs. You can pick the logo you want from a giant selection of logos. You can also configure your choice monogram (20 characters max). 
The beige or smoke carpeting made from thick, durable, automotive grade, nylon carpet provides a really nice background for the logos while a nibbed backing prevents the mats from slipping on your vehicles floor.
Here's  some additional features for these universal fit mats.
- thick, durable nylon pile automotive carpet

- heavy vinyl backing

- nibbed on back to prevent mat slippage

- personalize with logos and monograms

- wash with mild soap and water

---
Custom Fit (no longer available)
The second style of Global Accessories Car Mats is the Premier Custom Cut Floor Mats design. These car floor mats are custom patterned for a perfect fit. You can get a two piece front set, a four piece front and rear seat set, 4 and 5 piece sets for minivans and SUVs, cargo mats and all kinds of combinations just to fit your specific make and model vehicle.

And you can get your custom fit mats personalized with embroidered initials or names (20 characters max), and any of the colorful logos you can see when you go visit the Global Accessories website and checkout all the artwork they'll custom embroider/sew on your mats. Of course these car mats have a bunch more features. Here's a few to think about.

- stitched edges to prevent
  unraveling
- thick, durable nylon pile
  automotive carpet
- heavy rubber backing
- nibbed on back to prevent
  mat slippage
- 11 colors to pick from
- wash with mild soap
  and water
- 90 day guarantee

Logo Themes
- Bicycling
- Baseball, basketball
- Billiards, bowling
- Boxing, cheerleader
- Football, golf, hockey
- Soccer, tennis
- Surfing, flags
- Pirate flags, POW-MIA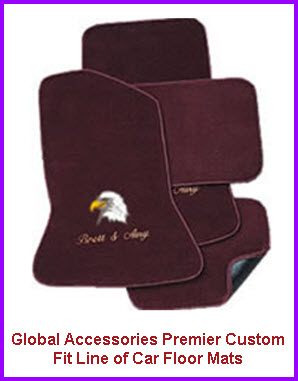 - Bandits, barrel racer, bucking horse
- Bull riding, cowboy, cowgirl, feathers
- Dreamcatcher, horses, horseshoes, rodeo
- Western boots, saddles, angels, 4 leaf clover
- Bear claw, black lab, black widow, bulldog
- Bumble bee, butterfly, cactus, caterpillar
- Cherries, deer, dolphin, dragon, dragonfly
- Eagle, elk, flowers, gecko, hummingbird
- Island, lady bug, frogs, panda, panther
- Pegasus, pink flamingos, rabbit, rooster
- Roses, turtles, cats, wolf, zodiac signs
- 8 ball, aliens, anchor, bio hazard, devil girl
- Flaming skull, flip flops, hearts, kanji chars
- Princess, rainbow, ribbons, scuba, skulls
- Sun, moon, truck girl, yin & yang
- Lots more

Note: You must have an RSS Reader installed and configured before clicking on the Orange RSS Button. An RSS Reader allows automatic download of changes/updates made to this website without having to visit this page. Saves time, effort and keeps you up to date.


Click Orange RSS Button to Subscribe to Site Updates