Clean Car Mats and Truck Mats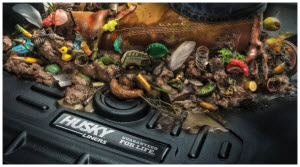 Husky Liner Doing Its Job
Clean car mats and truck mats are but one goal in the truck and car detailing endeavor. A lot of nasty dirt, mold and gunk can hide under our vehicle's floor mats. Water and other clear liquids are almost invisible on the surface of our mats and carpeting until we splash around and get our feet wet. And while we spend a lot of time washing, waxing and polishing to get our trucks and cars clean on the outside we still don't place enough emphasis on cleaning the interior parts of our vehicles, like the mats and carpeting.
So should we be surprised when we jump in our shiny ride and are overcome by mold, mildew and other other gross smells? Should we be surprised when our feet land in a small lake of water or mud that has taken up residence on the top of our rubber floor mats? What about dust, cigarette smells, oily stains, gunk, gooooo and all that sticky stuff that finds its way to the floor? ... Well you get the idea!!!
So I've put together some cleaning tips and ideas to assist all of us in cleaning and detailing our vehicles interior, floor mats and carpeting. I've also described some products I find useful in eliminating stubborn dirt, cigarette and cigar smells, bubble gum, salt stains, etc. so you end up with, what else but, Clean Car Mats.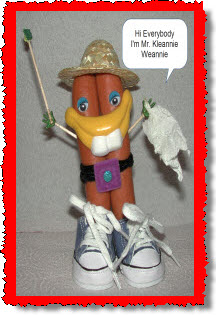 Before we start I want to introduce you to Mr. Kleannie Weannie. Whenever you see Mr. Kleannie Weannie you can click on him to get a tip on a product, some extra info to help you get the job done, where to buy the stuff we're talking about or just some general hint or technique specific to the info you are reading. Please, don't click on Mr. Kleannie Weannie toooo much or he might break! Hi Mr. Kleannie Weannie !!! Mr. Kleannie Weannie will be here soon boys and girls - HANG ON !!!! Ohhhh noooo.... Here he is .....

Clean Car Mats and Truck Mats
Check this page out for useful info and products to keep clean car mats in your car or truck.

Clean Car and Truck Carpeting : Here's some general tips and techniques for how to clean car carpet. If you've got gum, oil or other gross gunky substance in your car or truck carpeting check out the appropriate link below. 


 Eliminate Cigarette, Cigar and Nasty Smells : Got a nasty smell in your car or truck. Chances are the floor mats or carpeting need some cleaning. Here's some help.

Car Rust Stains, Salt, Oil and Other Stain Removal : Get rid of stains on your car or truck floor mats and carpeting with some of these detailing ideas for car and truck.

Cigarette Burn Holes, Bubblegum, Tar and Other Stickies : Oh, No !!! Not the Stickies !!! When road tar and the kids bubblegum, pop and car snacks have you on the run, check out these tips to help regain your sanity. Of course, it's not just the kids fault your car is a mess. What about your friend, the cig addict, who uses your car carpeting as an ashtray?

Mold and Mildew - Clean, Remove, Prevent : Smelly stuff - Mold and Mildew. Especially when it's growing in your car or truck. Mold and mildew in your car is hard to get rid of, but you can start here with some removal tips and preventative measures.

Leather Floor Mats and Seats - Clean and Protect : So you're a rich banker everyone despises and your ride has an all leather interior, leather floor mats, leather driving gloves and a leather driving hat. If your mother won't clean them for you - here's some tips on leather care you'll need to know.

Note: You must have an RSS Reader installed and configured before clicking on the Orange RSS Button. An RSS Reader allows automatic download of changes/updates made to this website without having to visit this page. Saves time, effort and keeps you up to date.


Click Orange RSS Button to Subscribe to Site Updates