Exotic Car Mats

A lot of people have a love affair with their car. And what better to enhance that relationship than with a new set of Exotic Car Mats. Whether your car is new or old, just dependable transportation or a luxury vehicle, a new set of car mats that add color, whimsy, excitement, an unusual feature or sophistication can improve your feelings about it and add it to the realm of the exotic. So here's our nominations, in alphabetical order by manufacturer, for the most Exotic Car Mats on the market today.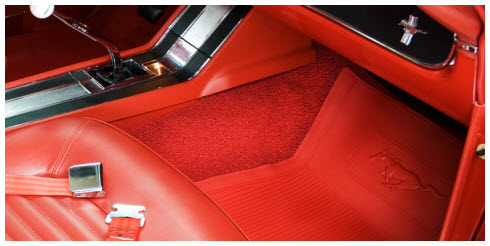 ACC Red Mustang Carpeting and Matching Car Mat with Ford Mustang Logo.
---
Note: This page updates our original Exotic Mats page which still contains relevant information and good pics.
Exotic Car Mats by Manufacturer

Auto Custom Carpets
Auto Custom Carpets (ACC) manufactures a line of high quality car floor mats that perfectly matches the OEM styles and colors of cars dating back into the 1950's. and they've been doing it since 1977. You don't have to be satisfied with a car mat made from carpeting that doesn't match the original carpeting that came with your vehicle. ACC uses the same carpeting to make their floor mats as they do to replace the carpeting to OEM specs in your vehicle. Of course this makes ACC a favorite for those in the car restoration business and uniquely identifies them within the replacement car floor mat business
Features
- Over 23,000 custom die cut or molded styles
- Over 230 logos available for all major vehicles
- Match over 230 original OEM colors
- Match all 8 original OEM carpet materials
- Original style heel pads
- Heavy duty, perfect fit truck mats
- Corvette and other specialty mats
- Heat molded
- 36 oz. jute backing
- Two, three and four piece sets
- Vinyl or Serge binding
- Mix and match binding and carpet colors
- Matching carpeted cargo mats available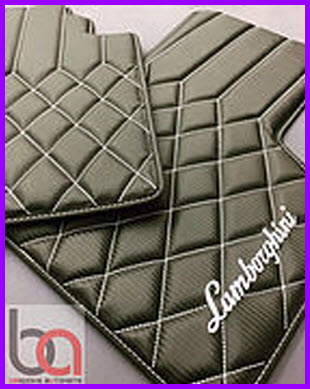 Bespoke Auto Mats Hybrid Leather/PVC Style Car Floor Mat
Bespoke Auto Mats
Oh Yea!!! Leather Car Mats!!! That's what Bespoke Auto Mats makes. Of course they also have a line of carpeted car mats if you wish to be not exotic. Bespoke actually uses a hybrid material made from leather and PVC (polyvinylchloride). This make for an extremely durable and well behaved mat that is comfortable in anything from a Range Rover to a Lamborghini. Simple classic diamond effect or smooth panel designs, custom logos and border designs, and, an array of unusual colors results in what must be called an exotic solution to your car mat problem. 

---
Designer Mat International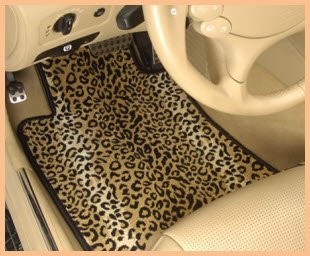 Designer Mat International Safari AutoMat in Leopard Design.
Designer Mat International (DMI) assumed the production and distribution of a significant portion of the IntroTech car floor mat product line in 2015.  The Safari AutoMat and Oriental AutoMat products are exquisite, colorful and exotic in design. The Coco AutoMat and Sisal AutoMat are constructed from exotic materials. These 4 products represent almost half the DMI car floor mat product line. So you can see DMI is a great place to look for car mats that will enhance the interior appearance of your vehicle. And, since you know you're going to need one of these mats you can just skip all the hoopla and go straight to our Floor Mat Buyers Guide, where you will find many on-line vendors that sell these exotic car mats.
Common Features
- over 10,000 custom fit patterns guarantees a perfect fit for your car
- vinyl heel pads to prevent mat from wearing through
- manufactured from high quality carpet and other materials
- vibrant colors and designs
- lifetime warranty
FanMats
FanMats has been around since 1998 making both carpeted and vinyl car floor mats that are so cool they have to be exotic. Your favorite collegiate, NFL, MLB, NBA or Military Logo will be painstakingly and with great precision and care placed on a vinyl or carpeted car floor mat which can then be used to re-class your vehicle into the realm of the exotic. FanMats also has a most ususal class of car mat - the House Divided Mat. Say you attended the Ohio State University and your better half attended University of Michigan. FanMats will make just for the two of you a mat with logos from both Universities, or not! Maybe you each want to have your own separate mat just in case the future of the relationship becomes a little sketchy. In any case check out FanMats.
G.G. Bailey
G.G. Bailey slides into the arena of exotic car mats in two different areas. First, they'll let you custom design the look of your car mats. Using a vibrant and unusual palette of colors, you control the color of the carpeting, the edging, the serging, the heelpad and the embroidery. Then you still get to pick a logo! Quite an artistic experience that can lead to a most unusual and exotic looking set of car floor mats. Both designs use a woven, 70 ounce carpet that's luxurious and durable. Anti slip backing and G.G. Baileys patented mat anchoring system make sure these mats stay where you want them on the car floor.

GG Bailey Custom Mat with Pink Carpet, Pink Polka Dot Binding, Purple Heelpad & Palm Tree Logo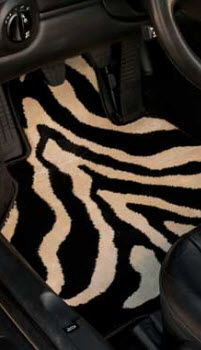 G.G. Bailey Zebra Design Car Mat
---
G.G. Bailey is also into the exotic look in car mats with their Oriental Car Couture and Animal Car Couture designs. The Animal Couture Design is available in Leopard or Zebra, while the Oriental Car Couture Design comes in a black or red version.

---
Inpelle
Inpelle Leather has been hand crafting custom leather car mats to your exacting specifications in Italy since 2009. Before that several of the employees were involved in making Italian leather for the seat covers in certain BMW, Porsche and Audi automobiles. So it was just natural to move into the realm of exotic car floor mats.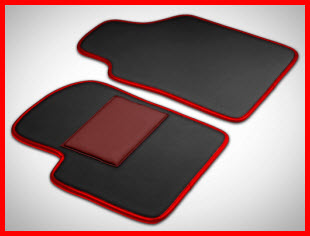 InPelles Exotic Leather Car Mats with Moon Finish, Red Edging and Heel Pad.
Today Inpelle Leather uses a white wet process (doesn't use chromium or bad stuff in the tanning process) to produce an exceptionally rugged, waterproof, nearly stain proof and easily dyed leather from which they will make your next set of car mats. Inpelle Leather uses a special finishing process to prevent dirt, salt and other nasty stuff from penetrating the surface of their leather mat. In fact, the surface is so durable even sand won't mar the finish. A couple of different finishes to choose from, along with your choice of carpet, edging and heel pad colors makes these mats sound like just what you need, right? Yup, these leather car mats will definitely add an exotic aura to whatever passenger vehicle you may drive.

---
Kraco Eco-Essential
Ok, so most people don't view environmentally friendly products as exotic, but maybe we should! In any case, Kraco manufactures and distributes a line of possibly exotic car mats that use up a lot of recycled rubber and other materials that would otherwise clog the planets eco system with a bunch of unwanted and ugly garbage. Here's some info on these mats. Be eco friendly and exotic at the same time - go out and buy a set!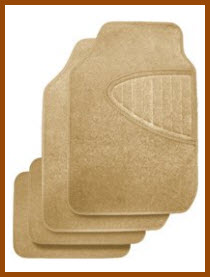 Kraco Eco Essentials Tan Carpeted Car Mats are made from Recycled Materials
Rubber Universal Fit
- made from 35%
  recycled rubber
- raised border and deep
  channels to trap liquids
- rubber nib backing
  prevents mat slippage
- colors are black
- models include 6704, 3004

Carpeted Universal Fit
- made from 100% recycled
  materials
- heel pads on so,e models
- nib backing on some
  models
- recycled rubber backing
- colors are tan, black, gray
- models include 1404, 234,
  6804
Carpeted & Rubber Car Mats
- 100% recycled carpet married to 35% recycled rubber
- raised borders
- cut to fit models 4304
- rubber nib backing prevents mat slippage
Natural Auto Products
Natural Auto Products (NAP) makes a line of planet friendly car mats from coco fiber, sisal, sea grass and wool. These mats represent the exotic side of the NAP product line. The company also makes car mats out of modern day synthetic materials that don't qualify for the exotic classification but are still unusual in their design. Anyway here's a little info on each of the exotic car mats from Natural Auto Products.

Coco Mats
Popular in 1950's through 1970's European cars from such manufacturers as Mercedes Benz, BMW, MG, Triumph, VW and Porsche, the CocoMat from NAP is really made from woven fibers sourced in India. There, coconut husks are beaten into fibers, aged in water, spun into yarn, dyed to the desired colors and woven into the fabric that finds its' way to NAP here in the USA.
Sisal Mats
Natural Auto Products(NAP) manufactures its' Sisal Mat from, of all things, sisal. Sisal is a natural, fibrous, stringy type material derived from the agave sisalana cactus. NAP sources its' sisal in Tanzania and ships it to India where it is spun into a boucle style yarn. This yarn is then spun into a boucle type fabric that has a softer, looped appearance. It adds a bit of refinement to your vehicle and is even used in upscale residential applications.  The sisal fabric is processed by NAP in a manner similar to the coco fiber product.
Sea Grass Mats
NAP uses grass grown in the ocean depths to make their Sea Grass Car Mat. They say it gives a beach look to your car and gives a unique look, feel and smell to your car interior. These mats evolve in color from light green to a golden tan over time. Processing the fabric to make the sea grass mat is similar to the coco fiber product with most features being the same. But since the sea grass is grown in offshore farms and harbors hundreds of species of fish and ocean life as a result, you may feel more environmentally and fish conscious buying this mat.
Wool Mats
Luxurious, woven woolen mats from Natural Auto Products. Soft to the touch and available in 6 colors; black, gray, golden tan, taupe, brown fawn and dark gray. NAP says these mats will make your bare feet say "Thank You". Manufacturing and features are similar to the Natural Auto Products CocoMat.
Plasticolor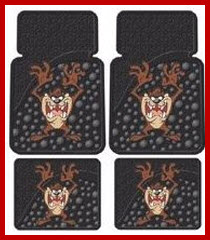 Plasticolor Taz Devil Car Mats
Plasticolor has been around for over 40 years. You certainly recognize their products, even though you don't know they are made by Plasticolor. If you like Hello Kitty or Garfield, Harley Rose or Mopar, Tweey Pie or TapOut or one of tens of other licensed images that Plasticolor beautifully affixes to their vinyl or carpeted car mats and other automotive products then check Plasticolor out! After all, it's certainly exotic to have a Tasmanian Devil living in your car, isn't it?

---
Exotic Aluminum Diamond Plate Car Mats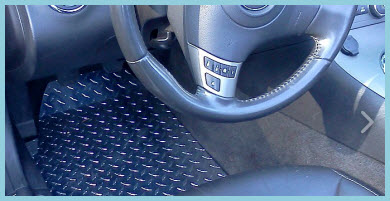 Rally Mats Diamond Plate Aluminum Car Floor Mat is an exotic upgrade for your vehicle.
Yah, aluminum diamond plate metal car mats certainly belong in the land of Exotica. Several companies, American Car Craft and Rally Mats both make real aluminum car mats. They use things like CAD/CAM and lasers to make these mats just some you can spiff up your Vette or your Kenworth or favorite passenger vehicle with a pair of them. They are pretty much indestructible when used inside your vehicle. Check a set of these mats out for a most unusual and exotic experience.
Note: You must have an RSS Reader installed and configured before clicking on the Orange RSS Button. An RSS Reader allows automatic download of changes/updates made to this website without having to visit this page. Saves time, effort and keeps you up to date.


Click Orange RSS Button to Subscribe to Site Updates