Leather Car Mats
Bridge of Weir Leather Company supplies leather products for car interior applications through their sister company Andrew Muirhead & Son.
Leather Car Mats add an air of sophistication and a sense of luxury to your already luxurious vehicle or it just plain makes a regular passenger vehicle into your own version of a royal carriage. Besides, how do you beat the smell that leather car mats impart to your cars atmosphere.
Most leather floor mats made for cars, limos or other passenger type vehicles usually begin their life somewhere like Bridge of Weir Leather Company of Bridge of Weir, Renfrewshire, Scotland. Bridge of Weir Leather Company is the UK's only leather manufacturer for the automotive industry and has been making quality leather products for automobiles, furniture and other applications for over a century. 
The finest hides, sourced from heritage breeds, are changed magically from raw hides to finished product through the application of techniques developed over many generations of leather finishing. So this just may be the source of some of the fine Scottish leather used to make the mats we are going to describe below. Bridge of Weir Leather Company is part of the Scottish Leather Group, one of the largest tanneries in Europe. SLG exports to over 60 countries around the world, so like I said, if you get a set of leather car mats or upgrade your cars' leather upholstery, there's a good chance you're using SLG leather.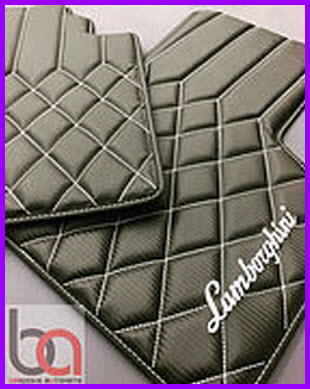 Bespoke AutoMats manufactures hybrid leather (leather blended with PVC) car mats. Notice the mixed diamond and panel design.
Ok, I know not many of you want to spend the $$$ it costs to acquire leather car mats. And to be honest, not a whole lot of people make and/or sell them. But here's a couple of brave, creative companies that manufacture and sell exquisitely luxurious leather car mats just so you can adorn your car according to your wants. 

Bespoke AutoMats
Bespoke comes from an old English word bespeak meaning to order or arrange in advance. In that sense Bespoke AutoMats fits the definition very nicely. The company manufactures leather car mats to your personal specifications, hopefully utilizing one of the hundreds of car floor pan patterns they already have, but if not, from a custom pattern or description that you provide. You choose your design style, the logos you want and the outer edge color. Whatever your choices, you get beautiful hybrid leather (leather blended with PVC) car floor mats that preserve the natural beauty and feel of leather and ally it with the durability of PVC (polyvinylchloride). 

Choose Design Style
- Simple but classy tailored
  mats with contrasting
  stitch
- Deep paneled effect with
  contrasting stitch
- Deep diamond outer
  sections, smooth
  interior panels
- Full deep diamond with
  a 3D effect
- Mix of diamonds and
  smooth panels
Logos
- Up to 500 characters
- Add a manufacturers logo
Border / Stitch / Outer Edge Color
- Black, Gray, White, Yellow,
  Blue, Cream, Red, Pink
Common Applications
- Porsche
- Range Rover
- Aston Martin
- Mercedes Benz
- Lamborghini
- Ferrari
- BMW
- Audi
- Bentley
- Nissan GT

Note: For those of you who are stuck on carpeted car mats, Bespoke AutoMats also provides 2 design styles that utilize carpet as the primary mat material. These mats are especially effective when the desired result is to emphasize the manufacturers logos as they provide a solid homogenous background for colorful logos and lettering.
Inpelle Leather
(Mats4Car)
Mama Mia !!! The skilled leather craftsmen at Inpelle Leather hand craft leather car mats to your exacting specifications in Italy and ship them to you wherever you are in the world. The company was founded in 2009 and was already experienced in the making of fine Italian leather for the seat covers in certain BMW, Porsche and Audi automobiles. So why not extend that expertise to leather car mats and cargo mats? Yup, you guessed it, that's just what they did. Today Inpelle Leather uses a white wet process (doesn't use chromium or bad stuff in the tanning process) to produce an exceptionally rugged, waterproof, nearly stain proof and easily dyed leather from which they will make your next set of car mats. Inpelle Leather uses a special finishing process to prevent dirt, salt and other nasty stuff from penetrating the surface of their leather mat. In fact, the surface is so durable even sand won't mar the finish. Sounds like just what you need, right?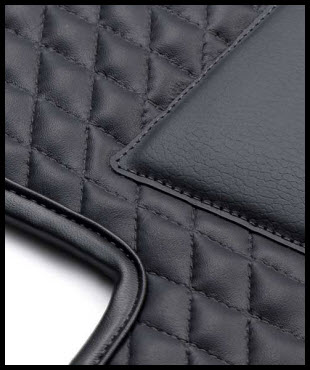 Inpelle Leather Car Mats are waterproof, resistant to dirt and very durable. This mat has a cross line finish in deep black, with deep black binding and a deep black heel pad.
Ok, so you're ready to order. Here's what you need to know before you begin. First, you better remember the year, make and model of that fancy vehicle in which you will install the mats. Secondly, you have to consider the following choices ...
Finishing (pick one)
- Crossline Finish (the
  leather is stitched to
  make diamond like
  shapes)
- Moon Finish (the leather
  surface reminds me of
  goose bumps)
Body (color of leather mat)
- Burgundy, Caramel,
  Deep Black, Hot Silver
  or Soft Cream
Binding Color
- British Green,
  Bubble Pink, Coffee Brown, Furious Orange, Ivory White,
  Deep Black, Lime Green, Hot Silver, Race Red, Soft Cream, Speed Blue,
  Burgundy, Vibrant Yellow, Caramel
Heel Pad Color
- Burgundy, Caramel, Deep Black, Hot Silver or Soft Cream

Cleaning Inpelle Leather Car Mats
There are a lot of products out there to clean leather products. Our own page : Cleaning Leather Car has some simple homebrew leather cleaning recipes and commercial products. But, the folks at Inpelle Leather recommend you use only mild soap and water to clean their mats. I'd follow their advise, they made the leather. I would make sure the mats were well dried with clean paper or cotton towels. No reason to test the claim of the mats being waterproof if you don't have to ... 
For Leather Fanatics Only
If you can't get enough leather here's a couple of links for you !!!
Leather International
A great magazine on the internet covering the Leather Industry with plenty of articles on automobile related uses of leather.
BASF Performance Chemicals - Leather Chemicals
Do you want to see some of the stuff they use in the leather making and tanning process? BASF is part of one of the largest industrial complexes in the world and they have a special interest in Leather Chemicals.
Note: You must have an RSS Reader installed and configured before clicking on the Orange RSS Button. An RSS Reader allows automatic download of changes/updates made to this website without having to visit this page. Saves time, effort and keeps you up to date.


Click Orange RSS Button to Subscribe to Site Updates