Replacement Auto Carpets
You need replacement auto carpets for your car, truck, van or suv, don't you? Sooner or later it happens to most of us.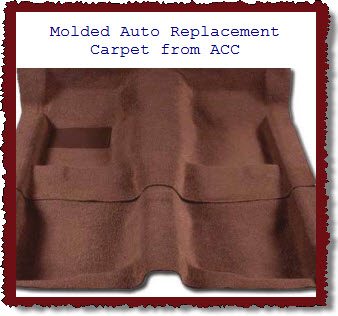 You find that special vehicle that you're going to keep until it falls apart. Kinda like till death do you part! But your relationship has been foundering recently because your vehicle has that nasty smell or that carpet stain you just can't seem to remove. You've tried an automotive carpet dye , but changing the color just doesn't get rid of the smell and the carpet looks a different color but is still dull and boring. Even though it's the least expensive solution to your problem you may need to do more for your automobile carpet than just change its color. As your un-certified and certainly not qualified vehicle relationship manager I recommend you get replacement auto carpets for your vehicle before you get a divorce.

But before you go out and just randomly buy your truck or auto replacement carpet you need to know a couple of things.

First : What the heck kinda carpet was in your vehicle before the carpet molded away? What kind of padding or backing was used?

Secondly : What kind of carpeting is available to replace your old smelly moldy stuff? Can you match the original colors, patterns and materials?

Thirdly : Can you get an auto carpet kit or a truck bed carpet kit for your vehicle? And just what's in the various kits? How hard is it going to be to remove the old carpeting and install new? Do you want a dealer or automotive repair facility to do this job?

Fourthly : Are there alternatives to auto carpet replacement?

OK, here come the answers to those questions.

Ok, Here Comes the Answers to Your Replacement Auto Carpets Questions 
Questions 1 and 2 : I'm going to answer questions 1 and 2 at the same time by describing the most common types of replacement auto carpets that are sold today to replace the carpeting that was installed in cars and trucks for the last 60 or so years. Todays replacement carpet manufacturers have done a bang up job replicating the old carpet look and feel using modern day materials and manufacturing processes. If you're a carpet info junkie, you'll like this link!
Question 3 : There are a range of auto carpet kits for you to choose from based on your expertise in auto carpet installation and a description of kit contents and options at this link. For example, do you need a Cut and Sewn kit or does the kit have padding or sound insulation. Make sure you are prepared with the proper tools and attitude if you elect to replace your vehicles carpeting using a kit. It's no easy job and usually requires special tools (like a Torx set), some upper body strength and the willingness to do things like remove the car seats and their assemblies.
Question 4 : Auto carpet replacement alternatives you need to know about include molded vinyl floor coverings which can certainly brighten up your car with some of the outrageous colors available, color dyeing your existing car carpets which can show how far your color co-ordination skills have come since you just used a single color crayon in kindergarten to draw all your pics, and carpet cleaning tips that may save you the expense and/or effort of replacing your vehicles carpeting.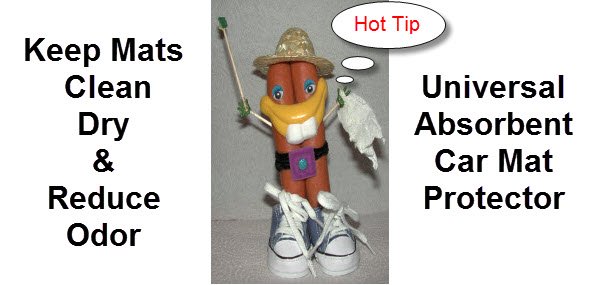 Replacement Auto Carpets
Customer Reviews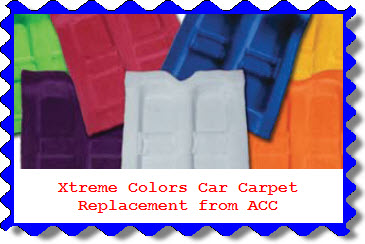 Sometimes the hard part of making a decision about replacing your carpeting is in not knowing whether the new carpeting will fit or be easy to install or look nice or live up to your expectations. So whenever possible check out the colors, type of carpeting, installation instructions and videos. A couple of good websites to start with are : J.C. Whitney's for good product coverage of replacement carpet kits and most other car related items ... and ... Stock Interiors for some great products and information on installing and replacing automotive carpeting and flooring.
Note : J.C. Whitney has great reviews for most of their products, including the car carpeting and floor mats you may be interested in. If you find good customer reviews let me know by clicking on the Contact Button and filling out a contact sheet with the appropriate info.


Before I leave I want to introduce you to the largest manufacturer of replacement carpeting for cars, trucks, van and suvs in the USA. Auto Custom Carpets (ACC) was founded in 1977 by Jack Holland. ACC has over 25,000 flooring applications fitting almost every vehicle made from the 1940's to the present. And ACC doesn't just kinda match your vehicles old carpeting, they do a better match job than the OEM did when you bought the car or truck – but then you don't really remember what the color of your carpet was anyway, do you? But if you want to acquaint yourself with ACC, click on the link above.



Note: You must have an RSS Reader installed and configured before clicking on the Orange RSS Button. An RSS Reader allows automatic download of changes/updates made to this website without having to visit this page. Saves time, effort and keeps you up to date.


Click Orange RSS Button to Subscribe to Site Updates