Automobile Carpets
Let's start with some basic definitions related to automobile carpets. But first a tip. If you're going to put in new carpeting, get new mats and fix up the old jalopy you may want to consider some universal absorbent mats to reduce dirt, moisture and mildew stains in your newly remodeled vehicle.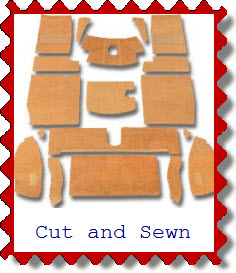 Cut and Sewn Auto Carpet : A long time ago, like in the 1940's and 1950's when automobile carpet became a popular optionto have in your car, the car manufacturers would cut out separate pieces of carpeting to fit over tranny humps, shifters, protrusions or to solve the problem of how to fit carpeting in a vehicle that wasn't modularly designed. I mean, cars of this age weren't exactly precision products, so floor pan dimensions would vary in the same model even on the same production line. So they cut out the carpet to a close fit, placed it in the car, trimmed to fit and sewed the pieces together! An expensive way to do it, and kids loved to pull on the stitching and pull the seams apart, but hey, you do what you have to do when you made a car back then.


Carpet Backing : A slightly confusing term because a carpet can have several types of "backing". The primary backing of the carpet is usually made of a thermally bonded spunlaid nonwoven polyester and/or polypropylene material. A good example of this type of material is Colback from Colbond (part of Low & Bonar's Interior and Transportation Systems Business) . Colback is designed specifically for molded tufted car carpet applications to simplify the manufacturing process and give the finished product a tight fit and nice colors.
Secondary backings can be made of stuff like Colback, latex or polyurethane. A more expensive type of secondary backing called mass backing is made from ethylene vinyl acetate. It provides superior insulation and sound deadening. Of course it costs more! All these backings are what help the yarn stick together and the carpet keep its shape.

Cut Pile Carpeting : Strands of carpet yarn are inserted vertically into the automobile carpets primary backing, kinda like making a forest of yarn. Used in most cars from the 1970's on.

Denier : the weight in grams of 9000 meters of thread or yarn. So if someone says their carpeting is made of Dupont 1850 Nylon they are referring to the weight of the yarn (1850 grams per 9000 meter length) that is used in making the nylon carpeting.

Loop Carpeting : Just what it sounds like. The yarn is tufted into loops and inserted into the carpets primary backing. Especially popular in older cars with more rounded edges in and around the floor pan. Newer cars (70's on) have sharper edges and bends in the floor pan and separate the loops so you can see the carpet backing. So more modern cars use cut pile to hide the bends and curves.

Molded Automobile Carpets : Well, I guess the car manufacturers weren't having enough fun sewing pieces of carpet together. So by the late 1950's or early 1960's they started to make molded automotive carpet. Molded automobile carpets were shaped to match the dimensions of the floor pan and were easy to just pop in on the production line.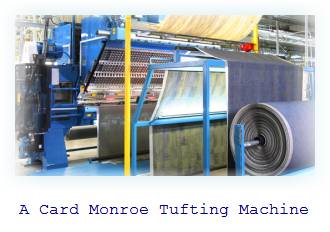 They basically got secured to the floor by the seats and door sills. They were usually made of nylon loop carpeting that was molded for a close fit until the late 1960's and early 1970's when molded pile carpeting became more popular.
Tufter : a machine that inserts loops or straight piles of yarn into a non-woven carpet backing. For a nice look into the world of carpet tufting machinery check out Card-Monroes Automobile Carpets website .


OK, wow!!! Way toooo many definitions. How about some real carpet info you can use? There are only a handful of companies that make custom car carpet. So I'll break them down for you and describe their product lines one at a time.

Auto Custom Carpets (ACC)
Auto Custom Carpets is the largest manufacturer in the USA of replacement automobile carpets. Every kit from ACC is made to order and doesn't sit on a shelf where it can deform. They have a big selection of automobile carpet colors including their Xtreme colors. ACC has a large growing dealer network and a really wow selection of carpeting materials. Check 'em out …
80/20 Loop : Tufted from 80% rayon and 20% nylon this carpet was used in many vehicles from the mid 1950's through the mid 1970's. At 24 ounces of 5/32 gauge yarn per square yard it makes a pretty heavy carpeting that dyes well, is wear and fade resistant and can be backed with polyethylene or latex.
Daytona : Daytona weighs more than 80/20 Loop at 28 ounces of yarn per square yard. The surface is made of nylon while the backing is made of 30% rayon + 30% nylon + 40% cotton. It usually comes with a foam backing.
Nylon : Made from DuPont 1850 denier filament yarn its made on a 5/32 gauge loop tufter so you get some good carpet depth. You can get this carpeting with a latex or polyethylene backing.
TruVette : Made from solution dyed nylon and on a 1/10 gauge tufter. So you don't get a lot of carpet depth. It kinda reminds me of a plush indoor/outdoor carpet. Yarn weight is 14 ounces per square yard.
Cut Pile Nylon : This type of automobile carpet was used in most Ford, GM and Chrysler vehicles from the mid 70's to the mid 90's. A lot of imports used this same carpeting up until the early 90's. It's made on a 1/8 gauge tufter and has a weight of 14 ounces per square yard. It's about ¼" high.
Essex : An upgrade to Cut Pile Nylon, Essex is 3/8" high and is about 40% denser than the standard cut pile nylon. Luxurious stuff!
Gros Point : This type of auto carpeting looks like a fine piece of embroidery work your Aunt Martha would have done. It was originally made for both passenger and muscle cars in the 50's and 60's. It usually comes in only a couple of colors, but you can make up for that by having Aunt Martha embroider your likeness on it! Or ask ACC to put a custom logo on it for you.
Trinadad : ACC is the only company to make this automobile carpet. They start with their 80/20 Loop carpet and impregnate it with gold or silver metallic threads. It makes a really cool light show if you point your laser pointer at it and squarely hit a couple of metallic fibers! It was an option on some 50's and 60's GM vehicles and you can get it today for almost any vehicle you own!
Tuxedo : ACC is the only company to make this carpet. They start with their 80/20 Loop carpet and twist an Olefin filament yarn into it. The olefin yarn is black so it adds "depth" to the look of the carpeting.
All of ACC's car carpet kits are Cut and Sewn, or, Heat Molded in the exact shape of your vehicles floor pan. The kits usually include 40 oz. jute auto carpet padding and heel pads. You can optionally purchase additional sound deadening and insulation materials and you have your choice of 170+ custom embroidered logos.
Well, if you're like more than half the people in the USA who replace your vehicles carpeting you're going to want to buy an ACC automobile carpet to replace the carpeting in your car, truck, van or suv. A great source for this product, where you can get a good discount and a deal on shipping is AutoBarn Dot Com.
Nifty
(Lund)

Replacement Car Carpet

Nifty(Lund) makes their Pro-Line Replacement Automobile Carpets out of heavy duty nylon carpet pressure molded to the exact shape of your vehicles floor pan. A mildew resistant backing and a factory style heel pad adorn this replacement carpeting. The back of most of Lunds molded carpets are pre-marked with holes for shifters, seat brackets and other protrusions. But you may have to do some of that work yourself. The carpeting may get wrinkled in the process of shipping it to you so be prepared with a clothes steamer to remove the wrinkles, just in case.


No gluing is required to install the carpeting and a mildew resistant padding is bonded to the back of the carpet. That simplifies installation as you don't have to worry about matching up the padding with the carpet. The carpet comes in 9 colors (blue, red, navy, dark red, grey, black, sand, charcoal and coffee). The carpeting comes with a 1 year warranty. For some vehicles, you can also get a color matching lower door panel.
Newark Automobile Carpets
Newark Auto has been around since 1907 when they were making upholstery for horse drawn carriages. So experience is their strong suit! They make Cut and Sewn carpet kits for cars and trucks in polypropylene(for most cars), nylon loop(for older cars) and nylon cut pile(for newer car) with a good selection of colors. All carpet kits are made to order and include extra thick 20 oz. synthetic padding to cushion your tootsies and provide some insulation and sound deadening. A vinyl heel pad is sewn into the carpeting and the exposed carpet edges are protected with a reinforced binding to prevent unraveling.

OEM Carpet Replacement
by Car Dealerships
OK, as a last resort for those of you who don't have the time to replace your own automobile carpets or don't want to look around to find a Newark or ACC dealer/installer or just plain have too much cash laying around you can go to your favorite car dealer and ask them to replace your existing car carpet with factory OEM replacement carpet. All the holes will be in the right place and the carpet will fit exactly. The dealer won't have to do a trim job with factory carpet. The color should be spot on. All's right with the world, right? Wrong! If your car or truck is more than 10 years old there's a good chance you can't get OEM carpet replacements anymore. And you really better have some excess cash because the last time I checked my GMC Yukon dealer wanted over $1200 to replace my carpeting. I can buy the fully custom molded carpet from ACC for about $250. You decide ...





Note: You must have an RSS Reader installed and configured before clicking on the Orange RSS Button. An RSS Reader allows automatic download of changes/updates made to this website without having to visit this page. Saves time, effort and keeps you up to date.


Click Orange RSS Button to Subscribe to Site Updates