Floor Liners
 Ultimate Protection
Floor Liners? Floor Mats? I know, I know, you say what the heck is the difference between a liner and a mat.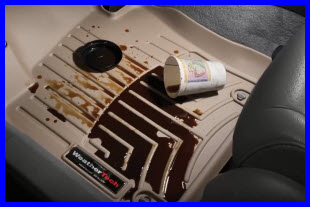 WeatherTech Digital FloorLiner is doing its job - keeping coffee off your vehicles floor.
Well, not a whole lot as far as function goes. Both are designed to prevent water, dirt and stains from destroying your in car experience. They just have some differences in form. The car or truck floor mat is designed to cover the area where your feet usually reside while you're driving the vehicle. A car or truck floor liner typically extends that coverage to the entire floor pan, including the areas behind the accelerator, brake and clutch pedals, and adds coverage on both sides of the floor pan. The car floor mat is kind of like a plate, while a floor liner is more like a bowl. So, do you have an attached garage at home and park in a parking garage at work? Are you meticulously clean and avoid mud, water and gunk during your daily activities? If you answer "Yes" to these questions you should check out our info page on car floor mats.

---
But, if you walk through mud, snow, gunk and rain to get to your car, a floor liner may be just what you need. It's always good to keep all the stuff you get on your shoes or boots from taking up residence on your cars floor. Working and playing outdoors, kids, and using your passenger side floor area as a temporary garbage can are some of the reasons floor liners exist.  A floor liner is usually rigid, made of a rubber-like thermoplastic, has raised edges to trap liquids and usually has a surface adorned with ridges and valleys that let you scrape your boots clean and trap water at the same time. The floor liner for your car or truck is kinda like a stiff rubber car mat with a big lip all the way around that covers almost the entire floor of your vehicle. Okay, enough of this. Let do a quick review of some of the more popular car floor liners in the marketplace today.

---
WeatherTech DigitalFit FloorLiner
WeatherTech designs, manufactures and distributes one of the most popular car floorliners right here in the USA. The company also services several of the large European vehicle manufacturers.

WeatherTech Digital Fit FloorLiner looking good protecting your vehicles floor.
Digitally designed and manufactured to perfectly fit your vehicles floor space, this WeatherTech product is easy to install and comes with a Limited Lifetime Warranty.

Features
- Front liner made from HDTE
- Rear liners made from TPE
- Raised lip contains liquids
- Liquids channeled to reservoir
- Front, back and 3rd rows
- Uses existing retention device
Husky Liners Car Floor Liners
Husky Liners manufacturers three versions of a car floor liner right here in the USA. The Husky Liners X-act Contour is the newest liner in the product line. It's Husky Liners digitally designed and manufactured response to the WeatherTech Digital Fit FloorLiner. The second Husky Liners product is the venerable WeatherBeater. It's the sporty look entry that retains the functionality of the original Husky Liner. The third entry in the Husky Liners product line is the Classic Liner. The Classic sports a diamond plate look and is available for most vehicles dating all the way back to the 1970's.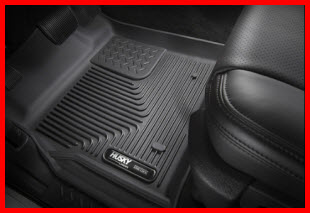 Husky Liners X-act Contour Floor Liner is designed to give a perfectly contoured fit.
Designed and manufactured to provide your vehicle with an exact fitting replacement for its OEM floor mats, any of these Husky Liners floor liners may be considered a significant upgrade for your car, pickup or SUV.
Features
- Form Fit Design for great fit
- Nibs prevent mat slippage
- Won't crack or warp
- Resists low/high temps
- FormFit Edge protect all the way to door jamb
- Folds easily to remove and clean
- Lifetime Warranty

---
Lund Floor Liners (Nifty Floor Liners)
Lund International has been in business since 1974 manufacturing such things as sun visors, bug shields, running boards and cab spoilers. In 2002 Lund acquired Nifty Products, a manufacturer of truck and car floor liners. The rest is history. The current Lund product line of floorliners consists of basically 2 models. First the Catch-It model, available in vinyl (Vyram) or carpet, uses nibs to prevent the floorliner from slipping on your vehicles floor. This model also uses a raised perimeter design to trap mud, liquids and gunk. You can get a Catch-It floor liner for both front and rear seating areas.

 The second model is the Catch-All. This model is also available in both vinyl (Xynet) and carpet, for trucks, cars and SUV's. Anchors and grommets allow you to integrate with and use your vehicles existing floor liner retention system to secure the Catch-All product. Add reinforced molded edges to the features of this premium floor liner. Catch-All liners are available for front, rear and cargo areas of your vehicle. A special one-piece front and rear seat liner is also available.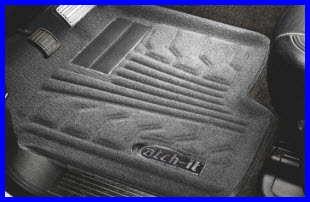 Lund International's Catch-It Carpeted Floor Liner Provides All Weather Protection.
The Lund International Catch-It and Catch-All floor liners have been precision engineered to precisely fit your vehicles floor pan areas. A unique surface tread design helps keep your feet clean and dry. You get all weather protection from snow, rain, mud, dirt and other gunky things you don't want hanging around in your vehicle. Clean 'em with a garden hose (really with the water that comes out of the hose!).
Features
- Vinyl or carpet
- All weather protection
- Custom molded for your vehicle
- Nibs or anchors prevent mat slippage
- Easy clean with garden hose
- Reinforced foot/heel areas
- Black, gray or tan in Vinyl
- Carpet available in 8 colors
- Cargo Mats available (Catch-All)
- Made in Lawrenceville, Georgia USA
- Limited Lifetime Warranty

---
Michelin EdgeLiner Truck Floor Liners
Michelin EdgeLiner Truck Floor Liners are manufactured by Remington Industries in Taiwan, imported to the USA and distributed via Remingtons Distribution facility in Reno, Nevada. The EdgeLiners are manufactured from a TPE resin via an injection molding process. The ridges and grooves are deep and the floor liner sides are higher than most competitive products. The TPE gives these floor liners a feel similar to natural rubber and also keeps the mats very pliable even in cold weather.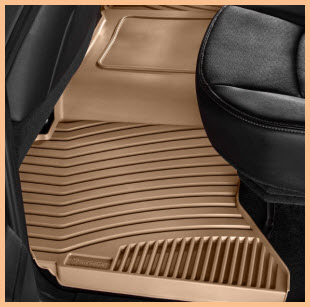 Michelin EdgeLiner Truck Floor Liner for the back seat area. Tan color, deep channels to keep feet dry and clean, and a soft rubber like touch/feel.
Michelin EdgeLiners are designed and manufactured using the latest in digital imaging and production technologies. This is in line with Remington Industries goal of bringing only the best new products into the automotive interiors marketplace. These floor liners are sold separately by row and are currently available for only limited pickups and SUV's from GMC, Chevy, Ford, Toyota, Dodge and Cadillac.
Features
- Made from TPE
- Deep molded channels
- Raised containment walls
- Nib backing prevents slipping
- Precision molded for custom fit
- Easy to remove and clean
- Can use OEM anchor posts
- Colors are black, gray, tan
---
General Floor Liner Info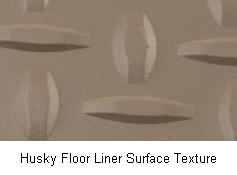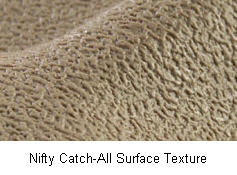 ---
Liners are commonly used in SUV's, pickups and vans especially if you work, play or live in an extremely dirty/wet environment. They're molded from rubber-like thermoplastics into shallow swimming pools that precisely line the floor pan of your vehicle, protecting the carpet from invasion by water, dirt and gunk. The best liners are impervious to gas, oil and battery acid in addition to liquid and gunk. To prevent water, mud and gunk that's trapped on top of your floor liner from getting onto your boots or high heels try out a universal absorbent car floor mat protector.

Carpet fasteners, nibs or ridged bottoms are used to prevent the liner from slipping. And to keep you from slipping, the liners are textured on top! You hose these babies off to clean them. Just one warning before you go check out and buy floor liners from Husky Liners , Lund, WeatherTech, Michelin or anyone else: Don't install any of these liners on top of existing floor mats or on top of vinyl floors. Install them on top of your vehicles OEM carpeting. That's the way they are designed to work! So have fun, but if you decide a liner is too outdoorsy or your luxury vehicle needs a more sophisticated floor protective device, then go back and check out a custom car mat.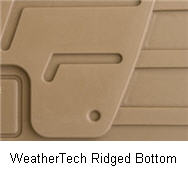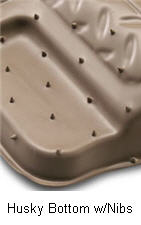 ---
Note: You must have an RSS Reader installed and configured before clicking on the Orange RSS Button. An RSS Reader allows automatic download of changes/updates made to this website without having to visit this page. Saves time, effort and keeps you up to date.


Click Orange RSS Button to Subscribe to Site Updates