Michelin Truck Mats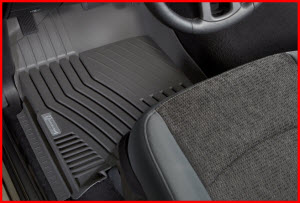 Michelin EdgeLiner Truck Floor Liner for Light Trucks and SUVs.
Michelin Truck Mats and FloorLiners are designed, manufactured and distributed by Remington Industries of Ooltewah, TN. Actually the EdgeLiner model is manufactured in Taiwan and distributed through the company's Reno, NV distribution facility. Remington Industries has been around since 1986 manufacturing and distributing consumer automotive products under Rubbermaid and Michelin licensing. The company is passionate about finding innovative automotive solutions to everyday challenges. The Michelin EdgeLiner Custom Truck and SUV Mat is proof of their passion. This product was introduced in 2015 and has been getting rave reviews from customers and at trade shows. Remington Industries has also manufactured, under license from Michelin, a heavy duty car and truck floor mat since 2003. Let's check out the EdgeLiner Floorliner first.

The Michelin EdgeLiner starts out as a digital blueprint created by a laser imaging system and some CAD/CAM software. A hard steel injection mold is then created for this blueprint. Next step is to high pressure inject a highly engineered TPE resin into the mold and VOILA! we have a brand new Michelin EdgeLiner FloorLiner for your light truck or SUV (no, Remington doesn't make these floorliners for cars, yet!). Remington claims this injection mold process is superior to the competition which heats a stiff sheet of plastic and forms it over a mold. The EdgeLiner feels like rubber and is heavy like rubber. Now if it quacked, we would know it was rubber - uh, no, wrong analogy. Anyway you get my idea. This truck floorliner is going to be very resistant to heat, cold, dirt, liquids and almost anything else you throw at it or try to grind into it with your feet. It has the deepest channels in the business to trap water, mud and gunk. Its' walls are so high they remind one of a bowl (but don't eat your soup out of one). So most anything liquid or muddy is going to be trapped by these truck floorliners.
Michelin EdgeLiner Features
- exceptional channel depth (approx. 17.8mm)
- laser measured means perfect custom fit
- TPE resin injection molded
- flexible and strong but soft to touch
- retains shape under extreme hot/cold
- available in black, gray, tan
- edge to edge coverage
- grip clips to prevent mat slippage
- easy to remove and clean
- simple cleanup with mild soap and water
- adds style to truck/suv interior
- can use OEM anchor posts
- nibs on floorliner bottom prevent mat slips
- lifetime warranty
- usually ships in 24 hours
- help line at 866-304-9881
Available Applications
- Cadillac Escalade
- Chevy Avalanche
- Chevy Silverado
- Chevy Tahoe
- Chevy Suburban
- GMC Sierra
- GMC Yukon
- Dodge Ram 1500
- Dodge Ram 2500, 3500
- Ford F150
- Ford F250,F350,F450
- Toyota Tacoma
- Toyota Tundra



---
Michelin Heavy Duty Car Mats
This line of car and pickup floor mats has been manufactured by Remington Industries under license from Michelin since 2003. Soft, heavy and rubber like, they'll most needs for a semi custom or universal car floor mat. Here's some of the features of these car mats.

Michelin Heavy Duty Car Mats
- easy trim to exact
  shape required
- stain and soil resistant
- withstand wear and tear
- resists fading and cracking
- unique cellular design
- foot scraper on driver side
- heel pad on driver side
- easily fits to shape of floor
- nib backing prevents
  mat slip
- corner handles for
  easy removal
- corner handles for
  easy storage
- 3 colors, black, grey, tan
- Remington Industries
  8822 Production Lane
  Ooltewah, TN  37363
  423-238-3455


---
Note: You must have an RSS Reader installed and configured before clicking on the Orange RSS Button. An RSS Reader allows automatic download of changes/updates made to this website without having to visit this page. Saves time, effort and keeps you up to date.


Click Orange RSS Button to Subscribe to Site Updates