Where to Buy
It's terrible not knowing where to buy all the things you really need to make your car all you want it to be.

And that's if you have a car! If you don't have a car and need a loan or insurance or both, where do you go? These are the kinds of questions I've been getting from viewers of this website for the past couple of years. So I decided to put up some pages with "Where to Buy" info and links for you. Takes some heat off of me and gives you a quick and easy way to find some of the car and truck stuff you need and want. If you have experiences buying car and truck related stuff and know of good websites I should be linking to, let me know. It's as easy as filling out a contact form and letting me know. Ok, here comes the links.
Buyers Guides
Our very own Buyers Guides we use here at Truck and Car Floor Mats Dot Com. People use the Logo Floor Mats Buyers Guide to find a lot of things besides logo floor mats for their car. For example, many of the same vendors who sell logo car mats also sell seat covers, body kits, performance parts, dashboards, LED light strips, LED underbody kits and chrome accessories - just to name a few. The Buyers Guide for Truck Floor Mats provides links to some of the largest and best stocked big rig parts vendors on the internet. So before you shop using a search engine like Google, Yahoo or Bing to buy your vehicle parts and accessories stop by here and find everywhere you want to visit in one place!
Cool Stuff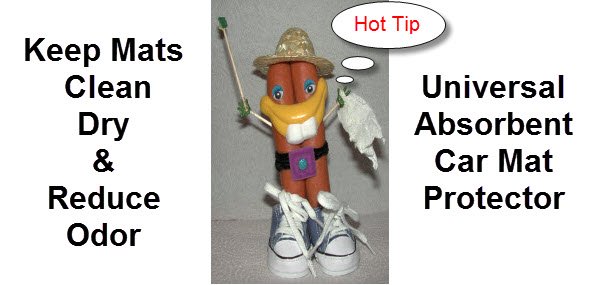 New & Used Vehicles
AutoCheck by Experian helps you get the facts on major problems that a car or other vehicle you are interested in purchasing has experienced. They can help you with a Title Check (salvaged, rebuilt, fire damage, Damage), a Problem Check (frame damage, lemon, salvage auction, water damage), an Odometer Check (rolled back, broken, exceeds limits, suspect miles) and a Use & Event Check (accidents, theft, police/taxi use, fleet car). They give you a Free VIN Check and then they want you to join their service. If you frequently buy cars there's an unlimited report service. If you're just buying one car you can get the VIN Check for $30. So if you need to really know that used car you're going to buy, Get a FREE VIN Check from AutoCheck®.
Automotive.Com is the leading info site on the internet for the new and used car shopper. It consistently ranks in the top 5 of all automotive related websites. Automotive.Com gets new and used vehicle pricing information to you and connects you to their nationwide network of car and truck dealerships. But that's not all! What if you need a loan? And you need insurance, don't you? Automotive.Com is there to help you put together the complete package by just making a trip to their website. By the way they have a lot of nice tools like; loan payment calculators, new price quotes, auto insurance quotes, autoloan quotes, trade-in value calculator and a credit help center. Last, but not least, Harley-Davidson, Honda, Suzuki, BMW and other bike drivers will find a welcome home at Automotive.Com with all the same great service extended to car and truck drivers.


Edmunds empowers automotive consumers by providing complete, clear, accurate and unbiased information needed to make informed purchase and ownership decisions. They are the #1 source of new car leads in the industry. Edmunds shows you where to buy a used car if you're in the market for a previously owned vehicle. You can find car reviews, car comparisons, new car buying guides, and the latest scoop on new car test drives. In the consumer resources department, Edmunds provides car buying advice, a car audio & electronics center, a car safety guide, a young drivers guide, a green car guide, a women & family car guide and a fuel economy center. You can even get vehicle manufacturers history on current and out of production models. Basically you could spend your life checking out all the info on Edmunds website. Or, you could just go there to get a quote on a new car.
• "Best of the web" by Forbes• "Best site for shopping for a new or used car" by The Wall Street Journal• "Best car research on the web, hands down" by Forbes ASAP


Vehix.Com is one of the largest providers of automotive information online. The Vehix site provides multiple tools for buyers or sellers of all kinds of vehicles. Get info on local dealer inventory, resell values and financial resources. Put your car up for sale! Research your next car with slews and slews of new car reviews and previews. View the Vehix Top 10 Lists for Muscle Cars, Fuel Efficient Cars and SUVs, Safest Cars and the best of the best Used Cars from the privacy of your man cave (or woman cave as the case may be). Do side by side comparisons of the cars on your short list. You name the make, Vehix has the info you need to make a well informed decision. Except maybe for Bugatti!


Vehicle Insurance & Warranties
Allstate is the largest publicly held personal lines insurer in the USA. A dedicated team is available to assist you with your auto, truck or other vehicle insurance needs. Allstate offers Accident Forgiveness, Deductible Rewards, New Car Replacement and Competitive Rates. Multiple vehicle insurance packages are available to give you just the right mix of price and protection. Allstate also provides specialized insurance for young drivers. In fact they have an entire part of their website dedicated to helping teen drivers gain driving experience while being insured. So you've got a good place to go to and get help making an informed decision about your insurance coverage. Allstate calls it "Bumper to Bumper Basics". It's kinda like a boot camp for car insurance. 
CarChex Extended Service Protection Benefits
CarChex says they'll end our confusion about extended vehicle warranties. I don't know about that, this kinda stuff easily and thoroughly confuses me! Anyway CarChex uses their proprietary technology to sort through the mass of confusing and conflicting information regarding all the little bitty details surrounding the service protection and maintenance of your car, truck or SUV. They analyze length of contract, type of vehicle, mileage of vehicle, parts covered, vehicle history, and your budget to come up with a plan designed just for you and your budget. So you get better choices, options and pricing than you would from an automobile dealer. In fact, CarChex claims their Extended Service Protection always deliver better, more comprehensive coverage at prices at least 50% less, everyday! You get to pick your own repair facility(like Goodyear or your local mechanic) from over 30,000 in the CarChex portfolio. And, if you're like me, you need help figuring out the repair process. So CarChex has their own claim specialists who will help you through the repair process. Their expertise and mass buying power insures you get the right repair at the right price. You never have to negotiate with the shop again! 


SmartAutoWarranty.Com was created by a group of consumers like you who were tired of dealerships hiding ridiculous extended warranty price mark-ups in monthly car payments. So they decided to do something about it and SmartAutoWarranty.com is that something. They consistently research the market to find the best extended warranty products at the most competitive prices. Then use proprietary technology to provide you with instant quotes based on your specific needs. Sounds like you save some bucks if you're a warranty buying consumer.



Vehicle Parts & Accessories
AutoAccessoriesGarage is an on-line retailer of automotive parts and accessories. They've got over 30 years experience in the business. They specialize in products for the off-roader, racer, hauler and daily driver. This is where to buy : BakFlip Tonneau Covers (includes 3 models: G2, HD, F1), Magnaflow Exhaust System, Coverking Custom Seat Covers, WeatherTech Floor Mats, Curt Tailer Hitch, K&N Air Intakes / K&N Air Filters, TruXedo Tonneau Covers, EBC Brakes, other Tonneau Covers, Performance Exhaust Systems (Exhaust Systems), Seat Covers, Car Covers, Custom Floor Mats, Air Intake Systems, Brakes, Trailer Hitches, car parts, accessories, air compressors, truck bed covers, winches, universal floor mats, dashboard accessories, towing accessories, hitch or hitches, tonneau covers, toolbox or toolboxes, tools, suspension parts, seat covers, pedals, liners, seat covers, seating, mirror, fender, bed rail, grilles, car cover, chrome stuff and deflectors.
4 Wheel Online offers a great selection of Truck Floor Mats and Liners. They carry such brands as Rugged Ridge, Husky, DeeZee and Nifty. 4 Wheel Online also sells such neccessary items as replacement carpet and a whole bunch of aftermarket accessories and replacement parts for your truck.
Give AutoBarn a call and you'll get to speak to one of their eight parts and accessory specialists. They are an authorized retailer of all the products they sell. Easy return policy, low shipping costs, and huge in-stock inventory make them the one on-line site for all of your auto part and accessory needs. They sell the some of the top brands in the business such as Akebono, Bendix, Fram, Monroe, Brembo, KYB, Hella, Covercraft, Coverking, Weathertech, Zymol, K&N, Huskyliner, Fram, Chilton, Haynes, Mobil 1 and many, many more. 40,000+ items in stock in a 50,000 sq. ft. distribution center.


Whoa! JC Whitney is the home of "Everything Automotive", and is the single largest online retailer of automotive parts, accessories, and related items. JC Whitney offers parts, accessories and tools for autos, trucks, motorcycles, Sport Compacts, SUVs, Jeeps, RVs & motor homes, ATVs and more. Most importantly they sell car and truck floor mats, replacement carpeting, vinyl flooring, tonneau covers, truck caps and all the things this website reviews. Since its start in 1915, JC Whitney has continued to ensure customer confidence and deliver quality products to customer's doorsteps. Heck, in some cases you even get free delivery! JC Whitney is definitely where to buy all those neat little car trinkets and accessories you just don't find anywhere else.


StreetSideAuto.Com is made for the auto enthusiast. The company carries over 900 name brands that represent one of the largest selections of in-stock performance parts and accessories on the web. It's a unique buying experience for you as Street Side only sells in-stock items, gives you free shipping on orders over $50 and don't charge handling fees. So if you need and want; shift kits, a new transmission, high perf brakes, a new camshaft, a carb for your El Camino, a top end kit, electrical parts, gauges, nitrous propane injection, performance modules, programmers, shifters, torque converters, bugshields, bras, bumpers, car covers, chrome accessories, fender flares, mud flaps, grilles, hardtops or soft tops, hood and scoops, lighting, snow plows, tonneau covers, truck bed accessories, winches, carpet kits, floor and cargo mats, seat covers, steering wheels, suspension parts, auto apparel, tools and signs then Street Side Auto is the place for you to go on the web.

Note: You must have an RSS Reader installed and configured before clicking on the Orange RSS Button. An RSS Reader allows automatic download of changes/updates made to this website without having to visit this page. Saves time, effort and keeps you up to date.


Click Orange RSS Button to Subscribe to Site Updates