Luxury Car Mats
This page on Luxury Car Mats supercedes our old page. But you may find some of the old luxury mats and the associated info and pics interesting.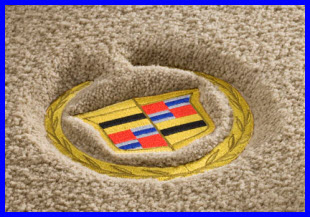 The Lloyd Mats Luxe is a very plush car floor mat that may be embroidered with many different logos. Note how deep the carpeting is in this pic.
Luxury Car Mats, in my humble opinion, should provide at least two of the following three useful benefits for your vehicle. First and most important, a luxury car mat should improve the look of your car interior and make you feel like you want to be in the car. You should like the way it feels when you step on it, even with your bare feet. It should complement and coordinate the interior color schema of your vehicles interior. Secondly, a luxury car mat should protect the investment you have made in your car. Preventing wear and tear on the carpeting, trapping dirt and mud, absorbing water snow and spills, and in general contributing to the cleanliness of your car floor area and your footwear. Third, a luxury car mat should add something that raises the experience of both driver and passengers while traveling in the vehicle. Something you don't usually experience. Something new. Maybe a smell. Maybe a color. Something different. Here's some car floor mats that fit the bill and by the way are some of the best car floor mats you'll find.

---
Berber Luxury
Car Mats
I classify Berber Car Mats as a luxury product because the berber weave has a long and distinguished history, it looks great in both single and multi color weaves, it's very durable and feels good when you stand on it in your bare feet. Berber carpeting is of a loop pile construction and has a lower pile height than most other carpeting but that gives it a distinguished look which improves the interior beauty and sophistication of most any vehicle.

The Berber 2 car mat manufactured by Lloyd Mats is a great example of a Berber weave car mat designed to provide modern day protection for your vehicle.
The Averys Luxury Touring is another great European Berber Mat made in the USA. The berber carpet used by Averys is slightly heavier than the Lloyd Mats Berber Car Mat.
The Covercraft Berber Mat. Yup Covercraft makes more than just car covers. They also make car floor mats.
Designer Mat International makes a 42 ounce berber weave car floor mat in a bunch of great color combos.
Sheepskin Car Mats
Sheepskin has a special relationship with your feet. You want to stand on it, wiggle your toes in it and just drift in the warm, soft feeling it induces in your being.

But, Wake Up! You're supposed to be piloting your car, not phasing in and out of reality, like you do when you drive and text. Sheepskin Car Mats do have almost the same effect as texting, don't they? But it's your feet experiencing the pleasure. OK, enough. Sheepskin car mats meet all the requirements of a luxury mat and here's some of the better known manufacturers of sheepskin car mats and related products. If you want more info just click on the sheepskin car mat link above or any of the links below.
Henan Rong Shi Jia Sheepskin Products Co., Ltd.
This company has been making beautiful sheepskin products for a long time sourcing their sheepskin material from the finest of New Zealand suppliers. 

Comfy Sheepskin Car Mats
Comfy supplies beautiful sheepskin car mats, seat covers and other sheepskin products into the North American marketplace. Beware, you may find you can't resist purchasing sheepskin stuff if you visit their site.

Coverdale LTD Sheepskin Mats
Coverdale makes extra fancy sheepskin car mats for extra fancy cars like Bentleys and Rolls. These mats are made in Great Britain and come in a variety of exciting and sophisticated colours.
SuperLamb Sheepskin Car Mats
Lots of New Zealand and Australian sheepskin, sewn leather heel pads, designer colors and rubber backing all go into the recipe for these very fine, but reasonably priced sheepskin car mats from SuperLamb Inc.

AutoStyle (Pattern One Ltd.) Sheepskin Car Mats
Sheepskin is expensive stuff to make a car mat from and the AutoStyle product line from Pattern One Ltd. of Old Wolverton, England is a great place to buy these high end sheepskin mats. But AutoStyle also carries a more economical, lambswool version of these car mats that are almost as nice and less expensive.
Ultimate Sheepskin Sheepskin Car Mats
Nope, I didn't make a mistake and repeat sheepskin twice in the above title. Ultimate Sheepskin makes sheepskin car mats. Take a look.
Easirider Sheepskin Car Mats
Since 1971 Easirider has been manufacturing a luxurious, but durable line of sheepskin floor mats for your Rolls, your family car or most any other car for which they have a floor pan template. Lots of colours, very plush lambswool and a driver side heel pad should pique your interest

Natural Auto Products
Environmentally Friendly
Luxurious Car Mats

Natural Auto Products is a USA based manufacturer of Coco, Sisal, Wool and Sea Grass car floor mats. I've included this company in the luxury car mats category because the materials they work with (coco, sisal, wool and sea grass) find their way into many luxury vehicles.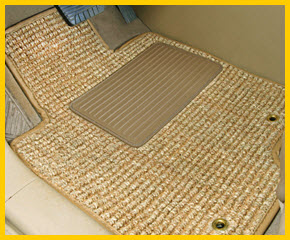 Natural Auto Products Sea Grass Car Floor Mats are really made from woven and knotted sea grass!
Natural Auto Pro
For example, during the 1950's, 1960's and 1970's coco mats were very popular in European luxury vehicles like the Mercedes Benz and BMW. Sea Grass car mats find their way into expensive passenger vehicles where their unique smell, color and feel add a certain aura to the traveling experience. And all these materials that Natural Auto Products uses to make their car mats are not only environmentally friendly, but aesthetically pleasing to the senses. It's a double good reason to check out these mats.


Ultra Plush Carpeted Car Mats
Really really plush carpeted car floor mats have very thick carpet which is luxuriously soft to the touch and feel, but still stands up to wear and tear while supporting your feet and keeping them warm. Several manufacturers qualify in this category.
Luxe Mats from Lloyd Mats  -  Page 1  -  Page 2
Manufactured in the USA these luxury carpeted mats come in 10 or more colors, provide a soft warm environment for your footsies and custom fit over 10,000 different vehicle floor pan configurations.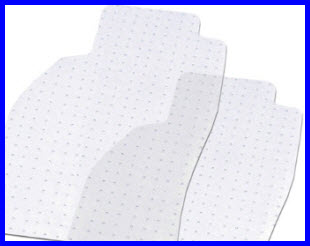 CoverKing Crystal Clear Vinyl Protective Car Mats keep mud, snow and gunk off your expensive carpeted car mats.
CoverKing Luxurious
  -  Page 1 - Page 2 -
The company designs and manufactures its "Luxurious" line of custom fit luxury car floor mats from imported materials. Custom embroidery options and 5 colors to match your OEM carpeting complement the luxury look and feel of these mats. And you can match up the CoverKing Luxurious carpeted  car mat you just bought with a vinyl protector mat made from the same pattern as your carpeted mat. That means a perfectly matched piece of vinyl can be placed over your carpeted mat in time of mud, snow and gunk to preserve the looks of that expensive Luxurious mat!

GG Bailey Car Couture
The GG Bailey Car Couture line of car floor mats utilize a 70 ounce weight carpeting to treat you to a soft, elegant and plush experience. Available in 10 heavyweight patterns and designs, including the new Charcoal Couture design, these car mats are designed to custom fit your make, year and model of car. The Zebra, Leopard and Red Oriental designs are my favorites.

Designer Mat International (DMI)
Designer Mat International makes a wide variety of car floor mats. For instance, the Berber Auto Mat, Coco Auto Mat and the Sisal Auto are unusual and interesting products not carried by most of the other manufacturers. But DMI also makes a Super Plush Auto Mat of 54 ounce twisted nylon yard that's a joy to wiggle your toes in. And the Oriental Auto Mat, the Fashion Auto Mat and the Safari Auto Mat are all made of 114 ounce polypropylene yarns integrated into unique designs and patterns for your cars enjoyment. That's plush and luxurious stuff that comes from DMI!

Leather Luxury Car Mats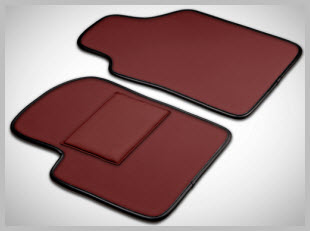 Inpelle Leather Car Mats. Burgundy leather, Deep Black trim, Burgundy heel pad. Exquisite, sophisticated leather car mats are waterproof and ruggedly resist dirt and gunk.
Yup, if you've got the bucks and your car is worth it, you can get leather car mats to upgrade the interior experience or your car. These mats are custom made for your make and model vehicle and are available in a variety of designs, colors and materials. Most modern leather car mats have greater resistance to water, dirt and stains than their predecessors , so you can use them in a greater number of applications and climates. To protect your leather car mats you could always try protecting them with universal absorbent car mats. 
---
Note: You must have an RSS Reader installed and configured before clicking on the Orange RSS Button. An RSS Reader allows automatic download of changes/updates made to this website without having to visit this page. Saves time, effort and keeps you up to date.


Click Orange RSS Button to Subscribe to Site Updates