Luxury Car Mats
Luxury Car Mats are not just for your car! Most of these mats may also be found in sizes fitting minivans, pickups and suvs.
Some of the luxury mats you will find as you browse this website are the beautiful berber mats from Intro-Tech, the stain/odor resistant mats from Yes Essentials, the Lloyd Mats luxurious Luxe and the outrageously plush mats from GG Bailey that you configure and design yourself. So there's no excuse to drive around in that old pumpkin with dull and boring floor mats. But, just for you I've picked out my favorite 4 types of floor mats that if I had a castle, I'd buy for my carriage or Rolls.

First Place : The Leather Auto Mat from Intro-Tech.

Second Place : GG Bailey's Car Couture Line of Luxury Mats.

Third Place : Sheepskin Car Mats Baaaaaaaaaaaaaa baaaaaaaaaaaaaaa.

Fourth Place : Heated Car Floor Mats Warmmmmmmmmmmmm.

So it's time to splurge, support the economy, go out and buy one of these totally decadent floor mats with your hard earned money. Why? Because no one else is gonna buy them for you, Are they?
But these aren't the only super luxurious car mats out there. You can always check out the offerings from Lloyd Mats , Yes Esentials and WeatherTech , just to name a few. I mean this website is full of really nice vehicle floor mats that will improve the appearance of any car, truck, van or suv!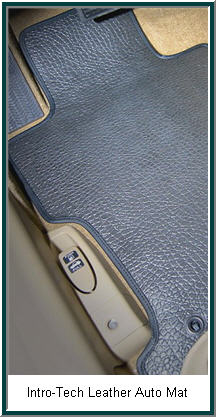 And remember, sometimes the hard part of making a decision about a new set of floor mats is in not knowing whether the new mats will fit or be cushy enough or colorful enough or live up to your expectations. So amongst all the websites I've visited to glean information to build this site here's the site that has the
Best Customer Reviews of Luxury Car Mats
for some of the luxury car floor mat products on this page. Just navigate from the floor mat page and pick the manufacturer you are interested in (I like WeatherTech, IntroTech, Fanmats, LloydMats, Plasticolor and Husky the most best) and read the reviews for the specific mats you are interested in. It usually helps me in my decision making process to see what others like or dislike about the product I'm interested in - I hope it helps you too.
And, if you find sites with great reviews please share the info with me and other readers of this site by filling out a contact sheet with the appropriate info.