Luxury Heated Car Mats
Please Note : As of March 14, 2015 it appears as if this product is no longer available. Green technology heated car mats from Martinson-Nicholls Inc give you the best of both worlds. They are made of a durable high density channeled rubber on one side and a plush, stain resistant carpet on the other side. Use a universal absorbent car mat protector to reduce water and dirt between this mat and your vehicles carpeting.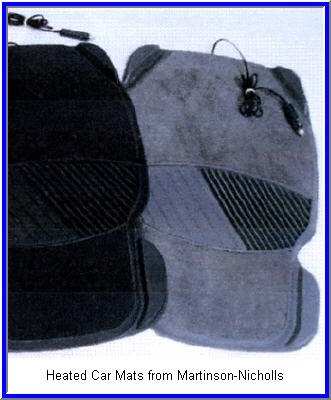 ---
Sandwiched in between these two layers is a resistive heating system which consumes around 60 watts of electrical power from your cars battery, heats the mat and automatically shuts off to preserve your battery power.
With the carpet side up during the summer, this universal fit 17" x 28" mat cushions your feet and will speed up the evaporation of water on your vehicles floor. But during those long, cold winter months, with the rubber side of the mat up, your footsies will appreciate the deep channels in the rubber that keep water away and the heating element that keeps them warm and dry.


 The radiant heat from these mats keep your feet  warm in any kind of boot or shoe and just plain  make you feel better knowing you don't have to   wait for the car to warm up to unfreeze your feet.  Luxury is not just for those with cold feet!

Additional Features:
- made of high grade
  rubber and carpet
- carpeted side has
  built in heel pad
- rubber side is
  deeply channeled
- 10 amp fuse on
  On/Off switch
- heats on both sides
- reversible mat carpet/rubber
- 2 colors, gray and black
- 90 Day Unconditional Warranty
- Made in the USA



Note: You must have an RSS Reader installed and configured before clicking on the Orange RSS Button. An RSS Reader allows automatic download of changes/updates made to this website without having to visit this page. Saves time, effort and keeps you up to date.


Click Orange RSS Button to Subscribe to Site Updates