Sheepskin Car Mats
Sheepskin Car Mats are a statement of luxury and standing in society. Whether you're driving a Lexus, a Rolls, a Pickup or a Sorrento, sheepskin keeps your feet warm and dry, while broadcasting your status and success. Henan Rong Shi Jia Sheepskin Products Co., Ltd is a longtime manufacturer of such car floor mats.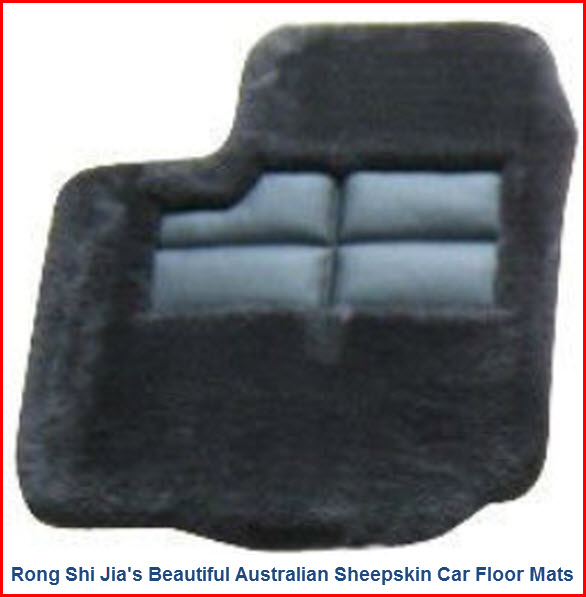 ---
Rong Shi Jia starts with beautifully tanned sheepskins from Bowron Sheepskins, a New Zealand tanner of sheepskin since 1879. No harsh chemicals are used in the tanning process and there aren't any nasty smells coming from the skins. The sheepskins are shaped, backed with an anti-slip material, stuffed with latex impregnated felt and protected with a leather like heel pad. The nap on this sheepskin is approximately 22mm and you can machine wash these mats in a gentle fashion. Sheepskin can absorb up to 33% of its weight in water, so in a pinch you can use one of these mats as a beach towel, not. Sheepskin is warm in the winter and cool in the summer which means your feet will always be at just the right temperature, at least according to aficionados of sheepskin car mats! You can get these mats in greens, reds, black and a bunch of other colors.

Comfy Sheepskin Car Mats
Comfy Sheepskin supplies sheepskin car floor mats to the US marketplace. Their mats are made from a layer of foam sandwiched between Merino wool and a rubber backing. In addition to their line of sheepskin car mats Comfy also sells a line of sheepskin car seat covers you have to sit on to believe!

They are warm and cozy on your feet and if you sleep in your car it's not a bad substitute for a piece of foam rubber and a warm blanky. Tailor made sheepskin mats from Comfy Inter-American Sheepskin do more than keep your feet warm, they make you feel good about your vehicle. You know Comfy backs the sheepskin with a layer of foam and affixes a non-slip rubber backing to make a functional car floor mat but you can also have them brand a leather heel pad to your sheepskin to prevent wear through, or not. Most of these sheepskin car mats have a nap height between 1" and 2" and you can order them in designer colors to match your vehicles interior.

Comfy Sheepskin Car Mats are made to wiggle your toes in, just not while you're driving the car. In lots of colors to match your car interior and lend an air of luxury and sophistication.
These mats come in black, mushroom, palamino, navy, burgundy, silver, steel, charcoal, tan, pearl, white, ivory, latte, coffee, sand and platinum. You can purchase a four piece set that also covers your rear floors. They are a little pricey, but if you sleep in you car like I do sometimes, you'll save on hotel rooms in the long run. They get dirty real easy, but you can clean them by brushing and using a soap specially formulated for wool. Just in case you thought these car mats are only available for Lexus, they're not! You can get them custom made for your Bentley, Rolls, Maybach, Pinto or most any other car. If you're feeling guilty about using animal skins, make a contribution to PETA and then go buy the sheepskin mats. That way your feet are warm and your conscience is cozy.
Coverdale Sheepskin Car Mats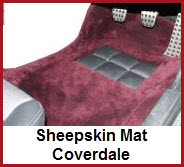 Coverdale Sheepskin Car Mats
Coverdale LTD is a UK supplier and/or manufacturer of sheepskin car mats, car carpet, car covers and a bunch of other accessories for cars, vans and boats. They carry sheepskin mats tailored expressly for the Bentley, Daimler, Jaguar, Maybach, Mercedes and Rolls Royce automobile lines. The mats are made to order from thick, luxurious sheepskin with a slip resistant backing that encloses a latex impregnated felt interlayer. The mats resist rucking and help to deaden unwelcome sounds. But hey, I mean, how much unwelcome sound would you have in a Bentley or Maybach? Oh, and did I mention, a leather heel pad is sewn into the drivers side mat to prevent you from rubbing your heel through the wooly mat. The mats come in colors like; black, red, grey, blue and a bunch of other fancy colors.
SuperLamb Sheepskin Car Mats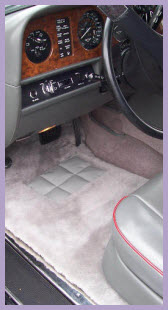 SuperLamb Inc. Sheepskin Car Mats for a sophisticated and luxurious look and feel for your very expensive horseless carriage.
SuperLamb Inc. sells some beautiful, lush and colorful sheepskin car floor mats for a really long list of car makes, models and years. And at a reasonable price. Manufactured from Australian and New Zealand sheepskin these mats are solid foam filled and rubber backed. A leather heel pad is sewn onto the front driver side floor mat to protect the mat from you rubbing your heel back and forth on it. These mats are naturally fire retardant and will last 10 to 12 years with proper care. SuperLamb Inc. also sells seat covers, headrest covers, seat belt covers, heel pads, bicycle seat covers and lots of other stuff made from their high quality sheepskins. The mats are available in the following colors; beige, black, brown, burgundy,  charcoal, crème, honey tan, metallic blue, mid gray, natural, navy, oak, oyster, silver, slate and taupe. Some of the makes and models include the AC Cobra, the Zimmer Golden, the Aston Martin Vanquish and many more.

---
AutoStyle (Pattern One Ltd.)
Sheepskin & Lambswool Car Mats
The AutoStyle Sheepskin Car Mat made by Pattern One Ltd. of Old Wolverton, England is designed from the ground up to care for and protect your car floor and interior. This AutoStyle product may be found in prestige vehicles, sports cars and limousines worldwide.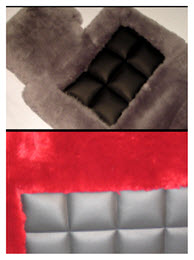 AutoStyle Sheepskin Car Mats are made by Pattern One Ltd. of Old Wolverton, England.
Pattern One's recipe for success involves selecting only the finest sheepskin selected for quality and size, layering in a latex impregnated felt interlayer and backing all of this with a slip resistant backing. As a finishing touch a leather like heel pad is sewn on the driver side mat to prevent wear through. Pattern One also provides a Lambs Wool Car Mat as a lower price alternative to the Sheepskin product. You still get the luxurious look and feel of Sheepskin at about half the price. These lambs wool car mats are made from inch thick (2.5cm) lambs wool carpet. A driver side heel pad and anti slip felt backing are just several nice features of these beautiful mats. You can get them in black, gray and mocha-sable to match your vehicles interior.

---
Ultimate Sheepskin
Sheepskin Car Mats

Ultimate Sheepskin custom cuts tanned sheepskin from Australia and New Zealand to fit your vehicles specifications. You send in the measurements or a picture of the make and model of your vehicle and a 4 piece set of sheepskin car floor mats finds its way to you in 3 to 4 weeks. The mats are available in burgundy, mushroom, pewter, camel, brown, dark silver, charcoal, gobi, blue, silver, black and pearl. They come with a one year warranty.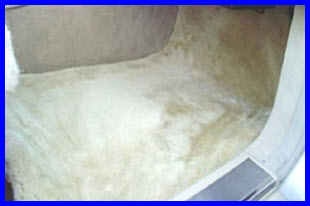 The 4 mats weigh about 10 pounds and the company uses only skins from animals already harvested for their meat. Most of the skins come from mixed breed sheep that usually have a combination of two or more of Merino, Romney and Border Leicester lineage in them. But, hey, if you can deal with dead animal skin floor mats for your vehicle that keep your feet warm in winter, cool in summer and make your feet feel like they are sitting on a cloud, then these are the car mats for you.
Easirider Sheepskin Car Mats
Since 1971 Easirider Company Ltd of Northampton, England has been manufacturing lambswool over rugs for the worlds finest automobiles. Available in a whole bunch of colours and for both right and left hand drive vehicles these high quality sheepskin car mats add the finishing touch to your car. Easirider uses a dense, plush 25mm (about 1 inch) thick pile lambswool to create sheepskin car mats with incredible luxury and durability. Available in the USA from Kexby Limited. Kexby also carries floor mats and rugs for the Rolls Royce Bentley, Silver Cloud and Phantom.

Easirider Company Ltd makes a beautiful sheepskin car mat for your rare, new, old or luxury automobile.
Features
- individually tailored to fit
  rare, old and new
  vehicles perfectly
- soft, durable black micro
  calf heel pad on driver
  side mat
- 25mm pile height
  sheepskin
- plush 13mm (1/2 inch)
  felt interliner
- automotive quality
  trim fabric
- velcro closure design
  backing simplifies cleaning
- 1, 2, 3, 4 piece sets
- matching boot rugs available
- colours are linen, burnt oak, ochre beige, spruce green,
  magnolia, cognac, anthracite, dark blue, portofino blue,
  porpoise gray, cherry red, burgundy and black
Cleaning Your Sheepskin Car Mats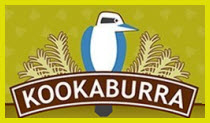 Kookaburra Sheepskin Cleaner.
Sheepskin Cleaning Product
Kookaburra sits on the old gum tree. Merry merry king of the bush is he ... Well that's the way the song goes, but the song won't cause or allow expensive sheepskin in your car to become clean. But I know what will! Kookaburra Wash from ABL Development Inc. of Florence, Colorado has been specially formulated from safe, plant based products to clean your expensive sheepskin stuff. They've been around since 2007 so they've probably heard the Kookaburra song a lot and sold a lot of their sheepskin cleaning detergent at the same time.

Home Grown Recipe 1
You can easily clean your sheepskin car mats by removing them from your vehicle and shaking them out. Very carefully vacuuming them may help in the removal of dirt, dust and other nasty stuff that finds its way to your vehicles floor. Just be careful, hold the mat in such a way as it prevents the vacuum cleaner from sucking up the mat. A gentle orange oil based solvent may be used for spot cleaning. Just try the solvent first on a test piece of the mat that won't be seen if the solvent works too good. For an overall cleaning send to the dry cleaner.

---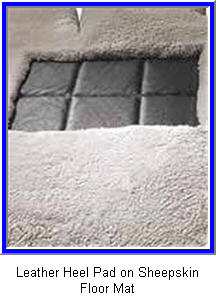 Common Features
- soft, warm and water absorbent
- leather / faux leather heel pads
  prevent wear
- sheepskin mats are durable
- rubber or other non-slip backing
  to prevent mat slippage
- nap is usually around 1" (25mm)
  in height, plus or minus a little
- available in designer colors
- usually comes with a warranty
- Australian or New Zealand wools
- Usually made in England or China
Sheepskin Car Floor Mats are available from a variety of on-line retailers. The Logo Floor Mats Buyers Guide lists several sources you may find to be valuable. You may also be interested in alternative, upscale car mats. If so, our Luxury Car Mats page may have some interesting car floor mat alternatives for you.
---
Note: You must have an RSS Reader installed and configured before clicking on the Orange RSS Button. An RSS Reader allows automatic download of changes/updates made to this website without having to visit this page. Saves time, effort and keeps you up to date.


Click Orange RSS Button to Subscribe to Site Updates