Automobile Floor Mats from Yes Essentials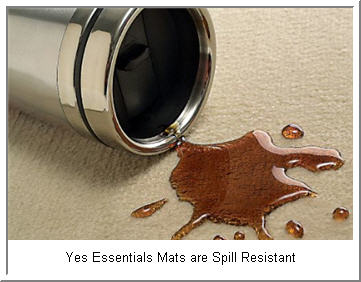 Note : As of 18-Nov-2014 it appears as if Yes Essentials no longer produces automobile floor mats under the Yes Essentials brand name. However, it does look like Yes Essentials carpeting is still used in the production of car mats manufactured to prevent smells and resist bacterial growth. Yes Essentials and it's parent company Sage also manufacturer interior fabrics for many OEM's that have the same properties as the car mats described below.

Most folks have heard the saying "So you think your s--t don't stink". Well the engineers making automobile floor mats at Yes Essentials have figured out an answer to that age old pejorative (the mean and disgusting phrase I put in quotes above). They manufacture carpeting used in the production of car floor mats that don't smell even if you leave milk to sour and spoil on them.
Think of it, baby formula, discarded partially eaten fast food and other gunk have their odors eaten up by these mats. Chocolate melted onto car mats made from this carpeting just wipes off! How did they do it? I don't know for sure, but I think it has something to do with silver fibers woven into the carpeting and magic! Their parent company is Sage Automotive Interiors who makes all kinds of carpeting and car fabrics.  It's Sage's StainSmart, AlphaSan and ShockShield technologies that go into the making of the Yes Essentials worry free fabrics and give them their stain resistance, odor resistance and static resistance respectively.
Note : Yes Essentials doesn't make the car mats any longer just the carpet used to make the mats by other car mat manufacturers.

OK, anyway, the Yes Essentials mats were manufactured from a premium, 25 oz., low pile, nylon carpet. A water resistant rubber backing prevents slippage. These mats are custom cut to provide an exacting fit, rivaling that of your OEM automobile floor mats. The mat edges were bound with a color coordinated fabric to enhance appearance. You can wash off even ground in, dried dirt and gunk with just mild soap and water. So I guess, there's no reason to cry over spilt milk anymore.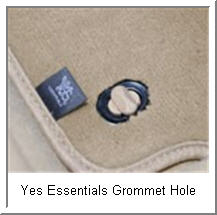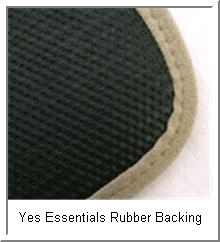 Yes Essentials Automobile Floor Mats
Additional Features
- low dense pile
- available in 8 colors
- water, stain and odor resistant
- metal grommet holes if your vehicle has factory floor hooks
- silver based antimicrobial technology prevents mold & mildew
- anti static prevents clinging clothes and shocks
- European styling
Note: You must have an RSS Reader installed and configured before clicking on the Orange RSS Button. An RSS Reader allows automatic download of changes/updates made to this website without having to visit this page. Saves time, effort and keeps you up to date.


Click Orange RSS Button to Subscribe to Site Updates