CoverKing Car Mats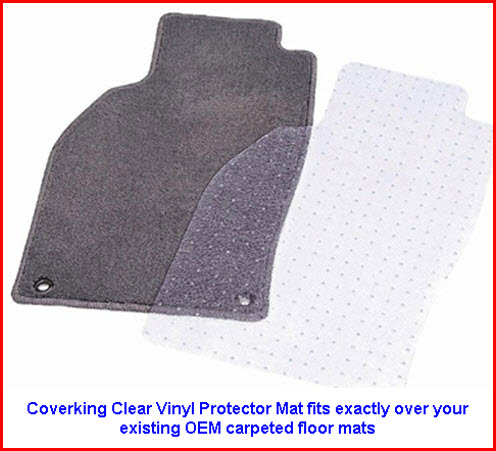 CoverKing Car Mats are just the tip of the CoverKing product iceberg. Besides car floor mats,CoverKing makes and/or distributes car covers, seat covers, dash covers, sunshields, motocycle & ATV covers and a lot of other stuff for customizing your car, truck, SUV, van, motorcycle or other vehicle.

CoverKing started out by applying some advanced CAD/CAM technology to the production of custom dash covers and soon they were making custom floor mats for all kinds of vehicles.

CoverKing Car Mats are made with premium grade carpets or clear vinyl. A carpeted mat is great if you want to replace the OEM mats in your vehicle, while the clear vinyl mat can act as a replacement for the OEM mat or better yet as an added line of protection for your expensive carpeted mats. Both types, carpeted and vinyl, have nibbed backs to prevent mat slippage on your vehicles floor. The CoverKing custom floor mats come in a number of configurations; sets of 2, sets of 4, single strip for rear of truck, 2 strips for rear of SUV, 2 special configs for minivans and a single mat designed for rear cargo areas. So you've got a lot of options with a CoverKing floor mat solution. Here's some additional data on the CoverKing line including what little info I have on some specialty car mats that CoverKing makes.



CoverKing Car Mats - Custom
Carpeted and Clear Vinyl

Custom Car Floor Mats (carpeted)
- Top quality nylon carpet
- Custom fit and made to order
- Premium 22oz or Luxurious 40oz carpeting
- Carpeting is fade and UV resistant
- Stain and wear resist agents in carpet fiber
- CoverKing mats available in 5 colors
- Rubber nibbed backs to prevent slipping
- Rear Seat and Cargo Mats available
- Matching velour binding
- Embroidery and Logo Options
- Grommets for your OEM anchor posts
- Made in the USA
- 1 Year Warranty

Clear Vinyl Protector Mats
- Custom fit and made to order
- Precisely cut from clear vinyl
- Use as replacement for existing mats
- Use to cover and protect existing mats
- Made using the same precise 3-D cut
  patterns as Avery's carpeted mats
- Keeps rain, snow, mud and gunk
  off your carpets or mats
- Lets original mat color show through
- Nibbed backs to prevent slipping
- Imported Vinyl is Cut and Shaped
  in the USA
Protect Your Investment!
- Both vinyl and carpeted car floor mats are
  expensive and should also be cared for
  properly. One way to help keep these mats
  clean and reduce mold and mildew smells
  is to use universal absorbent mats.

---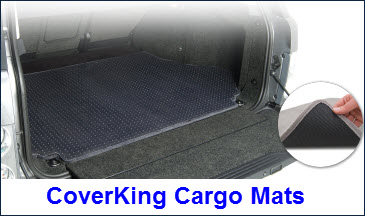 Note : As of 11-Nov-2014 it does not appear as if CoverKing manufactures or distributes the products listed below. You may be able to find them as closeouts in online stores.

Licensed Products
- 40oz mat with Chevy or Camaro
  logo/embroidery
- 22/40/40 ounce mats for 1964+ Mustangs

PhatMats
- High quality car mats
- 40 ounce nylon carpeting
- Stain resistant
- DUB (DUB Publishing Inc) inspired designs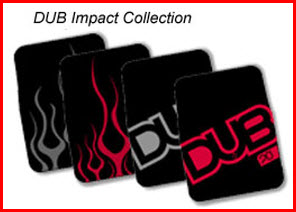 Note: You must have an RSS Reader installed and configured before clicking on the Orange RSS Button. An RSS Reader allows automatic download of changes/updates made to this website without having to visit this page. Saves time, effort and keeps you up to date.


Click Orange RSS Button to Subscribe to Site Updates