GGBailey Car Mats
GGBailey Car Mats are manufactured by GG Bailey LLC. The GG Bailey Car Mats company is part of the Racemark International group of companies that has been in the automotive products business since 1974 when they made the first carpeted floor mat.
The company continually strives to improve the safety of their car mats using a sound absorbing open cell foam backing, support for OEM anchor posts and MatLoc clips to keep their car floor mats securely in place on your vehicles floor. GGBailey Car Mats are organized into two distinct product lines - the Car Couture line of luxury mats made of Stark Carpet and the Custom Designed line of mats you design yourself using the GG Bailey on-line design tool. Both product lines give you the ultimate in luxury with carpet weights ranging between 50oz/yd and 72.5oz/yd. So lets take a closer look at each of their product lines. Tip: you can protect these expensive, beautiful car mats from coffee spills, mud and other nasty stuff by using universal absorbent car mats like I do in my wife's car.
Car Couture Luxury Car Mats
This is an exclusive GGBailey Car Mats line of Custom Oriental, Plaid, Camouflage and Animal design car mats that are manufactured using Stark Carpeting.

Stark is one the most prestigious carpet makers in the USA with their products found in the finest homes, including the White House. The Oriental and Leopard designs are woven from 72.5 oz. carpet made from polypropylene thread that has been treated for stain and wear resistance. The Plaid and Camouflage designs are similarly made from 50 oz. carpet. Open cell foam backing prevents all these mats from slipping on your cars floor. The edges are serged to prevent unraveling. The Oriental mats come in six designs; Beige Chariot, Black Chariot, Black Valiant, Topkapi, Red Ishtar and Navy Chariot. Two Plaid designs and one camo design finish off the 10 basic designs in the Car Couture line. Here's a couple of additional features of the Car Couture line of car mats from GGBailey Car Mats:

- Designs compliment car interior
- MatLoc clips secure mats to carpet
- 3rd Row, Trunk & Cargo mats
GGBailey Car Mats Custom Designed by You
Ya, you heard it right, GG Bailey Car Mats let's you design your own car mats. No matter how you design your mats though, they are made of 72.5 oz. polypropylene fiber for durability and stain resistance. They are backed with GG Baileys open cell foam backing to prevent slippage and you get to pick from up to 26 really cool colors including pink and purple. Here's some of the options you get to pick on your way towards designing your very own, unique custom car floor mats from GG Bailey.

Pick the Mat Set

Pick just a front set of mats, a complete 2 row set for cars, a complete 3 row set for SUVs or a cargo mat. I choose a front set for my Yukon Denali.


Pick the Carpet Color

I picked Pink from among the 16 color choices I had for my GGBailey Car Mats including greys, greens, black, burgundy, blue and more. A pink definitely makes for a conversation piece on a hunting or fishing trip but it does show dirt. Maybe a darker color would have been better, but, Oh Well!


Pick an Edging

The edging on a car mat prevents the edges from fraying or unraveling and definitely adds a decorative flair to the mat. GG Bailey lets you pick from multiple types of ribbon binding (regular color binding, Saratoga binding, reflective binding or camouflage binding) or a serged edge. I, of course, appreciate the luxurious distinction of a pink car floor mat so I choose a purple serged edge. You of course, may want to pick from one of the other 20 colors, including some of the available two tones.


Heel Pads

You get to pick a round or rectangular heel pad or no heel pad at all. I guess it depends on your mood at the time you design your mat. But I think it's better to get a heel pad and help prevent your mat from wearing through than to get no heel pad at all. And GGBailey Car Mats is so good with colors that I picked a round kelly green heel pad from amongst the 18 or so color choices I had just because it went so good with the pink mat and purple serged edging.


Choose Embroidery or Logo

I picked the black embroidered letters ABC just so I don't forget how the alphabet starts. You can choose from 18 or so colors and have up to 10 characters for the driver and passenger side mats. OR .........



You get to pick a logo you would like to appear on your mat. I decided I already knew the first 3 letters of the alphabet and I also remembered my own initials so I decided instead to go for a logo.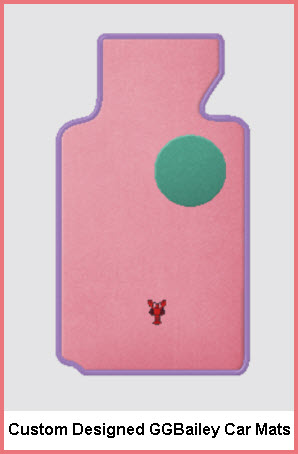 There are some cool sports logos ( baseball, basketball, football, golf, racing flags,soccer, tennis ) or alligators, anchors, horseshoes, lobsters, palm trees, sail boats, whales, American Flag or a bunch of different GM logos ( like Pontiac, Chevy, etc. ). It just seemed like a pink floor mat called out for a lobster - so I picked the lobster logo.


And here's what my mat looked like. You probably don't like the way I designed my GGBailey Car Mats, come to think of it, I could have done a better job. But you get the idea of how powerful and easy to use the GG Bailey on-line car mat design tool is. Check it out, you'll probably find a design you just have to buy
Note: You must have an RSS Reader installed and configured before clicking on the Orange RSS Button. An RSS Reader allows automatic download of changes/updates made to this website without having to visit this page. Saves time, effort and keeps you up to date.


Click Orange RSS Button to Subscribe to Site Updates