Covercraft Car Mats
In 1965, location Van Nuys California, some guy named Bob Lichtmann started making car covers(yup he didn't start out making Covercraft Car Mats!) with two associates in a 1200 square foot building in a business that would become Covercraft Industries Ltd.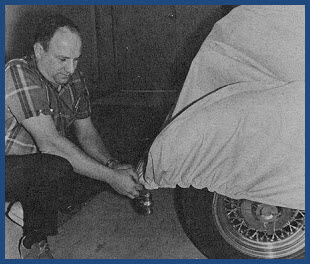 Early days of Covercraft Industries Ltd. I think he's making a car cover.
 He started out with 20 patterns for his car covers and over the years has grown to be the worlds largest manufacturer of custom patterned car covers and a car cover library of over 80,000 patterns. Looks like growth to me. But it's the expansion of the Covercraft product line into car floor mats in 2009 that interests us.  The Premier Line of custom fit car floor mats from Covercraft consists of both a berber carpet and a plush carpet mat. In many cases these mats are made to match your exact make and model, providing a perfect fit for your car. Covercraft also makes some unique products; a Cargo Area Liner and a Canine Cargo Area Liner which are also part of the Premier Product Line.

Premier Line - Common Features
Here are some of the common features shared by the Berber and Plush Carpet members of the Premier Line of Covercraft Car Mats.
- custom fit for most
  makes and models
- mats for cars,
  pickups, vans
  and SUVs
- front, rear seat,
  3rd row, cargo
  and trunk
- thick nylon or
  polypropylene carpet
  for good wear
  charateristics
- stitched edging prevent mat from unraveling
- rubberized nib backing prevent mat slippage
- grommets to match vehicle anchor posts
- Great selection of logos and monograms
- available in good selection of colors
- 1 year warranty
Covercraft Car Mats - Berber Mats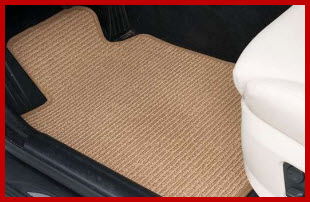 Covercraft Berber Car Floor Mats
These Berber Mats are made with a thick polypropylene carpet. They are available for many different vehicle configurations such as; 1 piece front, two piece front, 4 piece front and back, 5 piece 3 row and a bunch more. One configuration will fit the layout of your vehicle. And you can get these mats for almost any make and model.


Features
- 5 colors; black, smoke, gray, beige, taupe
- custom patterned for a perfect fit
- driver side grommet to match vehicle anchor post
- made from 42 ounce weight berber carpet
- heavy duty 80 ounce rubber nibbed backing
- ribbed "syn-cotton" polyester binding
- 1 year warranty

Covercraft Car Mats - Plush Carpet Mats
The Premier Plush Carpet Car Mat is made from a luxurious nylon carpeting with a rubberized nibbed backing that helps the mat stay in place.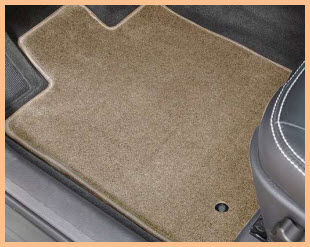 Covercraft Plush Carpet Car Mat is made from a thick, durable nylon yarn.
Features
- protects your vehicles
  carpeting from dust,
  dirt, fluids
- thick nylon carpet with
  stitched cloth trim
- rubberized nib backing to
  prevent mat slippage
- grommets to match OEM
  mat anchor posts
- 11 colors; black, smoke,
  gray mist, gray, caramel,
  driftwood, taupe, beige,
  wine, navy, evergreen
- 1 year warranty
Covercraft Car Mats - Cargo Liners
Covercraft manufacturers custom cargo liners, universal cargo liners and canine cargo liners. Here's some info on all three.
Custom Cargo Liners
- over 255 custom
  fit patterns
- protect floor area and
  seat back
- works with split seats
- made from waterproof,
  urethane coated,
  polyester fabric
- includes a fold out
  bumper flap
- hose off to clean and
  hang up to air dry
- secures to seat backs with
  tie downs connecting
  to factory D-rings
Canine Cargo Liners
- turns the back of your
  vehicle into a travel
  bed for your dog or
  other animal
- made of a breathable
  fabric with a textured
  finish, kind of like a quilt.
- custom tailored for
  a perfect fit
- quilt padded finish for dogs comfort
- easy clean machine washable
- secures to seat back
- nylon liner for waterproof protection of cargo area
- paw print fabric design
- also available in True Timber Camo design
Note: You must have an RSS Reader installed and configured before clicking on the Orange RSS Button. An RSS Reader allows automatic download of changes/updates made to this website without having to visit this page. Saves time, effort and keeps you up to date.


Click Orange RSS Button to Subscribe to Site Updates