Cleaning Leather Car Mats
Cleaning Leather Seats & Trim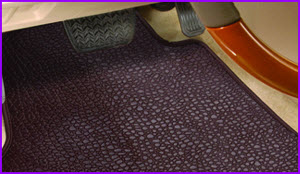 The IntroTech Leather Car Mats you need look like this in virgin condition.
Cleaning leather car mats, seats or trim is not for the timid. Chances are if you have leather in your car you can afford to have your vehicle detailed. But just in case you're a hard core car aficionado and have to clean your own car here are some tips and products to help you with cleaning leather car mats and other leather stuff in your vehicle. And since prevention is the best medicine my very first tip to you is to use a universal absorbent car/truck mat protector to reduce the moisture, dirt and odors in your floor mats and carpeting. It's the first line of defense for me.
The next thing you just have to do is find out what kind of leather you have in your car. LeatherWorld has some great info to help you determine what kind of leather your mats, seats or other interior things are made from.
Just in case you've damaged your leather seats, dash or other interior pieces more than you thought at first - for example, maybe there are some holes or bad scratches or discolorations in the leather, you can get some help from Superior Restoration Products Inc. They have all kinds of great products for leather; scratch & crack filler, leather & vinyl repair compound, leather adhesive, leather primer and complete kits to help you repair your leather with color matching dyes.
Once you know the type(s) of leather you're dealing with you can go to LeatherWorld, Cleaning Leather Car Stuff at 3M , ArmorAll , Lexol , Meguiars , Mothers , Zymol or Pinnacles websites to get more info on cleaning leather car items. You can also find who sells these products near you at many of these websites.

Yea, yea, yea ... I took the chicken way out and told you about the commercial products for leather cleaning above. But I know there are some of you who are adventurous even with your fancy leather car or truck interiors and want to clean and preserve the leather yourself. So here's some tips and recipes just for you. Just remember to test the method you finally decide to use on an inconspicuous piece of leather before you proceed.
Cleaning Leather Car Mats & Interiors
Leather Cleaning Tip 1 : To remove mold and mildew first brush away the loose spores. Then rub with a clean white terry cloth that has been dipped in a solution of 1 Cup Rubbing Alcohol and 1 Cup of Water. Shake the alcohol and water up before you wet your cloth. Dry thoroughly.
Leather Cleaning Tip 2 : Use a microfiber cloth to apply leather cleaners, conditioners and preservatives. Leather scratches easily so don't use any kind of abrasive material when cleaning.
Leather Cleaning Tip 3 : Blot liquid spots on your leather with a clean white paper towel. Then clean with a pH balanced soap like Murphy's Oil Soap and buff dry.
Leather Cleaning Tip 4 : Wash your leather in sections so you don't leave cleaner or conditioner on any one spot for too long. This prevents too much cleaner or conditioner from soaking into the leather.

Leather Cleaning Tip 5 : Clean and condition your leather a couple of times a year. Do it more often if you live in very dry, hot places to prevent the leather from drying out and cracking.
Leather Cleaning Tip 6 : Many people recommend against using saddle soap when cleaning leather car interior items. Saddle soap may contain chemicals that can damage certain leathers over the long term.
Recipe 1 Clean & Condition : Add one part of white vinegar to two parts of Neat's Foot Oil or Raw Food Grade Linseed Oil. Apply lightly with a clean white cloth to leather and allow to sit overnight. Buff to remove excess cleaner.
Recipe 2 Cleaner Ideas to Try : Toothpaste for stains and dirt, non-acetone nail polish to remove ink, Aerosol hairspray to remove tough stains.
Recipe 3 Commercial Ink Remover : Rekote makes an ink remover product that may work on your fine leathers that have been used as a canvas by your up and coming artist child. Who knows - it may even save the kids life!


Note: You must have an RSS Reader installed and configured before clicking on the Orange RSS Button. An RSS Reader allows automatic download of changes/updates made to this website without having to visit this page. Saves time, effort and keeps you up to date.


Click Orange RSS Button to Subscribe to Site Updates