Auto Custom Carpets
Auto Custom Carpets (ACC) has been around since its founding in 1977 by Jack Holland. Mr. Holland has since retired and the company is essentially employee owned.

ACC manufactures molded replacement carpet for most cars and pickup trucks dating back to the mid 1940s in addition to floor mats (for cars, pickups and SUVs), trunk mats and vacuum molded vinyl flooring. The company tufts, dyes and finishes it's own carpeting. Manufacturing facilities are located in Alabama and Georgia, while the corporate office is in Anniston, Alabama. ACC is the favorite of car restoration specialists who want to specify original fit, material and color for their current projects carpet replacement. In addition, ACC sells an essential line of auto restoration supplies for Ford, Chevrolet, Toyota, Nissan, Dodge, Chrysler and Honda. So if "tricking out" a car or pickup is your thing, ACC is your restoration specialist.


ACC Replacement Carpet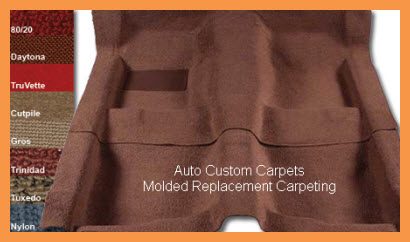 Automotive replacement carpet is what Auto Custom Carpets is really about. From cut and sewn carpeting for early model cars to precisely molded carpet sets for later models, ACC makes replacement carpet in all eight of the original automotive carpet materials, like TruVette, Daytona and Trinidad. ACC lets you choose from over 325 original OEM colors and 15,000 styles. Most of the carpet materials may be backed with rubber latex or polyethylene. Note: Daytona can only be used in cut and sewn applications as it cannot be molded.
And best thing yet about ACC is even if the kids have destroyed the interior carpeting in your nice, new, shiny SUV you don't have to worry. ACC provides a convenient, thrifty replacement carpet kit for almost every SUV on the road today.


Tip: Keep Carpet Clean and Dry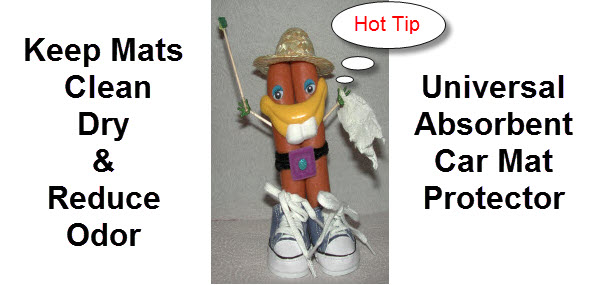 One reason carpet gets dirty, worn and smelly is trapped moisture. You've got some nice rubber car floor mats or a beautiful custom set of luxury mats and everything is fine until the weather gets wet, coffee or soda get spilled or the kids drag lots of gooey mud into the car. Then the moisture from all that stuff gets trapped between the rubber on the bottom of your mats and the vehicle's carpeting. Uh! Oh! Now the little moldies and mildews begin to grow and smell up the vehicle and degrade your carpet. So you ask yourself, is it easier to use universal absorbent car truck mats to prevent this situation or do you like to replace the carpet in your vehicle? I got the absorbent mats.

OEM Carpet Materials
- Loop (80/20 Rayon/Nylon, 24 oz,
  5/32 gauge loop)
- Cut Pile (Nylon, 14 oz, 1/8 gauge loop)
- Daytona (Nylon/Cotton/Rayon, 28 oz)
- Gros Point (Nylon)
- Nylon (DuPont 1850 nylon, 5/32 gauge loop)
- Trinadad (Rayon/Nylon, Gold and/or
  Silver thread)
- TruVette (Nylon, 14 oz, 1/10 gauge loop)
- Tuxedo (olefin filament blended into
  rayon/nylon)

Other Carpet Materials
- Essex (Super plush upgrade to Cut Pile)
- Vinyl (When carpeting just doesn't do the job)

Special Features
- over 325 original colors
- 23,000+ styles dating back to the 1940s
- heat molded
- 36 oz jute padding
- heel pads just like OEM
- TruVette original carpeting for the Corvette
- Mass Back recommended as a sound deadener

Xtreme Carpet Colors
- for a really "tricked out" ride
- molded with jute padding
- Limelite Green
- Flaming Fuchsia
- Electric Blue
- Chrome Yellow
- Royal Purple
- White
- Hugger Orange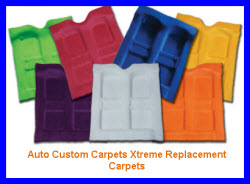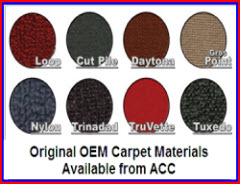 ACC Custom Carpets - Applications
Camry

4Runner

Corolla

Solara

Tacoma Pickup





Ford Pickups

Chevy Pickups

Roadsters

Muscle Cars

Toyota Pickups





Blazers

Camaros

Corvettes

Suburbans

Impalas





Mustangs

Dodge

Nissan

Tahoes

Malibus




Auto Custom Carpets - Auto Floor Mats
Do you need to protect the carpeting in your car, pickup, van or SUV? Auto Custom Carpets has you covered!

They make floor mats for vehicles going back to the mid 1940s that custom manufactured to fit the exact make, model and year of your vehicle. And these mats are all die cut or molded to fit the dimensions of your vehicle. They fit perfectly and are crafted using the OEM colors and materials your vehicle was born with. ACC's vehicle floor mats all come backed with Griplock non-stick backing so they don't slide all around on your nice new carpet.

Additional Features
- Over 23,000 custom die cut or molded styles
- Made from same material as ACC carpet flooring
- Over 180 logos available for all major vehicles
- Match over 300 original OEM colors
- Match all 8 original OEM carpet materials
- Original style heel pads
- Heavy duty, perfect fit truck mats
- Corvette and other specialty mats
- Heat molded
- 36 oz. jute backing
- Two and four piece sets
- Mix and match binding and carpet colors



Auto Custom Carpets - Trunk Mats
Just a quick mention here on behalf of trunk mats. You don't really have a complete restoration job or really cool vehicle unless your trunk mat is cherry.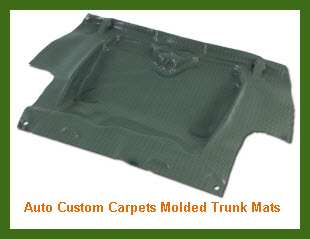 Auto Custom Carpets makes trunk mats from original patterns and in original colors to perfectly fit your vehicle. And depending on what you use your trunk for, you'll appreciate the fact that you can order a trunk mat from ACC in fleece, felt, foam, bertex (a brown fiber similar to burlap) or vinyl. And the fit, ahhh, just look at the pic next to this info.

Auto Custom Carpets - Vinyl Flooring
Like ACC says there are times when carpeting just doesn't do the trick. Whether it's an old Dodge that came with a vinyl floor or you just can't justify putting carpet in a pickup you only use at work sites, sometimes you just gotta have vinyl flooring.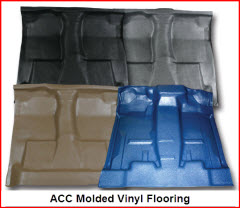 So ACC makes it easy on you by providing a heavy duty alternative to a carpeted floor.
- Made from heavy duty vinyl
- Easy to install
- Duplicate of original floor pattern
- Vacuum molded
- Easy cleanup with soap and water
- Blue, grey, beige and black
- Taxies
- Pickups
- Cars
- Restorations