FanMats Logo Mats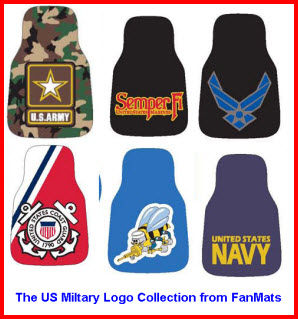 FanMats Logo Mats are manufactured by Sports Licensing Solutions which is a brand of Millennium Mat Company (MMC) of Suwanee, Georgia. Bob Kohlhepp and Ian Malpass of MMC put their first product out the door in 1998 and haven't looked back since. 

With a world class manufacturing facility in the USA and 23 worldwide markets the company makes and distributes millions of carpeted and vinyl mats for not only your car but also for bathroom, bedroom and garage applications. Millennium Mat Co. is one of the larger industrial and recreational floor mat manufacturers in the USA. They like to make mats with expressive designs using both custom and licensed designs. Hence the FanMats product line. I mean, what better way to express yourself than with your favorite college or pro sports team logo car mats sitting on the floor of your vehicle! Never let anyone forget you were a US Marine with a beautiful Marine logo on your car mats. You can make statement of support for your college, fav sports team or military branch with just a click of your mouse on the FanMats on-line store. And you should feel comfortable knowing that FanMats Logo Mats are made with a lot of care and some pretty fancy technology. Those really neat logos you see on each FanMat Logo Mat are actually printed onto a high luster, 18 oz face weight yarn using a ChromoJet.


The Chromojet is made by H. Zimmer in Austria and is kind of like a big inkjet printer used to print color designs on carpeting. FanMats(Millennium Mat Co) turns out millions of square meters of carpeting a year and a lot of that carpeting ends up being ChromoJet printed. If you want to check out FanMat Mats product reviews and see some great pics of these fantastically colorful mats visit our Buyers Guide . That way you can feel pretty safe that your favorite NFL car floor mats or the USMC car floor mats you always wanted from FanMats will be colorful, durable, attention getting and a good deal for the price.

FanMats Logo Mats Info
 - Available in carpet or vinyl
- Universal fit 27" x 18"
- Vinyl cargo mats available 31" x 31"
- Carpeted mats have recycled backing
- Carpeted mats have serged edges
- Air Force, Army, Coast Guard Logos
- Marines, Navy & SeaBees Logos
- MLB, NBA, NFL & NHL Logos
- Collegiate & House Divided Logos
- Keep clean and dry, prevent smells
  from mold and mildew with a set of
  universal absorbent mat protectors

Note: You must have an RSS Reader installed and configured before clicking on the Orange RSS Button. An RSS Reader allows automatic download of changes/updates made to this website without having to visit this page. Saves time, effort and keeps you up to date.


Click Orange RSS Button to Subscribe to Site Updates