Plasticolor Car Mats
Plasticolor Car Mats is a family owned business that has been supplying a wide range of useful, colorful, logo based automotive aftermarket parts for the last 40 years or so.
You'd recognize their products because you see them at big retailers like Walmart, K-Mart, AutoZone, Target, Pep Boys and lots more automotive supply retailers. Besides car floor mats you'll also find Plasticolor making steering wheel covers, utility mats, sun visor covers and other auto interior products at their Chroma Graphics Inc subsidiary. But let's take a look at some of the Plasticolor Car Mats and get some info on them.




PlastiColor Car Mats - Rubber
Plasticolors rubber car floor mats usually come packaged with a driver side and a passenger side mat. You can get all kinds of logos and designs to customize your vehicles interior. Here's a quick list of features:

- Universal fit for easy install
- Some "trim to fit" models available
- Molded in colors that won't peel off
- Vinyl rubber is durable and flexible
- Usually sold in pairs
- Washes up easy with soap and water
- Heavy duty models for trucks & SUVs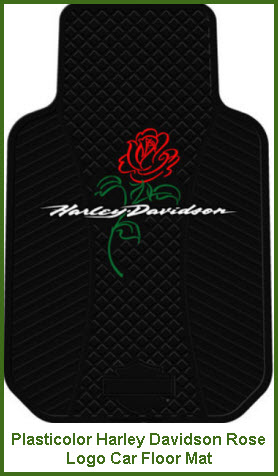 PlastiColor Car Mats - Carpeted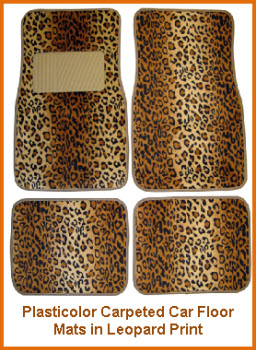 Plasticolor even makes carpeted floor mats with a couple of different logos for those of you who want the plush feel of a high quality nylon carpet under your feet.

- Universal fit
- Trim to Fit with many models
- Drivers side heel pad
- Two & four piece mat sets
- All weather mats resist
  soil & water
- High quality nylon yarn
  construction
- Cleanup with soap & water
- Zebra Print & Leopard Print logos
- Chevy & Ford logos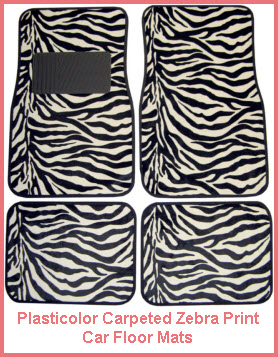 PlastiColor Car Mats - Logos
- Aloha Betty Boop
- Betty Boop Star
- Blue Super Street
- Chevrolet, Chevy, Chevy Racing
- Cowboy Up
- Cowboy & Cowgirl Logos
- Day of the Dead
- Daimler Trucks
- Dodge
- Ford
- Giant Flip Flops
- Harley Davidson
- Harley Rose
- Harley Tribal Art
- Hello Kitty & Hello Kitty
- Hockey Canada
- Honda Civic & Accord
- Hummer, H3T
- Indianapolis Motor Speedway
- International
- Jeep
- John Deere
- Looney Tunes & Characters
- Lucky 13
- Mickey Mouse & Mickey Mouse
- Moon Dreaming
- Mopar
- Mr Horsepower
- Nissan
- NOS & Holley
- Orange County Choppers
- Raging Inferno
- R Racing
- SanRio Co.
- Supergirl & Superman
- TapOut
- Taz Devil & Tazmanian Devil
- Tiger Tatoo
- Tinkerbell
- Tweety Pie
- Winnie the Pooh
- Pooh Paradise