Plasticolor Car Mats
Plasticolor Car Mats is a family owned business that has been supplying a wide range of useful, colorful, logo based automotive aftermarket parts for the last 40 years or so.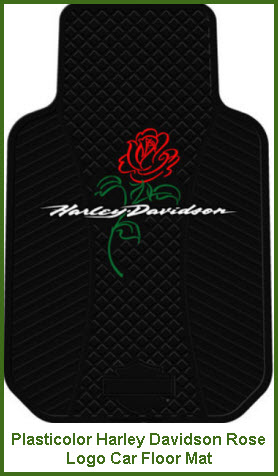 You'd recognize their products because you see them at big retailers like Walmart, K-Mart, AutoZone, Target, Pep Boys and lots more automotive supply retailers. Besides car floor mats you'll also find Plasticolor making steering wheel covers, utility mats, sun visor covers and other auto interior products at their Chroma Graphics Inc subsidiary. But let's take a look at some of the Plasticolor Car Mats and get some info on them. OOOOOhhhhhh and by the way, if you want to buy some of these mats direct from Plasticolor - here's MyCoolCarStuff. And whooaa ... if Plasticolor doesn't have everything you want in a Logo Mat for your vehicle take a look at our Universal Logo Mats page. Tip: these mats are beautifully colored and great to look at on the floor of your car. Keep them looking good (and keep water that stays on the surface or accumulates between these mats and your vehicles carpet) with a universal absorbent car mat protector. It will also help reduce molds and mildews that grow between your mats and the carpeting when that area gets wet.




PlastiColor Car Mats - Rubber
Plasticolors rubber car floor mats usually come packaged with a driver side and a passenger side mat. You can get all kinds of logos and designs to customize your vehicles interior. Here's a quick list of features:

- Universal fit for
  easy install
- trim to fit models
  available
- Molded in colors
  that won't peel off
- Vinyl rubber is durable
  and flexible
- Usually sold in pairs
- Washes up easy with
  soap and water
- Heavy duty models for
  trucks & SUVs


PlastiColor
Car Mats
Carpeted
Plasticolor even makes carpeted floor mats with a couple of different logos for those of you who want the plush feel of a high quality nylon carpet under your feet.

- Universal fit
- Trim to Fit with many models
- Drivers side heel pad
- Two & four piece mat sets
- All weather mats resist soil & water
- High quality nylon yarn construction
- Cleanup with soap & water
- Zebra Print & Leopard Print logos
- Chevy & Ford logos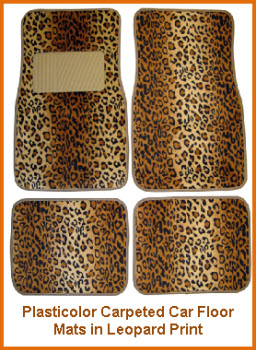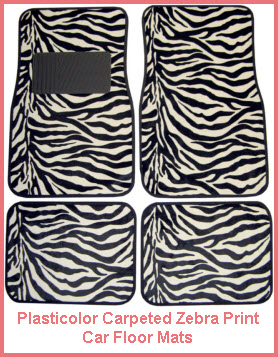 ---
PlastiColor Car Mats Brand Name Logos
Forty years in the business of bringing great brand names and their logos into your car on a floor mat, steering wheel cover, seat cover or other decorative item has made Plasticolor the market leader in licensed automotive accessories. Here's a bunch of the brands you might find adorning a Plasticolor product.

                                     
Star Wars
CAT
FarmAll
Moon Equipped
Marvel
Mickey Mouse
Freightliner
Nightmare B4 Christmas
Ford
Hello Kitty
Garfield
Nissan
Chevrolet Chevy
Back Off
GMC
NOS Series
Dodge
TinkerBell
Woody Woodpecker




Older Logos

Cowboy & Cowgirl Logos
Day of the Dead
Daimler Truck
Giant Flip Flops
Harley Rose
Harley Tribal Art
Hockey Canada
Honda Civic & Accord
Hummer, H3T
Indianapolis Motor Speedway
International

Jeep
Lucky 13
Moon Dreaming
Mopar
Mr Horsepower
NOS & Holley
Orange County Choppers
Raging Inferno
SanRio Co.
Tiger Tattoo
Tweety Pie
Pooh Paradise
Betty Boop
Got Aloha
Not Of This World
RAM



The Busted Knuckle Garage
Honda
Peace Frogs
Harley Davidson
Cowboy Up
Jeep
Winnie The Pooh
John Deere
Don't Tread On Me
Looney Tunes
R Racing
Yosemite Sam Backoff
SuperGirl
Superman
TapOut
Tasmanian (Taz) Devil

The Secret Ingredient in Plasticolor Mats
Plasticolor's Vinyl Mats that are so colorful and exciting are made from Plastisol. It's a liquid form of vinyl that's cured by heat to form a solid end product. Plastisol is used in all kinds of applications ranging from Adult Toys to Car Accessories to Boat Anchors. You can make Plastisol in all kinds of colors and shapes. It's flexible, UV and mildew resistant, weathers well and can even be made flame retardant. So you get a bit of technology in every Plasticolor Mat you buy. Wanna see more info on Plastisol - here's a plastisol manufacturer.

Note: You must have an RSS Reader installed and configured before clicking on the Orange RSS Button. An RSS Reader allows automatic download of changes/updates made to this website without having to visit this page. Saves time, effort and keeps you up to date.


Click Orange RSS Button to Subscribe to Site Updates