Highland Rubber Floor Mats
Highland Rubber Floor Mats are distributed by Cequent Corp of Solon, Ohio. Cequent is a subsidiary of TriMas Corporation, headquartered in Bloomfield Hills, Michigan. TriMas in their own words is a "diversified designer, manufacturer and distributor of engineered and applied products that serve a variety of industrial, commercial and consumer end markets worldwide".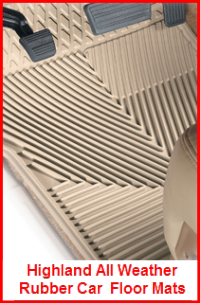 Wow !!! Really all it means for us is that TriMas owns Cequent Consumer Products Inc. Cequent is based in Solon, Ohio and distributes the Highland Brand Line of Rubber Car Floor Mats. Cequent also manufactures and/or distributes bungee cords, ratchet & cambuckle tie downs, custom molded cargo liners, floor guards, splash guards and a bunch of other cargo management and vehicle protection stuff. So when you buy Highland Rubber Floor Mats for your vehicle from Cequent you're getting a product that's been engineered, manufactured and/or distributed by one of the most experienced and diversified companies in this business - heck they've been in business about 85 years.

Highland sells both Custom Fit and Universal Fit rubber car mats. The custom fit side of the product line is represented by Highland All Weather Mats while universal fit aficionados will be ecstatic with Posh Pile Universal Car Floor Mats. Both types of mats benefit from the use of universal absorbent mat protectors which will reduce moisture, dirt and mold/mildew smells in your vehicle. Here's the skinny on both sides of the product line.
Custom Fit Highland Rubber Floor Mats


Highland designed these heavy rubber car mats to protect your vehicles floor in a wide variety of weather conditions. (And remember when I use the word "rubber" I mean real rubber, synthetic rubber or rubber like materials. Rubber has become a generic name for a bunch of different compounds just like Kleenex has become for things you use to wipe your nose.)

They are designed to trap liquids, mud and gunk that otherwise would dirty up your car - that's why Highland designed a raised outer lip on the mat. The mats are crack resistant and won't stiffen up when it's cold outside. Most of the stuff you'll wipe or drop on these mats like mud, coffee, baby formula, fast food remnants, oil or other gunky stuff won't affect the mats. You just wash them with a gentle soap or cleaner and rinse them off with a hose. The mats are made to fit the contour of your vehicle's floor pan and really shouldn't move around on the floor a whole lot because there's a bunch of nibs on the back of the mat digging into the carpet.
Quick Feature List
- Semi Custom Fit for your vehicle
- Fits your vehicles floor pan contours
- Won't stiffen in cold weather
- Durable, resistant to cracking
- Nibs on back prevent mat slippage
- Raised outer lip traps liquids and dirt
- Ridges on mat surface provide traction
- No tools required to install
- Wash with soap and water
- Available in Grey, Black & Tan
- Warranty Unknown ? Previously 100 Yrs.
- Front, Rear, One Piece Rear, Hump & Cargo


Highland Rubber Floor Mats
Universal Fit Posh Pile Mats
Cequent announced in December 2012 that it would begin distributing the Posh Pile Brand of Rubber and Carpeted Car Floor Mats. If you're a carpet kind of guy or gal you can go to this Highland Car Mat page to read about Highland and Posh Pile and carpeted car mats. But, if you're into rubber universal car mats like me ... stay tuned here !!!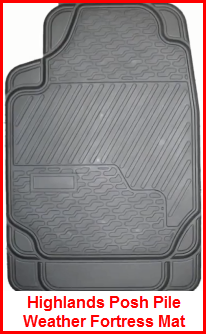 Posh Pile's Weather Fortress rubber mats come in two weights, a heavy rubber mat and a heavier rubber mat. They are both made of a heavy synthetic rubber that resists water, gas, oil, mud, chemicals, UV radiation and gunk. The Premium Weather Fortress is thicker and heavier but shares essentially the same features as the Standard Mat. One noticeable difference is the ridge design and outer lip height. The Premium Fortress appears to have a higher lip and ridges you can use to scrape mud off your boots. Otherwise here are some features ...
- Trim to fit your vehicles floor pan
- Won't stiffen in cold weather
- Durable, resistant to cracking
- Nibs on back prevent mat slippage
- Raised outer lip traps liquids and dirt
- Ridges on mat surface provide traction
- Wash with soap and water
- Available in Grey, Black & Tan
- Premium Weather Fortress 5 Yr Warranty
- Standard Weather Fortress 2 Yr Warranty
Posh Pile's Fifth Avenue Ultimate Luxury Mats are manufactured from an exclusive tufted pattern premium carpet that is approximately twice as thick as the OEM carpet found in Mercedes and BMW vehicle. Woven edges give this carpeted mat a sophisticated look and feel. Here's some more features: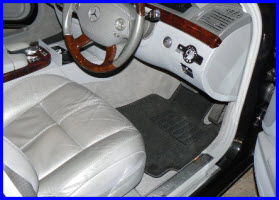 Posh Pile 5th Avenue Carpeted Car Floor Mat with tufted carpeting and sewn edges.
- Stylish tufted pattern
- Woven(sewn) edges for
  luxury look
- Waterproof
- Nylon heel pad
- UV and stain resistant
- Approx. 3/4" pile thickness
- Durable 100% nylon heel pad
- TPR rubber backing
- Rubber nibs prevent
  mat slippage
- Universal size fits most cars
No Longer Available
Old Highland Rubber Floor Mats Info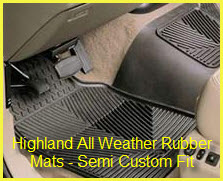 Note : the rest of this page contains some leftover info on the old Highland Rubber Car Floor Mat line. You still might be able to pick up some of these mats on-line under the Highland Black Armour name.
Highland's all weather rubber floor mats are made from pure rubber. That keeps them pliant in really cold weather and smelling good when the summer gets your interior temps up over 130 degrees. It also makes them virtually impervious to all kinds of liquids, dirt, muck and gunk. You just hose them off and dry.


If there's snow on the ground, turn these mats upside down and rub 'em in the snow to give them a quick clean job! How easy does it get?
As winter car mats these babies are hard to beat. They've got deep ridges (to trap water and dirt) and high edge lips (so you can clean your boots). Highland puts a bunch of rubber nibs on the back of this mat to prevent it from slipping on your vehicles carpeting. These mats are a godsend for those of you who have a Jeep, an SUV, a pickup truck or a big rig that's always in dirty, wet nasty places.
You know who you are! And don't look at me - I'm a clean freak!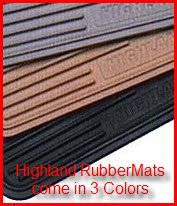 These mats are what I classify as semi-custom fit mats. Highland has about 50 or 60 different patterns, one of which, probably, closely fits your front floor pans. You can trim the rear mats to fit as close as you want. I've seen reviews of these mats where people are totally happy with the fit and other reviews where the comments indicate a less than perfect fit. But for the price and quality, it seems to be worth the risk.
Highland Rubber Floor Mats Additional Features

- easily installed and removed
- available in black, grey and tan
- backed by a 100 year warranty
- won't stiffen or crack

Note: You must have an RSS Reader installed and configured before clicking on the Orange RSS Button. An RSS Reader allows automatic download of changes/updates made to this website without having to visit this page. Saves time, effort and keeps you up to date.


Click Orange RSS Button to Subscribe to Site Updates