Highland Car Mats
Highland Car Mats are distributed by, of course, Highland. Highland is a product line of Cequent Consumer Products, Inc., which in turn is a division of TriMas Corporation.
Highland was founded in 1945 by the Grobowski Family and developed the world's first aftermarket splash guards. The company evolved into the manufacturing, importing and distribution of all kinds of cargo management and garage organization products, many of which you can still purchase today.
Highland distributes Universal Fit Carpeted and Rubber Car Floor Mats, and, Custom Fit Rubber Car Mats. The custom fit side of the product line is represented by Highland All Weather Mats while universal fit aficionados will be ecstatic with Posh Pile Universal Car Floor Mats that come in both carpet and rubber flavors. Here's some info on both the carpeted and rubber product line of Highland Car Mats. Tip: use a universal absorbent car floor mat protector to further protect your cars floors and carpeting.
Highland Car Mats - Carpeted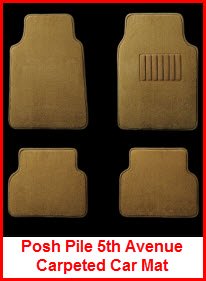 Cequent (Highlands parent company) announced in December 2012 that it would begin distributing the Posh Pile Brand of Rubber and Carpeted Car Floor Mats. The Posh Pile brand line includes two carpeted car mat offerings, the 5th Avenue and the Pacific Coast Highway.

The 5th Avenue: This is the Ultimate Posh Pile Carpeted Car Mat. It's luxurious, thick carpet keeps your feet warm and dry while making your Pinto feel like a Rolls. A long wearing nylon heel pad is woven into this mat to prevent wear through from the heel of your shoes. The mat edges are woven to prevent unraveling. UV and stain resistance are standard. There's a TPR rubber non-skid backing reinforced with nibs to prevent the mat from slipping on your vehicles floor. Colors include Tan, Grey and Black. Wash up with mild soap and water.
The Pacific Coast Highway: This mat uses 18 ounce needle punch pile carpeting to provide a luxurious, yet thrifty experience for the discerning individual. A quality, waterproof, PVC non-skid backing with nibs and woven edges give you luxury features at a value price. Available in Tan, Grey and Black. Wash with mild soap and water.




Highland Car Mats - Rubber
Highland Rubber Floor Mats are tough. So tough in fact, they used to bear the name "Black Armor". Nowadays, Highland distributes these mats as Highland All Weather Mats. These mats are made from a pliable, yet durable synthetic rubber that won't crack or harden even in the most extreme of weather conditions. These semi custom fit car mats offer you some of the best protection you can expect from a rubber car floor mat for the money. Highland floor mats and Highland truck mats are well known throughout the industry and may be found at such large retailers as Auto Barn, Pep Boys, JC Whitney, AutoZone and more. Here's some more info on these semi custom fit rubber car floor mats:

- Semi custom
- Cut to fit design
- Trims easily with scissors
- Conforms to fit car floor
  pan contours
- Raised outer lip to trap
  dirt and water on mat
- Deep ridges trap 1.5
  quarts of liquid & gunk
- Impervious to gas, oil, mud, snow, sand
- Anti skid spikes on back prevents mat slippage
- Carpet retention screw for driver side mat
- Styled for front, rear and center hump
- Just hose off to clean
- Colors are black, grey & tan
- Warranty

Other Highland Car Mats Products
- All weather
  floor mats
- Marine quality
  tie downs
- Splash guards
- Cargo liners
- Cargo trays
- Bike carriers
- Bike racks
- Tailgate nets
- Spare tire covers
- Pet barriers
- Bungee cords
- Floor guards
- Ratchet tie downs
- Cam buckle tie downs
- Tarps & Tarp straps
- Anchor points
- Roof top bags
- Ramps


Note: You must have an RSS Reader installed and configured before clicking on the Orange RSS Button. An RSS Reader allows automatic download of changes/updates made to this website without having to visit this page. Saves time, effort and keeps you up to date.


Click Orange RSS Button to Subscribe to Site Updates