Lloyd Mats RubberTite
Car Floor Mats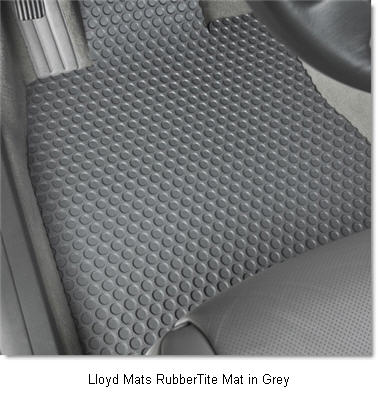 Lloyd Mats RubberTite car mats come in over 11,000 computer cut, low profile, exact fitting patterns to fit almost any car, truck, suv or van. Lloyds cuts most of these mats to be even larger than the factory OEM mats they are replacing.
This gives your car or truck even more protection from all the nasties that somehow find their way into your vehicle. In some cases a Door2Door one piece mat is available for both front and rear seats. Think of it, if Lloyd Mats is willing to make over 11,000 patterns just to give you a great fitting car mat, they must be serious about protecting your cars floor. Each RubberTite mat has hundreds of little wells or cups that snow melt, water, mud and dirt are channeled to by the surface texture of the mat. This same feature gives the mat good surface traction for those times you are dancing on your car mats or just using the mat as a surface from which to propel yourself out of the vehicle. Just in case you are using the mat as a launchpad, it uses the OEM anchor posts and rubber nibs on the back of the mat to hold the mat in place on the floor. The heavy-weight rubber composite of which the RubberTite car mat is made, makes it durable, easy to clean with a hose, impervious to most liquids and flexible in below freezing temps.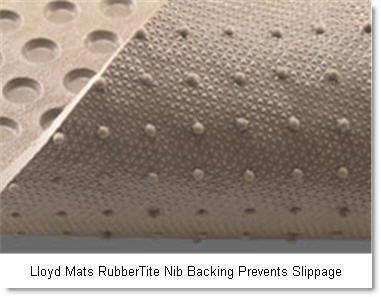 It's reported to give off a bad smell when it first comes out of the package, so let the mat air out for a while, before putting it in your car. Using a Universal Absorbent Floor Mat may be a good idea to help keep moisture and humidity levels down and to prevent the mat from overflowing – since we really don't like to empty out the guck in our floormats until it's too late – do we? Then as our floormat overflows our boots or high heels get wet and water infiltrates between the mat and our vehicles carpeting. Sigh! Just a mess that can be easily prevented with an absorbent mat. Keeps mold and mildew smells down too ...
But ... before you go out and just buy a set of these great mats you need to plan a little. These mats are made to replace your existing car floor mats and are not to be used as a "protector mat" on top of your existing mats. If you already have a great set of mats and just want to protect their beauty and appearance you've gotta checkout Lloyd's Protector Mats . The Protector is designed to fit almost exactly over your existing OEM mats and give you some added protection from wear and tear.

And remember to anchor your mats to the floor of your car or truck to prevent mat slippage and interference with the vehicles controls.
And also remember to remove your old mats before you install these brand new RubberTites. They are designed to replace your existing OEM mats not to be installed on top of them!!!
Lloyd Mats RubberTite - Additional Features
- Colors available are black, grey, light grey, ivory, white, yellow
   pink, red, dark blue, burgundy, brown, tan and crystal clear.
- Works with factory installed anchor posts and mat fasteners
- Available for front, rear, trunk and cargo areas
- Non-slip texture on mat surface
- Hose 'em off to clean these mats
- Rubber roll material is imported
- Mat is crafted with care in the USA
- 5 Year Warranty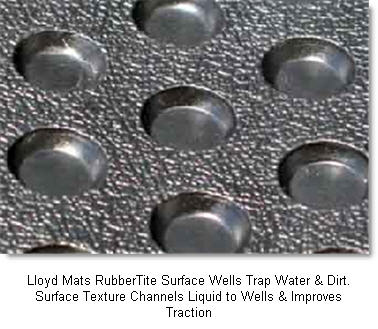 Note: You must have an RSS Reader installed and configured before clicking on the Orange RSS Button. An RSS Reader allows automatic download of changes/updates made to this website without having to visit this page. Saves time, effort and keeps you up to date.


Click Orange RSS Button to Subscribe to Site Updates