Clear Automobile Floor Mat
Lloyd Mats Protector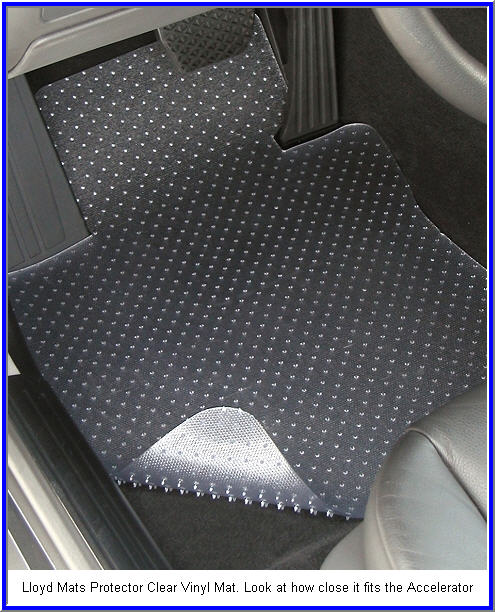 The Protector Automobile Floor Mat by Lloyd Mats was designed purposefully to protect your existing Lloyd Mats custom carpeted mats or as a perfect fit replacement for your OEM car mats.

So if you have beautiful new carpeted car floor mats you can use this mat to protect the beauty and appearance of them. But, if your like the rest of us, and your existing carpeted mats are all wet, musty and gungy dirty, you can use the Lloyd Protector Mat as a perfect fit replacement for the old mats. Just remember, this clear car floor mat might not fit as perfectly over your OEM mat as it will over a custom fit Lloyd's carpeted mat . But that's the price you pay for a better fit!

The Protector Automobile Floor Mat is constructed of an 80 mil, clear vinyl composite that's scratch resistant and doesn't stiffen up at sub-freezing temperatures.


A textured surface helps prevent your feet from slipping on the mat. Some mean looking quarter inch nibs on the bottom really let the Lloyd Mats Protector dig into the carpeting to prevent mat slippage. Lloyd Mats library of over 5000 exact fitting patterns means you get a car, truck, van or suv mat cut specifically for your year, make & model.
Protector Automobile Floor Mat - Additional Features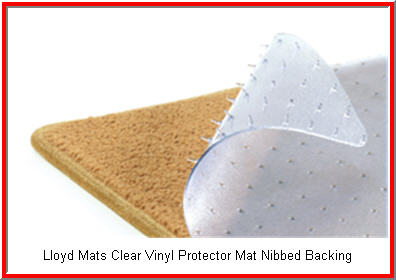 - 80 mils thick
- almost invisible
- hose off or wet wipe
  to clean
- one piece, door-to-door
  for some vehicles
- uses your vehicles existing
  anchor posts to prevent
  slipping
- Cargo area and trunk mats
  optionally available
- 5 Year Warranty
- Made in the USA
- Customer Service 818-768-6001
- Use universal absorbent car truck floor mats to further reduce
  moisture, dirt, gunk and mildew smells

Note: You must have an RSS Reader installed and configured before clicking on the Orange RSS Button. An RSS Reader allows automatic download of changes/updates made to this website without having to visit this page. Saves time, effort and keeps you up to date.


Click Orange RSS Button to Subscribe to Site Updates