Miscellaneous Tonneau Cover Manufacturers
Miscellaneous Tonneau Cover Manufacturers / Distributors present insufficient information on the internet to justify the dedication of a webpage. However, many of them have interesting products and deserve a quick look see. You may find something unusual you like, a new type of tonneau cover, an upgrade for your existing tonno, or just see what the current marketplace holds for you if you're interested in adding a cover to your pickup. Whatever the reason may be, if you know of a manufacturer of tonneau covers or other similar products applicable to this website, don't be shy. Contact Us and let us know!
---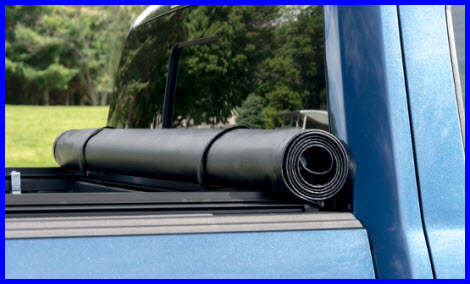 The Luverne Tonneau Cover is a soft roll-up truck bed cover designed to give you years of service at an economical price.
---
Miscellaneous Tonneau Cover
Manufacturers / Distributors
Luverne has been manufacturing aftermarket truck accessories since 1963. The company is located in Brandon, South Dakota and is a division of CURT Manufacturing of Eau Claire, Wisconsin. Luverne offers a sizable line of aftermarket accessories for pickups, SUVs and vans including such items as grill guards, nerf bars, headache racks and bed rails. Most of Luvernes products are made from stainless steel, powder coated steel or aluminum. Of course we are interested the company's tonneau cover. Here's some more info.
The Luverne Tonneau Cover is made from a heavy duty vinyl fabric that locks easily into 2 side rails by utilizing a really cool J-Channel system. This tonneau cover uses dual locking latches, heavy duty aluminum clamps and a tension control system to keep the cover tight and smooth. The bed cover is made from heavy duty black vinyl, featuring sewn corners. Helps keep rain, snow, dirt, gunk and snoopers out of your truck bed. Rubber strips are used to seal the interface between the pickup and the bed rails. Velcro straps hold this tonneau cover in place while it is rolled up. Limited Lifetime Warranty.
Basil "Smitty" Smith started this company in 1956 as a small machine shop in his garage. He  wanted to make 4 wheel drive equipment for small trucks and Jeeps. His son Tom joined the company and poof!!! The product line grew from a couple of items to over 2000 automotive aftermarket products and accessories for trucks and SUV's that are distributed and sold all over the world. A garage to riches success story reminding me of Apple.
Of course we are interested in the Smittybilt Smart Cover. This folding tonneau cover from Smittybilt uses some unusual materials in its construction. Its frame is made from 6061 grade aircraft aluminum for strength and low weight. The frame is covered with a heavy leather grain vinyl with reinforced corners. A cam based speed lock system helps you to easily open, close, remove or install the Smart Cover. Other features include; long lasting ballistic nylon straps, nylon reinforced plastic buckles, a fulcrum based hinge system, a cargo net and an all weather sealing system to keep everything in your truck bed clean and dry. Wow!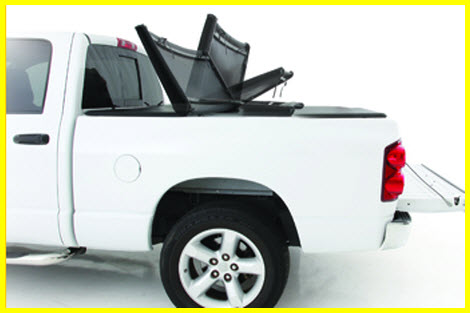 Smittybilt Smart Cover Folding Tonneau Cover is manufactured from 6061 aircraft aluminum, heavy leather like vinyl, a cam based locking system and it even has a cargo net.
---
Steelcraft was founded in southern California in 1998. The company has an office in Corona, California for administrative and R & D purposes. Steelcraft manufactures automotive aftermarket accessories like side bars, running boards, bull bars, front & rear bumper guards, bed rails and lots of other stuff mostly related to vehicle protection. But we are interested in the two tonneau covers in Steelcrafts Catalog.
The Roll-Up Tonneau Cover is just that. A roll-up design, low profile look, gives you access to almost the entire truck bed, easy to roll-up and down, hides and protects what's in your truck bed, canvas or vinyl materials in tarp, don't stand on it. Applications include Chevy, GMC, Ford, Toyota and Dodge pickups.
The Tri-Fold Tonneau Cover is of course a tri-fold design which Steelcraft refers to as "soft". It utilizes a twist clamp design to add tension to the cover and keep it in place. Structurally it's made from powder coated aluminum components which provide strength and corrosion resistance. Light in weight it improves gas mileage, especially if you keep the cover closed. Applications include Chevy, Dodge, GMC, Nissan and Toyota pickups. 3 Year Limited Warranty.
Steel Force is a brand name of a steel tonneau cover imported and distributed by Cia Wheel Group of City of Industry, California. The company has been around since 1969 specializing in automotive aftermarket wheels and accessories. Of course we are most interested in their hinged steel tonneau cover that will support up to 600 pounds on top, essentially making the top of the tonneau cover a shelf.
The Steel Force Tonneau Cover is manufactured from a heavy galvanized steel that has been black powder coated. You can have it painted to match your pickup or any other color - if you want to make a statement. This tonneau cover features a weather gasket seal system, an automatic latching system, a battery powered LED cargo light and comes with a limited lifetime warranty.
The Steel Force Tonneau installs quickly (two people to do the job nicely) in 10 to 30 minutes. You can load up to 600 pounds on top of this tonneau. But you already know you don't drive the pickup with anything improperly secured on top of a tonneau - don't you?
The steel construction makes the Steel Force Tonneau a little more secure than a fabric/vinyl roll-up and a little stronger than most aluminum tonnos.
TruXmart was founded in 2011 as a wholly owned subsidiary of Franchise Holdings International. The company is situated in Vaughan, Ontario, Canada and as of 2016 employed two people. The two styles of truck bed covers (or tonneau covers) sold by TruXmart are manufactured in China and sold in the Canadian and US markets.
The TruXmart Tri Fold Tonneau Cover is a soft tri-fold tonneau cover. The cover is assembled from 24 ounce, triple stitched vinyl tarp. Aircraft grade aluminum is used in the clamps, frames and crossbars to provide a strong yet lightweight support mechanism for the tarp. It comes fully assembled and has a 5 year limited warranty.
The TruXmart Smart Fold Tonneau Cover is essentially the Tri Fold model with the addition of a Smart Latching system that uses a quick pull cable to release the tonneau cover. Open and close the Smart Fold while the tailgate is open or closed. The Smart Fold also comes with a 5 year limited warranty.
Both models have tailgate seals and LED lighting.
Everybody who's anybody knows who WeatherTech is. WeatherTech Car Mats and Floor Liners are the industry standard, manufactured in the USA and some of the most popular vehicle floor protection products sold today. But WeatherTech also distributes and sells a specialized line of Roll-up Truck Bed Covers (Tonneau Covers) manufactured in the USA by one of the country's premier tonneau cover manufacturers. Here's some info on the WeatherTech Roll-up Pickup Truck Bed Cover.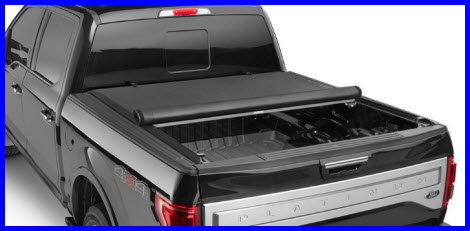 WeatherTech Roll-Up Pickup Truck Bed Cover is a high quality tonneau cover sold and distributed by WeatherTech as part of the company's ever expanding line of aftermarket automotive accessories.
This truck bed cover is designed to protect your cargo, improve gas mileage and give your pickup a more finished and sophisticated appearance. The fabric used to manufacture this truck bed cover is made from a textured, double coated commercial grade reinforced vinyl which is supported by bars, bows and rails made from a 6000 series, black powder coated aluminum. The fabric stays flexible even when cold, while the bars, bows and rails benefit from the readily weldable and approximately 40 KSI  tensile strength of the 6000 Series Aluminum from which they were extruded.
Nylon straps hold this truck bed cover in place when rolled up. Front and rear seals form the barrier between the truck and the cover while a hook and latch system seals the side of the cover. The easy release AutoLatch II locking system provides a good level of security for all the stuff you squirrel away in your trucks bed.
Custom fit for your pickup. No drill install using a Tite-Bite clamp system. Adjust tension with the turn of a dial.  Made in the USA.
Note: You must have an RSS Reader installed and configured before clicking on the Orange RSS Button. An RSS Reader allows automatic download of changes/updates made to this website without having to visit this page. Saves time, effort and keeps you up to date.


Click Orange RSS Button to Subscribe to Site Updates