ATC Tonneau Covers
Hard Truck Bed Covers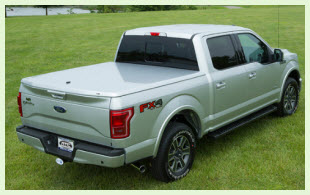 ATC SRT Model Truck Lid (tonneau cover) has the lowest profile of any tonneau cover in the industry.
ATC Tonneau Covers or truck lids as the people at ATC Truck Covers call their hard fiberglass truck bed covers come in four different models; the Classic Lid, the Platinum Lid, the Wrap Lid and the SRT Lid. ATC manufactures these lids at their 90,000 square foot facility in Ottawa, Kansas right outside of Kansas City. The 85 or so employees that work at ATC also make the ATC Truck Cap line just in case a tonneau cover doesn't satisfy your needs.
Small variations in standard features and options account for the different version names. All versions are made of durable hand laid fiberglass, use a frontal 4 bar pin hinge system with struts to open and close and come with a Limited Lifetime Warranty. If that isn't enough you get a lid custom fit for your pickup, a drill-less installation and a single lock assembly to secure the lid. Remember, as with many hard fiberglass tonneau covers it usually takes two people to install lids this heavy. So it's usually a good idea to have an authorized dealer install this kind of truck bed cover. OK, here's some features and options of these ATC Tonneau Covers.


Quick Info for ATC Tonneau Covers
Cover Type 1 : Hard Tonneau Covers, Fiberglass Tonneau Cover
Cover Type 2 : Hard Truck Bed Cover, Hard Fiberglass Truck Bed Covers
Cover Type 3 : Custom Truck Bed Covers

Manufacturer : ATC Truck Covers Inc.
Cover Weight : Approx 100+ lbs.
Approx Price :
Tonneau Cover Parts and Warranty : 800-983-2787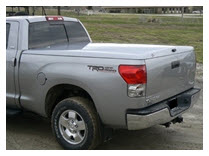 ATC Wrap Style Tonneau Cover
ATC Classic Lid (not available 12/8/2016)
- made by ATC since 1993
- choice of two seal systems
- choice of black or painted trim edge
- rotary latch mechanism
- skirted edges to cover plastic bed caps
- choice of trim or trimless edges
- optional interior headliner
- optional battery powered dome light
- optional pull strap
- optional carpeted interior liner
- optional lighted or unlighted lid wing



ATC Platinum Lid(not available 12/8/2016)
- most of the features of the
  Classic lid
- black anodized hardware
- speed rail system with
  lift assist
- rear hatch cover
- same options as Classic lid

ATC Wrap Lid(not available 12/8/2016)
- same features as the
  Classic lid
- wrap over feature to cover
  factory bedcaps
- same options as Classic lid
ATC SRT Lid
- lowest profile lid from ATC
- covered lock on top
- rotary latches
- 4 bar hinge system
- carpeted headliner
- lift assist arms
- no bed rails required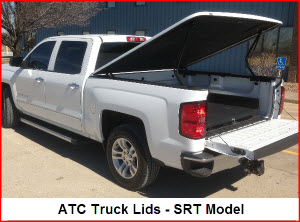 ATC SRT Truck Lid
ATC Tonneau Covers Popular Applications
- Chevy Truck Bed Covers : S10, Colorado
- Chevy Lids C/K Models, Silverado
- Dodge RAM Tonneau Cover
- Dodge Dakota Truck Bed Covers
- Ford F-150 Tonneau Cover
- Ford Ranger Tonneau Cover
- Ford Super Duty Tonneau Cover
- Ford Explorer Sport Trac Truck Bed Cover
- Mazda Pickup Tonneaus
- Nissan Frontier Tonneau Cover
- Nissan Titan Tonneau Cover
- Toyota Tacoma Tonneau Cover
- Toyota Tundra Tonneau Cover
- Toyota T-100 Truck Bed Covers
Keeping Truck Caps and Tonneau Covers Clean
Both tonneau covers and truck caps secure the truck bed area and slow the flow of air. This sometimes causes a buildup of moisture in the truck bed area that can result in mold, mildew, smells and aggravation. Universal absorbent mat protectors help prevent this situation from occurring and make cleanup a snap.

Note: You must have an RSS Reader installed and configured before clicking on the Orange RSS Button. An RSS Reader allows automatic download of changes/updates made to this website without having to visit this page. Saves time, effort and keeps you up to date.


Click Orange RSS Button to Subscribe to Site Updates