CheckmateFX Tonneau Cover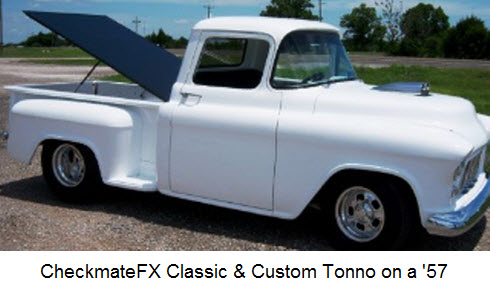 Note : as of May 22, 2015 it appears as if this model has been discontinued. You may still be able to acquire replacement parts at the link below.


Note: the information on this page is for historical information purposes only. This product has been discontinued. The CheckMateFX Tonneau Cover is manufactured by G&T Truck Products of Farmersville Texas. It comes in two flavors; the Standard Model for modern day pickups from the 80's on, and the Custom and Classic Model that fits most pickup models from the 1940's through the 1970's.

These flush fitting fiberglass truck bed covers come in a black or white base and you can choose to have your local body shop paint them whatever color you like. The flush fit and big rubber gaskets give you what G&T Truck Products refers to as a "watertight fit". Heavy duty shocks or gas props as some folks call them, help you lift these 40 pound to 60 pound fiberglass lids. These babies are pretty strong and will hold 100 pounds bearing down on 'em. Here's some of the special features and options you get from G&T Truck Products.

Quick Info for CheckMateFX Tonneau Cover
Cover Type 1 : Hard Tonneau Covers, Hard Truck Bed Cover

Cover Type 2 : Hinged Bed Cover, Hinged Tonneau Cover

Cover Type 3 : Fiberglass Tonneau Cover, Fiberglass Truck Bed Cover

Cover Type 4 : Custom Truck Bed Covers, Classic Truck Tonnos


Manufacturer : G&T Truck Products

Cover Weight : Approx 70 lbs.

Approx Price : $Call

Tonneau Cover Parts and Warranty :
800-944-9319


CheckmateFX Tonneau Cover Standard Features
- piano style hinges
- hidden rubber seal
- heavy duty deluxe gas shocks
- full perimeter aluminum frame
- hidden rear latches
- includes all mounting hardware
- installation requires drilling of holes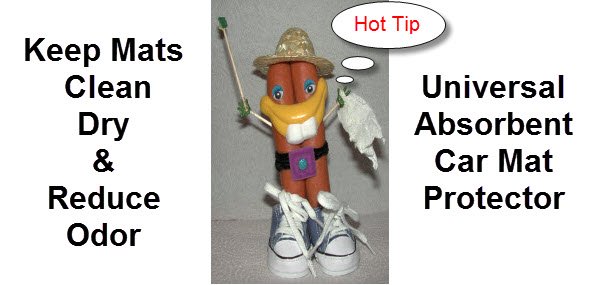 Options
- quick release hinges
- exterior locks
- carpet finish
- cargo light or dome light
- tailgate handle lock
- grab handle


Checkmate Truck Bed Covers for Most Applications except :
- Honda Ridgeline
- Chevy Avalanche
- El Camino
- Subaru Brat
- Ford F-150 Crew Cab with cornerposts


Note: You must have an RSS Reader installed and configured before clicking on the Orange RSS Button. An RSS Reader allows automatic download of changes/updates made to this website without having to visit this page. Saves time, effort and keeps you up to date.


Click Orange RSS Button to Subscribe to Site Updates