Advantage Tonneau Covers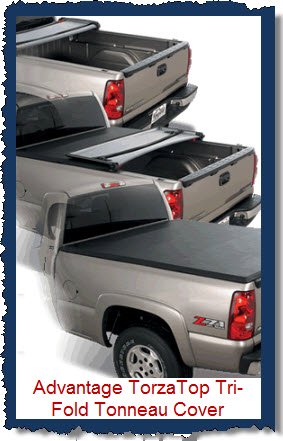 Advantage Tonneau Covers gives you three choices to make in your tonno decision process. Do you want a soft folding tonneau cover, a solid folding tonneau cover or a snap-on soft vinyl cover. Lots of decisions! So let's read on for more info. Tip: use universal absorbent mats to reduce moisture from spills and mud that cause the growth of mold and mildew in your truck cab and the truck bed area. These mats are easy to clean and help to reduce odors caused by the mold/mildew.
 Here's some info on each to assist you in the decision making process. Oh, by the way, all the parts for the Advantage Tonneau Covers are made in the USA and can be customized to accommodate most tool boxes, fuel tanks, headache racks or other truck bed accessories you may have. Advantage assembles all these "Made in the USA" parts at their Ann Arbor, Michigan plant and provides you with a fully assembled tonneau cover, ready to put on your pickup in under a couple of minutes. All the parts are sewn into the fabric and fold up or unfold as a single piece - so you can't lose anything! Advantage makes a tonneau cover for most domestic and foreign pickup trucks made between 1967 and today. In 2011, Advantage Truck Accessories became a member of the THI Corp family.




Quick Info for Advantage Tonneau Covers
Cover Type 1 : Soft Tonneau Covers, Folding Tonneau Cover
Cover Type 2 : Soft Truck Bed Cover, Folding Truck Bed Covers
Cover Type 3 : Custom Truck Bed Covers

Manufacturer : Advantage Truck Accessories, Inc.
Cover Weight : Approx 50 lbs.
Approx Price : from $300 to $900
Tonneau Cover Parts and Warranty : 800-773-3110



TorzaTop
- pre-assembled quick
  1 minute install
- tri-fold design helps
  remove cover in
  under 1 minute
- the original folding pickup
  truck tonneau cover
- dynamic clamp
  closure system
- custom made to
  fit your pickup
- available in 8 oz vinyl or
  18 oz ragtop canvas
- vinyl is exterior grade,
  UV protected
- vinyl tarp is tear resistant
- drive vehicle with cover
  folded forward
- lightweight
- limited lifetime warranty
- made in the USA


Hard Hat
- a secure, solid folding
  tonneau cover
- soft vinyl tarp on top,
  hard plastic shell below
- acrylic dyed vinyl fabric
- hard cover material
  sewn into fabric
- quick 1 minute install
- drive vehicle with cover
  folded forward
- lightweight compared
  to other hard tonnos
- "ragtop" material available for vintage look
- limited lifetime warranty
- made in the USA

Sure-Fit
- a soft snap-on cover alternative
- snaps are float mounted on rails 4 easy adjust
- made from tear resistant 8 oz. vinyl
- fast, no drill install
- spring loaded corners keep tonneau cover taut
- black rails for snap-ons
- made in the USA
- lifetime warranty on components
- 7 year warranty on vinyl tarp


Advantage Tonneau Covers Popular Applications
- Chevy/GMC S10, S15, Colorado/Canyon, Silverado/Sierra, C/K Tonnos
- Dodge Ram, D50 & Dakota Truck Bed Covers
- Ford F150, F250, Ranger, Explorer & F-Series Truck Bed Covers
- Honda Ridgeline Truck Bed Covers
- Hummer Tonneau Covers
- Isuzu TF Tonneau Covers
- Lincoln Tonneau Covers
- Mazda PickUp Tonneau Covers
- Mitsubishi Truck Bed Covers
- Nissan Hardbody, Frontier & Titan Tonneau Covers
- Toyota T100, Tacoma & Tundra Truck Bed Covers

Note: You must have an RSS Reader installed and configured before clicking on the Orange RSS Button. An RSS Reader allows automatic download of changes/updates made to this website without having to visit this page. Saves time, effort and keeps you up to date.


Click Orange RSS Button to Subscribe to Site Updates