LineX Tonneau Covers
LineX Tonneau Covers look suspiciously like DiamondBack Tonneau Covers with a generous application of Line-X Xtra coating material.

And so they are! Diamondback makes a special version of the LT Tonneau Cover that's coated with Line-X Xtra and DuPont Kevlar. You can buy these rugged truck bed covers at over 550 Line-X franchisees across the USA. If you want to check out the mechanicals of this hard truck bed cover see the DiamondBack Tonneau Covers page and check out the info for the Diamondback LT model. If you want to learn more about the Line-X coatings and what makes an aluminum lid coated with this stuff so special, just stay right here.


Quick Info for LineX Tonneau Covers
Cover Type 1 : Hard Tonneau Covers, Hard Truck Bed Cover
Cover Type 2 : Aluminum Truck Bed Cover, Aluminum Tonneau Cover
Cover Type 4 : Hinged Truck Bed Cover, Hinged Tonneau Cover
Cover Type 4 : Custom Truck Bed Covers

Manufacturer : Line-X / DiamondBack
Cover Weight : approx 100+ lbs
Approx Price : approx $800 to $1000+
Tonneau Cover Parts and Warranty : 800-831-3232
Line-X Franchise Development Company is serious about their coatings business. Their Line-X spray coating for pickup truck beds, tonneau covers

and other things that stay outdoors that you want to protect, is probably the most popular spray coat available today.

They also make things like spray on floor coverings and blast mitigation products for military apps. So, if you're taking your pickup into combat you need to check out LineX Tonneau Covers.
The Line-X spray on product for truck beds is a specially formulated group of polymers that permanently bond to your truck bed. Because it bonds to the truck bed surface you don't get water infiltrating between the bed and the liner material like you do with a plastic drop in liner.
The Line-X product is really tough. It doesn't really tear and if you scratch it, it's easy to repair. And, just think, you can get the same kind of protection on a strong aluminum tonneau cover from Line-X or DiamondBack.
Line-X also makes the Line-X Xtra product which is a spray on color composite urethane coating that has been reinforced with DuPont Kevlar pulp to give it superior strength and scratch resistance. You get a choice of 6 different colors; red, blue aquamarine, dark grey, light grey and tan-like so you can match up a DiamondBack or Line-X tonneau cover with the OEM colors on your pickup.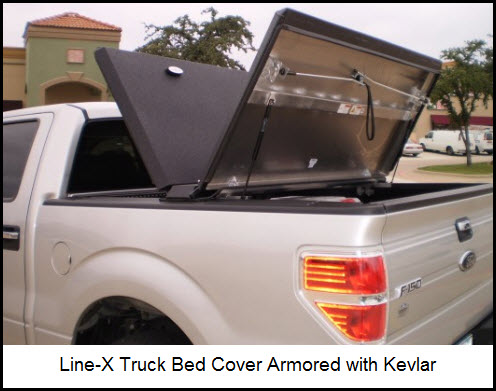 How a Tonneau Cover is coated with Line-X
- sand blast the aluminum lid
- Line-X is sprayed on lid to a thickness of 1/16 inch
- the Line-X dries very quickly to the touch
- the Xtra top coat with Kevlar is applied



Warranty and Repairs
- 3 year adhesion warranty
- 3 year limited warranty on parts
- repair damage and scratches at 550+ franchisee locations
Keep it Clean
- use universal absorbent mats to keep spills and excess mud and
  grime off the trucks bed. These same mats will help prevent
  moisture infiltration between your trucks floor mats and carpeting
  which helps reduce mold and mildew smells.
Note: You must have an RSS Reader installed and configured before clicking on the Orange RSS Button. An RSS Reader allows automatic download of changes/updates made to this website without having to visit this page. Saves time, effort and keeps you up to date.


Click Orange RSS Button to Subscribe to Site Updates