Craftec Inc Tonneau Covers
Craftec Inc Tonneau Covers have an ultra low profile that seamlessly melts into the sides of your truck bed.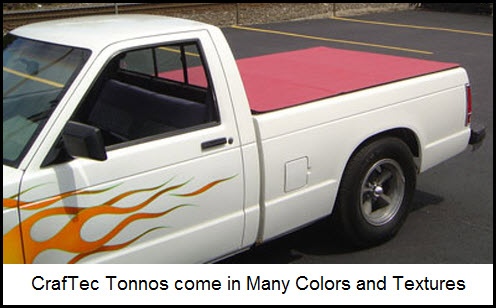 The standard Soft Hatch model is accompanied by the Tool-Box Custom Fit model to serve you whether you have a toolbox or not. Note that both models of this soft tonneau cover come unassembled, require drilling into the truck in some cases and even though a clamp system is used it takes about 3 or 4 hours to assemble. For this little bit of extra hassle though, you save a lot of bucks for what you get. Check out the install instructions on the CraftecInc website (see above link) before you decide to go with this product. OK, here's the long list of features.
Quick Info for Craftec Inc Tonneau Covers
Cover Type 1 : Soft Tonneau Covers, Soft Truck Bed Cover
Cover Type 2 : Hinged Bed Cover, Hinged Tonneau Cover
Cover Type 3 : Lift-up Hatch Style Tonneau Cover
Cover Type 4 : Custom Truck Bed Covers, Classic Vehicle Tonnos

Manufacturer : Craftec Inc.
Cover Weight : 35 to 45 lbs.
Approx Price : $Call
Tonneau Cover Parts and Warranty : 800-272-3832



CrafTec Tonneau Cover Features
- custom measured and
  built for your truck
  make and model
- allows full access to
  truck bed
- weighs about 35 to 40
  pounds so it's easy to
  remove
- no velcro or snaps
- high quality gas struts
  to help open and close
- easy vinyl removal just
  peel off the frame
- heavyweight 18 oz.
  high quality tonneau
  vinyl used for tarp
- double edge binding on
  vinyl tarp
- square tube bows
  for strength
- low profile, sits about
  3/8 in. above truck bed
- plastic weather seal
  attached to cover
- pull down strap
- rear latches hidden
  when tailgate is closed
- comes in black, red,
  white, greys, sand
- special tarp color/texture
  #1 is silver diamond plate
- special tarp color/texture
  #2 is acrylic black canvas
- clean with soap and water
- don't use vinyl conditioner
- Limited Lifetime Warranty
  on aluminum frame
- 3 Year Warranty on
  vinyl tarp
- use universal absorbent mats to reduce
  moisture, dirt and gunk under your floor mats
  and in the truck bed area which will control
  mold and mildew smells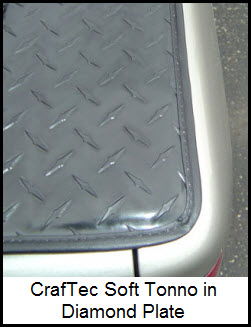 ---
Note: You must have an RSS Reader installed and configured before clicking on the Orange RSS Button. An RSS Reader allows automatic download of changes/updates made to this website without having to visit this page. Saves time, effort and keeps you up to date.


Click Orange RSS Button to Subscribe to Site Updates