LazerLite Tonneau Covers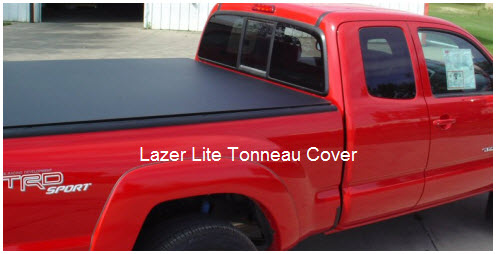 LazerLite Tonneau Covers are a new generation of lightweight, high strength aluminum, hard truck bed covers designed for security, load bearing ability and easy install/removal.

The design of the LazerLite hard tonneau cover is patent protected, so you can only get this design from LazerLite. These hard tonneau covers are made with aluminum sheet thats 50% thicker than the hood of a Ford F-150. The LazerLite Tonno is harder, stronger and lighter than a comparable fiberglass tonno. They are precision laser cut to give an unbelievably accurate fit and a neat look. Let's check out some more features and options of the tonneau cover you need for your heavy duty truck bed cover needs.

Quick Info for LazerLite Tonneau Covers
Cover Type 1 : Hard Tonneau Covers, Hard Truck Bed Cover
Cover Type 2 : Aluminum Truck Bed Cover, Aluminum Tonneau Cover
Cover Type 4 : Hinged Truck Bed Cover, Hinged Tonneau Cover
Cover Type 4 : Custom Truck Bed Covers

Manufacturer : Lazer Lite
Cover Weight : approx 70 lbs
Approx Price : approx $1000
Tonneau Cover Parts and Warranty : 877-823-7347




LazerLite Tonneau Covers Features
- lightweight, high strength aluminum lid
- 50% thicker than aluminum used on
  Ford F150 hood
- approx 1/2 the weight of fiberglass
  tonneau covers
- very low profile design
- can be custom painted to match your
  pickup OEM color
- laser cut with 4000 watt lasers for a
  precison cut and fit
- no drill installation takes approx 1 to 2 hours
- cover weighs about 68 lbs
- good to have two people to install
- plastic bedliners may need trimmed
- closes like a car trunk
- uses a rubber bulb seal to keep out
  the weather
- two pneumatic gas props to hold cover open
- locks and latches underneath on newer
  model pickups
- locks and latches are exterior on older
  Chevy models
- you can order the cover unpainted
  (bare aluminum)
- limited lifetime warranty on structure
- 1 year warranty on moving parts
- 5 year paint warranty
- optional carpeted headliner
- use universal absorbent mat protectors
  to reduce mud, water and other gunk on
  the truck bed and cab floors



Lazer Lite Tonneau Covers Popular Applications
- Chevy/GMC Truck Bed Covers : Colorado,
  Silverado/Sierra
- Dodge Truck Bed Covers : Ram
- Ford Tonneau Covers : F-150, Explorer Sport Trac
- Nissan Tonneau Covers : Titan
- Toyota Truck Bed Covers : Tacoma, Tundra

Note: You must have an RSS Reader installed and configured before clicking on the Orange RSS Button. An RSS Reader allows automatic download of changes/updates made to this website without having to visit this page. Saves time, effort and keeps you up to date.


Click Orange RSS Button to Subscribe to Site Updates