UnderCover Tonneau Covers Hinged Truck Bed Covers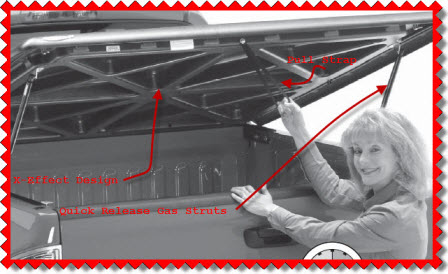 Quick Info
Cover Type 1 : Hard Tonneau Covers, Tonneau Truck Cover
Cover Type 2 : Hard Truck Bed Cover, Hinged Truck Bed Cover
Cover Type 3 : Plastic Truck Bed Cover, Custom Truck Bed Covers

Manufacturer : Undercover, a Division of THI
Cover Weight : Approx 60 Lbs.
Approx Price : $650 to $1000
Tonneau Cover Parts and Warranty : 866-900-8800



Undercover Tonneau Covers are lightweight, strong and have a low profile appearance. And you know, I'm personally impressed by anything you can put 6 football players on top of and it doesn't collapse.
At around 58 lbs dripping dry, Undercover Tonneau Covers, made of a composite of ABS plastics and Geloy install fast, are paintable, resist cracking, improve gas mileage and a whole lot more - just keep reading below. But the coolest thing for me about the Undercover truck bed cover is that it's soooo easy to de-install and carry. In fact Undercover provides a wall mount bracket for you to hang your Undercover lid on in the garage while you're not using it! This feature is essential because, as with most hinged hard tonneau covers, the Undercover lid is not designed to be driven around in the upright position. The list of features for all the Undercover Truck Bed Covers below is impressive.
Undercover Tonneau Covers
Common Features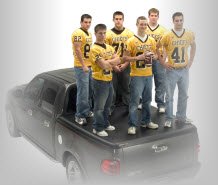 - Lightweight at about 58 pounds
- Incredible strength and durability

- Aerodynamic design improves
  gas mileage

- Undercover Tonneaus are paintable

- Takes just a couple of minutes
  to remove and store

- Wash with a mild soap and
  soft cotton rag

- No hole installation using 4 special
  concealed clamps

- Stainless steel locks secure tailgate and lid
- Double seal perimeter
  gasket makes a
  weathertight seal
- Works with most
  bed extenders

- 3 Year Manufacturers
  Warranty

- Only need a 3/8" and
  1/2" socket wrench
  to install

- Custom designed to
  fit your truck

- Quick release struts

Undercover Classic Tonneau Cover
The UnderCover Classic Truck Bed Cover is stronger and lighter than fiberglass. It typically comes in a black textured surface that resists weather and forms a tight fit around your trucks bed. Underneath you can see UnderCover's patented X-Effect design that helps give this lid its strength. The dual lock system on the Classic is appreciated by some customers and not by others.

---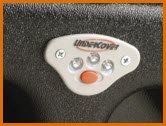 Undercover SE Tonneau Cover
With all the features of the Classic the SE adds stylish ribbing and a curved spoiler. You also get a nice 3 LED battery powered light so as you can see inside your truck bed when you lift the lid of your Undercover Tonneau Cover at night. You get the same black textured surface like the Classic and the same great fit.


Undercover SE Smooth Tonneau Cover
The UnderCover SE Smooth Tonneau is a ditto of the SE Tonneau with the exception that the top surface is smooth instead of textured. That's for all you arteests out there who want to paint this beautifully black tonneau cover a different color to match the factory paint of your pickup.


Undercover Tonneau Cover Popular Applications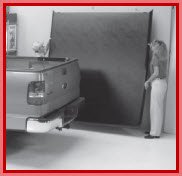 Truck Bed and Tonneau Covers for :

- Chevy Trucks
- Dodge RAM
- Dodge Truck
- Ford F-150
- Ford Sports Trac
- Ford Ranger
- Ford Trucks
- GMC Trucks
- Nissan Frontier
- Toyota Tacoma
- Toyota Tundra
- Toyota Trucks
- Honda Pickups
---
Note: You must have an RSS Reader installed and configured before clicking on the Orange RSS Button. An RSS Reader allows automatic download of changes/updates made to this website without having to visit this page. Saves time, effort and keeps you up to date.


Click Orange RSS Button to Subscribe to Site Updates