AlumiTech Tonneau Covers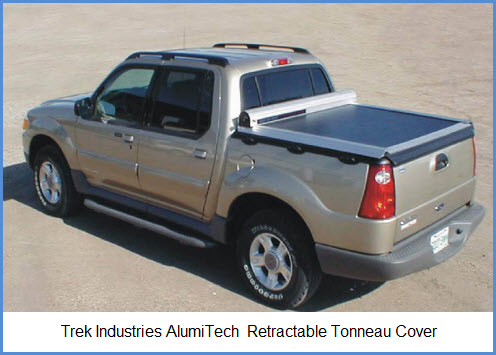 Note : As of 19-Feb-2015 it appears as if this company is no longer in business. The AlumiTech Tonneau Covers went through a name change and were called EnDuro Covers for a short period of time before the product line was discontinued. The product line was purchased by Prarie Diesel (306-682-2900 Joey Dosch) in Humboldt Saskatchewan but does not appear to be available at this time. 
The AlumiTech Tonneau Covers were retractable truck bed covers that Trek Industries(the manufacturer) claimed were waterproof without using drain hoses or reservoir tanks. And they should have known, they made this roll-up tonno since 1988 and used it continuously in Saskatchewan Canada since that time. They said that if the cover withstood prairie winters up there, it would take the winter anywhere! Anyway, it had lots of nice features you can check out below. To bad it's no longer available.
Quick Info for AlumiTech Tonneau Covers
Cover Type 1 : Soft Tonneau Covers, Soft Truck Bed Cover
Cover Type 3 : Vinyl Truck Bed Cover, Vinyl Tonneau Cover
Cover Type 4 : Retractable Truck Bed Cover, Retractable Tonneau Cover
Cover Type 5 : Custom Truck Bed Covers

Manufacturer : Trek Industries
Cover Weight : 65 lbs.
Approx Price : $800
Tonneau Cover Parts and Warranty : 519-897-7047
AlumiTech Roll-Up Tonneau Cover Features

- doesn't take up any space inside of truck bed
- vinyl cover rolls up into hood above truck bed
- tarp made of polyester weave auto grade vinyl
- fiberglass bars attached to underside of tarp
  for smooth strong surface
- ratchet gears let you keep the cover tarp tight
- handle enclosed in hood lets you roll-up and
  tension vinyl tarp
- uses extruded anodized aluminum rails
- you can lock the roll-up handle to secure the
  toneau cover
- 5th wheel friendly
- compatible with toolboxes and box liners
- no drill installation
- 1 Year Limited Warranty


Trek Industries AlumiTech Tonneau Cover Popular Applications

- Chevy/GMC S10/S15, Colorado/Canyon
- Chevy/GMC 1500, Sportside
- Dodge Ram, Dakota Truck Bed Covers
- Ford F150, F250, F2350, Ranger
- Ford Explorer, Sport Trac
- Nissan Frontier, Titan, King Cab
- Toyota Tacoma, Tundra

---
Note: You must have an RSS Reader installed and configured before clicking on the Orange RSS Button. An RSS Reader allows automatic download of changes/updates made to this website without having to visit this page. Saves time, effort and keeps you up to date.


Click Orange RSS Button to Subscribe to Site Updates