BAK Tonneau Covers
BAK Tonneau Covers are manufactured by BAK Industries at their San Fernando California plant. The Company was founded in 1988 and in the beginning manufactured plastic products like pickup truck bed caps and bedliners. About 15 years later BAK expanded it's product line to include tonneau covers. BAK is currently part of the THI group of companies which includes Advantage, BedRug, Extang, ReTrax, Truxedo and UnderCover. So you can see that BAK is in good company.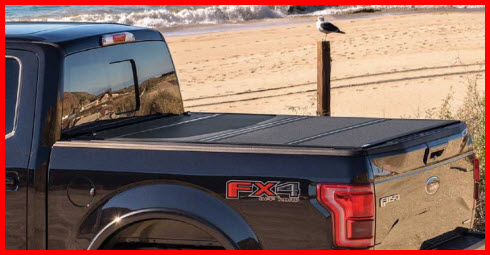 A typical BAK tonneau cover is made of some combination of aircraft grade aluminum, fiberglass polymers and EPS (Expanded PolyStyrene). 
So these are some sturdy and rugged truck bed covers we're talking about. BAK's claim to fame is that they offer the security and style of a hard tonneau cover while still providing full access to your truck bed like a soft roll-up cover would. BAK's Tonneau Covers come in 4 basic styles with some variations. First, and the most diverse of BAK's tonno cover product line is the hard folding BAKFlip Style with 6 different models. Second, we have the RollBAK Style of retractable truck bed covers. Thirdly, the Roll-X line of hard rolling tonnos will make you a BAK Believer. And lastly the TiltBAK one piece tilting tonneau cover completes BAK's sweep of the tonneau cover world. The RollBAK, Roll-X and TiltBAK styes all have 1 model each, but give BAK a little time and space and they'll expand those product lines. So you have almost the entire range of tonneau styles to choose from with BAK. Hard to choose, isn't it? So let's get a taste of each!
But first some keep your floor mats, carpeting and truck bed area clean, dry and smelling good with universal absorbent floor mats.
Quick Info on BAK Tonneau Covers
Cover Type 1 : Hard Folding Tonneau & Truck Bed Covers
Cover Type 2 : Retractable Truck Bed & Tonneau Covers
Cover Type 3 : Rolling Truck Bed & Tonneau Covers
Cover Tyoe 4 : Aluminum & Fiberglass Tonno Covers

Manufacturer : BAK Industries
Cover Weight : Approx 50 to 120 Lbs
Approx Price : $650 to $1600+
Tonneau Cover Parts and Warranty : 818-365-9000


4 Styles of BAK Tonneau Covers
BAK Flip Style : Hard Folding Truck Bed Covers
BAK Flip folding truck bed covers come in 6 models; the G2, HD, CS, F1, FiberMax and VP series hard tonneau covers.
The G2, HD and CS series all use an aluminum panel, powder coated exterior, filled with EPS ( Expanded Polystyrene ). The G2 is about 1/2 inch thick, weighs about 55 pounds and will support an evenly distributed load weight of 300 pounds. The HD is about 5/8 inch thick, weighs about 60 pounds and ups the load weight to 400 pounds. The CS is a contractor series tonneau cover and is made of heavier duty aluminum, weighs a little over 60 pounds, supports 500+ pounds and includes an integrated rack.
The F1 and FiberMax series hard tonneau covers still uses heavy duty aluminum with an EPS core but are covered with a very strong FRP (fiberglass reinforced polymer) top. This gives the F1 and FiberMax improved dent resistance, strength, and heat dissipation properties. The F1 and FiberMax both weigh in at about 55 lbs, will support 400 lbs and are 1/2 inch thick.
The VP series is an economical solution to your craving for a top of the line tonneau cover. It's got that great folding cover made from aluminum panels coated with heavy duty vinyl and most of the features of its more expensive siblings. It weighs in at about 50 lbs and will support 300 lbs on top. Not bad for the runt in the litter, eh?
BAK Flip Folding Truck Bed Covers Additional Features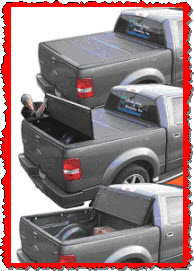 - unobstructed use of the tailgate
- full use of truck bed when panels are open
- each panel automatically latches on
  3 panel tonneau covers
- 3 of 4 panels auto latch on
  4 panel tonneau covers
- Panel hinges are made of waterproof EPDM
  (Ethylene Propylene Diene Monomer)
- integrated aluminum gutters channel
  water away from interior truck bed
- fit is interior to bed rails so stake hole
  covers are unobstructed
- locking your tailgate also secures
  the tonneau cover
- easy, no drill installation
- wash with soap and water
- 1 year warranty on G2 & VP series
- 2 year warranty on HD, FiberMax and CS series
- 3 year warranty on F1 series

 


Tilt BAK : Hard Flush Fit Tilting Covers
BAK Industries does a lot of things right when they make their BAK
Tonneau Covers. But the one thing that stands out is the way they design their truck bed covers to fit inside the trucks rails allowing you to use the stake holes. The Tilt BAK tonneau cover capitalizes on this design concept to give you a one piece, hinged tonneau cover that you can stack up to a 500 pound load on and secure the load utilizing your vehicles stake holes. Hence, you don't have to remove the tonneau cover and temporarily store it somewhere while transporting a load under 500 pounds. A savings of time and effort! And all this in a lid that weighs about 45 pounds. Wow! How did BAK do it? Ya, you're right, they used a high density foam core sandwiched between TPO (thermo plastic olefin) on top and an ABS (acrylonitrile butadiene styrene) substrate underneath. So you get strength, scratch resistance and impact resistance all in one swell looking lid. You get BAK's patented drainage system to keep the truck bed insides nice and dry. The same key that starts your pickup also locks your tailgate to secure the entire truck bed. And, a no drill install. Makes you want a BAK tonneau cover, doesn't it? Nuff said.

Roll BAK : Heavy Duty All Aluminum Retractable Covers

OK, who amongst us doesn't like things that automatically retract. I want my venetian blinds at work to retract.

I love to play with DVD or Blue Ray players. I wanna give my filing cabinets a slight nudge and have them close smoothly. It's just in our nature to like this kinda stuff and BAK Industries satisfies your need for a retractable tonneau cover with their Roll BAK G2 product. Installation of this baby isn't the easiest tonno cover install. There are some self threading screws you use to attach the hanger brackets and you might have to drill some holes in the truck bed to drain the canister water. BAK also recommends you grease the rails periodically to keep everything moving smoothly. 

But if you want a heavy duty, durable, good looking retractable tonneau cover it's a small price to pay. Check out the BAK Industries website link above for a lot of great info on the installation and use of this great tonno. I think you'll find that once installed it's totally worth it! Let's keep on going.

BAK makes this retractable tonneau cover with super thick 1/2" aluminum slats that have been powder coated to last a lifetime and prevent rust (yah - aluminum rusts!). You get full and unobstructed use of your stake holes so you can secure up to 500 pounds of cargo you can carry on top of this lid. The slats retract effortlessly and quietly on self adjusting Teflon tracks into an ABS plastic canister with integral water drain. The weather seal are made from EPDM and you get BAKS patented drainage system to keep the guts of your truck dry. I could open and close one of these BAK tonneau covers all day and still not void the 2 year warranty! Did I say they are made in the USA like the other BAK products on this page?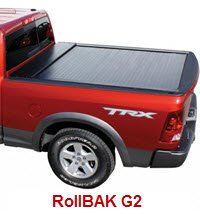 RollBAK G2 Additional Features
- weighs around 120 lbs
- dual latches for security
- lock tailgate to secure tonno
- full access to stake pockets
- optional toolbox canister lid
- latching positions every 18" or so
- rolling cover is felt lined underneath
- automatic spring tensioning system
- brush seals clean cover as it closes
BAK Roll-X Hard Rolling Tonneau Covers
Yup, I'm telling you this is really a hard rolling tonneau cover! Not like those nice pliable, soft and stretchy vinyl roll-up covers you are used to, this hard roller from BAK is made of aircraft quality aluminum slats covered with a leather textured vinyl. Weighing in between 55 and 75 lbs. this rolling cover is about 1/4 inch thick. The 1.75 inch wide aluminum slats allows the Roll-X to support approximately 400 lbs. of stuff that you evenly distribute on top of it. This tonno will lock in almost any open position, so you can stack your stuff in the truck bed and drive with the tonno in the open position. and when you close the Roll-X the sides of the cover are latched to the rail for the entire length of the truck bed. Which makes this roll-up cover very secure. I mean, you need a crowbar to pry this baby off the truck! OK, here's some more features you'll like: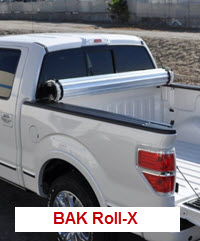 Roll-X Additional Features
- full bed access
- unobstructed rear view
- easy no drill installation
- wash with soap and water
- tonneau locks when tailgate locks
- extra low profile improves versatility
- use bed rails, extenders, tie downs, racks
- dual rear latches
- rubber perimeter seals
- easily add a toolbox
- 1 year warranty
- Made in the USA
BAK Tonneau Covers Popular Applications
- Chevy Truck Bed Covers
- Dodge RAM Tonneau Cover
- Dodge Truck Tonneau Cover
- Ford F-150 Tonneau Cover
- Ford Sports Trac Tonneau Cover
- Ford Ranger Tonneau Cover
- Ford Truck Bed Covers
- GMC Truck Bed Covers
- Nissan Frontier Tonneau Cover
- Toyota Tacoma Tonneau Cover
- Toyota Tundra Tonneau Cover
- Toyota Truck Bed Covers
- Honda, Lincoln, Mitsubishi, Suzuki Pickups
Note: You must have an RSS Reader installed and configured before clicking on the Orange RSS Button. An RSS Reader allows automatic download of changes/updates made to this website without having to visit this page. Saves time, effort and keeps you up to date.


Click Orange RSS Button to Subscribe to Site Updates