Advance Cover Tonneau Hard Folding Tonneau Cover
The Advance Cover Tonneau is manufactured by Advanced Folding Cover LLC and comes in both 2 panel or 4 panel models with the X5 Supra 4 Panel being the best known among tonneau aficionados.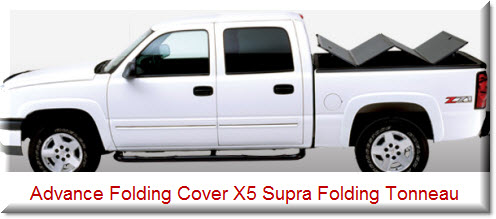 ---
The ease of install on the Advance Cover Tonneau X5 Supra stands a little above the rest of its competitors.

While you still have to install rails on each side of the truck bed, a lot of the associated hardware you normally have to affix to the rails is pre-installed at the Advance Cover factory. This saves you a bunch of time and hassle! The X5 Supra normally comes as a 4 panel folding tonneau but some of the short bed pickup models come in 2 panel. Here's more features to help you make up your mind. Keep in mind that this is a relatively light, yet strong tonneau cover that's really easy to install especially if you have a friend to help.


Quick Info for Advance Cover Tonneau
Cover Type 1 : Hard Tonneau Covers, Folding Tonneau Cover
Cover Type 2 : Hard Truck Bed Cover, Hard Folding Truck Bed Covers
Cover Type 3 : Custom Truck Bed Covers

Manufacturer : Advance Folding Cover LLC
Cover Weight : Approx 43 lbs.
Approx Price : from $700 to $800
Tonneau Cover Parts and Warranty : 877-723-8262


X5 Supra Tonneau
Cover Features

- Quick, drill-less installation
- Custom made to fit your
  make, model and year
- Full truck bed accessibility
- Watertight covers
  withstand tough road
  and weather conditions
- Use universal absorbent
  car/truck mats to reduce
  moisture, mud , dirt and
  odors in your truck bed
- Lightweight aluminum
  and stainless steel
  construction for
  added strength
- Holds up to 300 pounds of
  evenly distributed weight
  on top of tonneau cover
- Remove/replace cover in
  approximately 1 - 2 mins
- Most hardware is pre-
  mounted onto T-Rails
  at the factory
- Very convenient 4 corner
  slam latch and lock system
  for easy open and close
- panels made of EPS
  Styrofoam covered by
  aluminum skin
- panels connected with
  stainless steel hinges
- Comes in black,
  but is paintable
- Cover weighs about
  43 pounds
- Works great with 5th Wheels
- Clean up with soap and water
- Don't use wax on this tonno cover
- 1 Year Limited Warranty on parts



Advance Folding Cover LLC Popular Applications
- Chevy/GMC S10, Colorado/Canyon, Silverado/Sierra
- Dodge Ram, Dakota Truck Bed Covers
- Ford F150, F250, Ranger, Explorer Truck Bed Covers
- Nissan Frontier & Titan Tonneau Covers
- Toyota Tacoma & Tundra Truck Bed Covers
Note: You must have an RSS Reader installed and configured before clicking on the Orange RSS Button. An RSS Reader allows automatic download of changes/updates made to this website without having to visit this page. Saves time, effort and keeps you up to date.


Click Orange RSS Button to Subscribe to Site Updates