4Way Tonneau Covers
Wow! The 4Way Tonneau Covers are like one of those Chinese puzzles you can't figure out. They open from all four sides so you can load the truck bed up easily and then lock securely just like a good hard tonneau cover does. And the 4Way is one of the lowest priced lockable, hard covers on the market!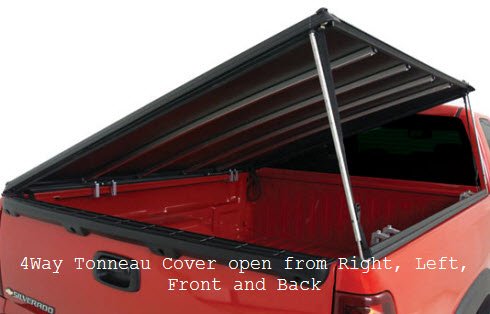 Attention !!! This tonneau cover is only available for pickups with short beds, i.e., 6.5 feet or less in length. Tonnos for long beds like the 8ft long bed Sierra or F-150 are not available.

There's some secret sliding mechanisms that let the 4Way do this kind of magic. And you'll only discover how the magic works when you install one of these tonneau covers for yourself.

4Way specializes in custom built tonneau covers for older and classic trucks. So customizing a truck bed cover for an Over The Rail Toolbox isn't any trouble. Note : the customization typically costs 20% more than an in stock 4-Way Tonno Cover. They are also one of the few companies that make tonneau covers for utility beds and utility trailers. The 4Way tonneau cover is made of a polyurea coated hardcore board that supports up to 200 pounds of evenly distributed snow but weighs only about 50 pounds. Hardcore is an industrial grade board made out of compressed wood and synthetic materials. Polyurea coating is the same kinda stuff they use for spray-in truck bed liners. 4Way uses a special process when coating the hardcore with polyurea to keep the surface very smooth and easy to cleanup with soap and water. It also prevents the cover from delaminating or warping.
The external frame that surrounds the hardcore and the roof bows is made from extruded aluminum. Because this is a hard truck bed cover it's also more secure than say, a soft tonneau cover.


4Way uses tubular brass locks to secure their tonneau cover in a locked position. This cover has features of both hard and soft tonneau covers and is a definite alternative when you need flexibility opening the cover (like you get with a soft tonneau) and a feeling of security when you lock it up (like you get with a hard truck bed cover). The 4Way does not lock the tailgate. You'll need an aftermarket tailgate lock if you don't have a locking tailgate.


Keep Truck Bed Clean & Dry
Most tonneau covers do a good job of keeping the truck bed area isolated from the weather and elements outside the truck. This is good unless there are coffee spills, water leaks, mud infiltration or other nasty stuff getting onto your truck bed. That great tonno prevents the truck bed from drying out. For that situation I use a universal absorbent car mat protector to soak up liquids and gunk. This also reduces odors and growth of molds and mildews in the truck bed area. 

Quick Info for 4Way Tonneau Covers

Cover Type 1 : Hard Tonneau Covers, Folding Tonneau Cover
Cover Type 2 : Hard Truck Bed Cover, Folding Truck Bed Covers
Cover Type 3 : Custom Truck Bed Covers

Manufacturer : Hard Top International, Saskatchewan Canada
Cover Weight : Approx 50 lbs.
Approx Price : Around $700, plus shipping
4Way Tonneau Covers Parts and Warranty : 800-261-1185


Features :

- 3 year warranty
- opens from any side
- custom made for your make and model
  pickup truck, even classics
- easy to install/remove, no drill install
- clamp only installation
- slightly textured surface is easy to clean
- comes only in black and is not paintable
- wash with mild soap and water
- Do not Wax. Protect with Armor-All, Son-of-a-Gun or
  303 Protectants
- almost water tight and very weather resistant
- works with most bed covers and rail covers
- drive with lid open in either side position (up to 50mph)
- drive with lid totally closed (up to 85mph)
- Do Not Drive with Lid Open in Front or Back Position
- haul long items over the tailgate
- doesn't interfere with tailgate operation
- pre-installed tie down straps ( helps with big loads) 
- heavy duty tubular brass cam locks on all 4 corners
- torsion bar to help raise the lid
- low priced for a lockable hard cover tonneau
- external frame and internal bows are aluminum
- clamps and mounting rails are aluminum
- adds about 2" of height to truck bed

4Way Tonneau Covers Popular Applications

- Chevy Trucks,
  Colorado, Silverado,
  S10, S15
- Dodge RAM
- Dodge Dakota
- Misc Dodge Trucks
- Ford F-150
- Ford Ranger
- Ford Super Duty
- Misc Ford Trucks
- Nissan Frontier
- Nissan Titan
- Toyota Tacoma
- Toyota Tundra
- Toyota Trucks
- GMC Truck Bed Covers : Canyon, Sierra, Sonoma
- Custom Truck bed covers for various work trucks, utility trailers
Note: You must have an RSS Reader installed and configured before clicking on the Orange RSS Button. An RSS Reader allows automatic download of changes/updates made to this website without having to visit this page. Saves time, effort and keeps you up to date.


Click Orange RSS Button to Subscribe to Site Updates