Gaylord Tonneau Covers
Gaylord Tonneau Covers or Gaylords Truck Bed Lids as they prefer to be referred to, manufacture a line of three basic resin filled, honeycombed, hard fiberglass tonneau covers.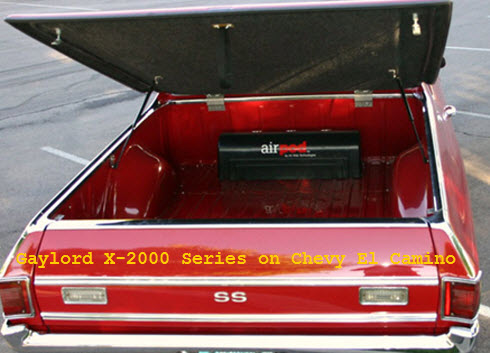 ---
Two of Gaylords "lids" , the Traditional and the X-2000 are hinged at the front of the truck bed while the Butterfly Lid is hinged down the center of truck bed. 
All models are lockable, weather resistant, have a wrap around rail design so they look OEM, have built in stainless steel cross bar hinges for strength and heavy duty gas struts to make that whole open and close procedure smooth. You can request a trimless lid and almost perfectly match your pickups paint color if you send them the factory color code. You can get some cool options like charcoal color carpeting on the underside of the lid. Looks to me like 55 years in the business has given Gaylords some great products and ideas.


Quick Info for Gaylord Tonneau Covers
Cover Type 1 : Hard Tonneau Covers, Hinged Truck Bed Cover
Cover Type 2 : Butterfly Truck Bed Cover, Butterfly Tonneau Cover
Cover Type 3 : Hard Truck Bed Cover, Custom Truck Bed Covers

Manufacturer : Gaylords Kustom ... Inc
Cover Weight :
Approx Price : $1300 to $1700
Tonneau Cover Parts and Warranty : 562-529-7543

Tip 2 Keep Your Truck Bed Clean and Dry
Using a tonneau may have some adverse side effects for your truck bed. The tonneau slows the rate at which your truck bed dries as it seals of the area. I'm using several universal absorbent truck mats to help reduce water, gas and other liquids on my truck bed. I also use them on top of my rubber floor mats in the cab. That way my boots don't slosh around in the coffee or muddy water that's typically loitering on the top of my rubber mats.

Gaylord Tonneau Covers Traditional Lid (TL Series)
- double rotary latch
- double neoprene
  weather seals
- nylon pull strap
- keyless remote access
  is optional
- 12 volt dome light
  is optional
- clamp on, drill-less install
- standard hinges



X-2000 Lid
- special X-2000 patented
  hinge system
- electric actuators to
  auto open the lid are
  optional
- double rotary latch
- double neoprene weather seals
- nylon pull strap
- keyless remote access is standard
- 12 volt dome light is standard
- clamp on, drill-less install



Butterfly Lid
- the hinge is down the middle of the truck bed
- so the lid opens from the side like a butterfly wing
- easy access from the sides makes contractors happy
- T Handle locking system
- 4 point locking system



Gaylord Tonneau Cover Popular Applications


- Chevy Trucks
- Dodge RAM
- Dodge Trucks
- Ford F-150's
- Ford Sports Trac
- Ford Ranger
- Other Ford Trucks
- GMC Trucks
- Nissan Frontier
- Toyota Tacoma
- Toyota Tundra
- Other Toyota Trucks
- Mazda Pickups
- Mitsubishi Pickups
- Isuzu Pickups
- Lincoln Mark LT
---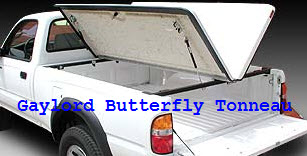 And here's a pic of the Gaylord Butterfly Tonneau getting ready to take off!!! Hope it lands softly when it comes down...
Note: You must have an RSS Reader installed and configured before clicking on the Orange RSS Button. An RSS Reader allows automatic download of changes/updates made to this website without having to visit this page. Saves time, effort and keeps you up to date.


Click Orange RSS Button to Subscribe to Site Updates