Herculoc Bed Covers
Secure Bed Covers
Note1: As of 01-Nov-2016 this product is manufactured under license to BrandFx Body Company. Gary Thacker, the previous manufacturer of the Heculoc describes the new Herculoc Models (named Composite FX3D and Composite EasyLift by the BrandFx people) in the following manner:

- Weight is 180-200 pounds, about half that of the old HercuLoc
- Easy opening and closing with gas and torsion springs
- Still the highest security of any truck cap
- Drive 75 MPH with the cover raised
- Honeycomb fiberglass top with gel coated exterior (like a boat)
- Lift assembly is zinc plated (no rust or paint headaches)
- Tolerates bed flexing that destroys other truck caps
- Shade at the job site meets Cal-OSHA 3395 requirements
Note2: The remainder of this page is for historical information purposes only. To view updated information on the new version of this product go to the BrandFx Website.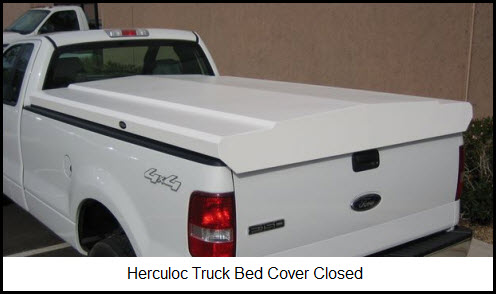 ---
Historical Info on Herculoc Bed Covers
Herculoc Bed Covers are made by Thacker Mfg Inc of Tucson AZ for contractors, police, emergency services or the ultra serious tailgater. These hard truck bed covers are made of 18-gauge galvanized steel with a white hammer powder coat paint finish(you can also get black or red) and come standard with a dome light. The manually operated "M Series" is designed for contractors and others who need a hard tonneau cover that more closely resembles Fort Knox than a pretty fiberglass tonno. Thacker guarantees the cover cannot be jimmied open! You can add ladder racks and put up to 1000 lbs on top of this cover without affecting its operation. The electrically operated "E Series" is a fav with emergency services and law enforcement. It's kinda like the pickup truck version of the Batmobile. The lid opens electrically, even with a load on top and is ready when you arrive at the scene because you can drive at up to 75 mph with the lid up.


Attention
Herculoc Bed Covers weigh upwards of 200 pounds and require professional installation. Drilling, caulking, denting, etching, clamping and a lot of other mechanical knowledge is required to properly install this security bed cover. Don't even try to do it yourself unless you've got a couple of really handy friends who can easily lift 100 pounds at a time over their head.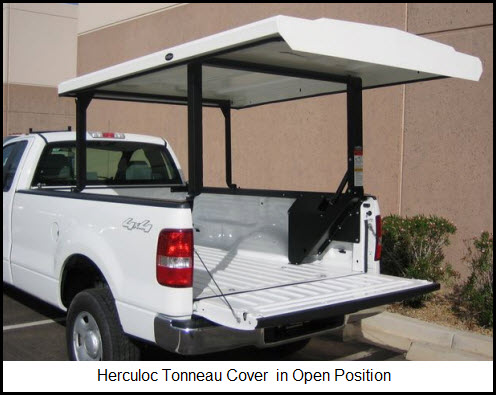 Quick Info for Herculoc Bed Covers
Cover Type 1 : Hard Tonneau Covers, Hard Truck Bed Cover

Cover Type 3 : Steel Truck Bed Cover, Steel Tonneau Cover

Cover Type 4 : Hinged Truck Bed Cover, Hinged Tonneau Cover
Cover Type 5 : Commercial Tonneau Cover, Commercial Truck Bed Cover

Cover Type 6 : Custom Truck Bed Covers


Manufacturer : Thacker Manufacturing Inc.

Cover Weight : 200+ lbs

Approx Price : $2100 to $2800+

Tonneau Cover Parts and Warranty :
520-743-7639


Electric Series

- all moving parts rotate on 1/2 in,
  oil impregnated bronze bushings

- lift assemblies are made of 10 gauge mild steel

- ball screw actuator on electric model rated
  at 1000 pounds

- prevents tailgate from being opened when
  lid is closed

- remote control on electric model

- emergency access system on electric model
  if remote fails

- can be driven at legal speeds with cover open

- 3 Year 36000 Mile Warranty on
  Herculoc Bed Covers



Contractor Series
- lift assemblies are made of 10 gauge mild steel
- folding leg assemblies rotate on 1/2 in. nylon bushings
- steel torsion springs in leg assemblies counterbalance lid weight
- internal rotary slam latches on each corner
- 2 rotary lock system
- one grab handle on each side of cover
- prevents tailgate from being opened when lid is closed
- can be driven at legal speeds with cover open
- either side can be opened using one hand
- 3 Year 36000 Mile Warranty


Keep Truck Bed Clean & Dry
OK, you've got a Herculoc Bed Cover that's built like a tank. It certainly keeps unwanted individuals out of your truck bed's interior. It also slows the rate at which moisture can escape the truck bed. Maybe a universal absorbent truck mat protector; to suck up coffee or gas spills, and reduce dirt and odors may just be a good idea. Hmmm... just a thought I had. I use them in my truck for just that purpose and to keep my cab mats dry.

Note: You must have an RSS Reader installed and configured before clicking on the Orange RSS Button. An RSS Reader allows automatic download of changes/updates made to this website without having to visit this page. Saves time, effort and keeps you up to date.


Click Orange RSS Button to Subscribe to Site Updates