Carpeted Car Mats


Carpeted Car Mats are a long time favorite of both auto manufacturers and consumers. They are cushy, absorb some liquid, hold dust/dirt, dress up your vehicle and command a premium price. They may closely match the color and texture scheme of your cars interior or be in stark contrast to it, in order to set a "mood" or make a statement.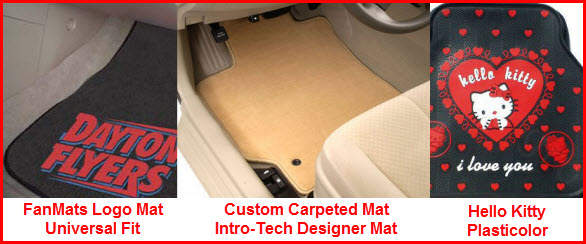 Carpeted Custom Car Mats may cover the floor pan (the area on the floor where you put your feet) better than your original mats. This is because the manufacturers of these custom carpeted mats use fancy 3-D laser imaging and measuring tools in conjunction with advanced CAD/CAM software to design and layout car floor mats than the vehicle manufacturer requires. This attention to detail gives you an excellent fit on the floor while still preserving your ability to "anchor" the mat to the floor using your vehicles oem anchor posts.
Carpeted Universal Car and Truck Floor Mats won't fit as well as a custom mat but will save you dollars. The universal fit still gives your vehicles floor and your feet a reasonable level of protection against liquids and dirt and will save you $$$. You also get the luxurious look and feel a carpeted mat gives your car or truck while still having room in your budget for some seat covers. I think you're getting the idea about universal fit car mats. They give you most of what a custom fit car mat does at a lower price. Let your pocketbook make the decision.
Now for My Favorite Type of Mats. Universal Logo Mats made from carpet. What can I say. I'm a sucker for a carpeted car mat that has my alma maters logo sewn into it. But you might like something else. How about a nice Ford Logo on a mat from FanMats? Or what about an Eagle or 4 Leaf Clover from Premier Global Accessories?

Making a Carpeted Car Mat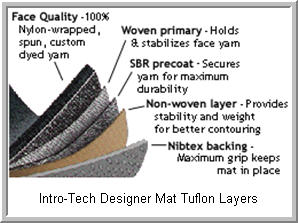 Carpeted car floor mats are made in layers. High density nylon yarns are twisted together, heat set and woven into little tufts of carpet. The more tufts of carpet per square yard the heavier and more plush the carpet. Typical carpet weights range from Averys Carpeted Car Mats 18 oz. Luxury Sport Mat which is the economical end of the Avery's product line to Lloyd Mats Luxe Mat that's made with a luxurious 48 oz. yarn weight carpeting.
The carpet may then be bonded to a polypropylene backing material which in turn is bonded to heavy latex for added stiffness. A water resistant layer is added to protect the vehicles carpeting. Premiere and Cover King back the mat with a heavy nibbed backing to prevent the mat from creeping into the accelerator or brake pedals, while the Intro-Tech Designer Auto Mat uses a new backing called "open cell foam" to prevent slippage.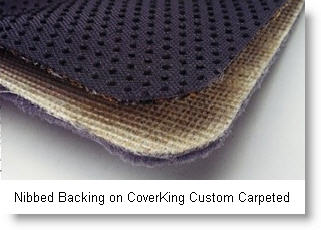 Finally most manufacturers sew a color coordinated edging on to finish the mat, with Nifty(Lund) adding a molded vinyl outer edge to prevent water and dirt from escaping the clutches of their Catch-All Mat .
To enhance the appearance of your carpeted car mat you may take advantage of the custom embroidering, personal monogramming or logo designs offered by manufacturers like Premier . Go even further and check out the anti microbial, anti static and stain repellent mat from Yes Essentials . It will even keep your car smelling good as you cry over your spilled milk!
Keep your Carpeted Mats Clean
You pay a lot for carpeted mats, whether they are of universal fit or custom designed. Since carpeted car mats end up with all the water, gas and oil, mud or other gunk that's on your shoes you need to treat them with some love and consideration. Try using some universal absorbent car floor mat protectors. These things will suck up spills, excess moisture, gas and oil, stains and help reduce the intrusion of water between your mats and your carpeting that leads to mold and mildew smell. Better yet you just take these protecting mats and put them straight into the washing machine and dryer. A lot easier than trying to wash a thick, plush carpeted car mat!
Ok, so you don't use the universal absorbent mats I described above and the beautiful, expensive, custom fit mats in your car fall victim to the unknown stuff on the bottom of your shoes. What do you do? You just check out our Clean Car Mats and Truck Mats page to discover a whole lot of techniques you can use to clean your mats, reduce mold and mildew, make your car/truck smell better and just overall improve your vehicles well being.

---
Note: You must have an RSS Reader installed and configured before clicking on the Orange RSS Button. An RSS Reader allows automatic download of changes/updates made to this website without having to visit this page. Saves time, effort and keeps you up to date.


Click Orange RSS Button to Subscribe to Site Updates