Premier Custom Auto Mats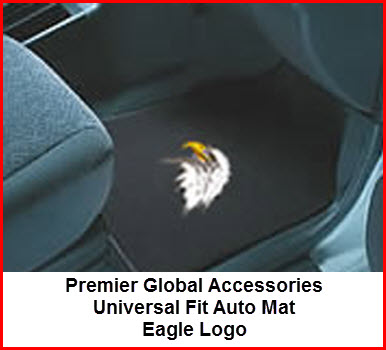 Premier Auto Mats come in two styles; the Premier Universal Logo Floor Mat and the Premier Custom Cut Floor Mat. The Universal Mat series fits most trucks, cars, vans and SUV's. If you need a customized, close fit the Custom Cut mats are for you. And if you need to further accessorize your vehicle with matching accessories then a trip to Covercraft Inc., the parent company of Premier-Global Accessories is in order.
In either case, universal fit or custom fit, you get thick, durable mats made from automotive grade nylon pile with a vinyl nibbed backing that prevents these mats from slipping on your vehicles floor.  You can also pick from the many Logos that Premier has available for your decorating pleasure. Premier will then embroider the high stitch count logo on a section of the mat that is not typically a high soil area. That way your logo stays colorful, shiny and neat for just a bit longer than normal. And use universal absorbent mats to help your Premier Mats stay looking good longer.


Premier Custom Auto Mats
The Custom Fit Auto Mats from Premier are designed to afford a maximum of protection to your vehicles carpeted areas.

The thick nylon carpet has a matching stitched edge to keep the mat from unraveling. If your car came from the factory with mat posts then Premier makes sure your new mats have matching grommets to secure the new mats to the floor. The custom fit mats are available in 11 colors. Custom monogramming, embroidery and a great collection of colorful logos are available for your viewing pleasure. So why not see if Premiere has one of your favorite logos or maybe a personal monogram to really spiff up this car mat.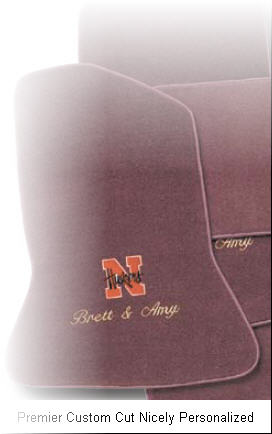 Premier Custom Auto Mats
          Quick Features

- Custom fit for your make and
  model
- Front, rear, cargo and trunk
  patterns available
- Thick nylon carpet construction
- Stitched edging prevent mat
  unraveling
- Rubber nibbed backing prevents
  mat slippage
- Grommets installed to match
  factory anchor posts
- Available in 11 colors
- Monograms, logos and
  customized embroidery
- Clean with gentle soap
  and water. Hose off.


Premier Universal Auto Mats
Don't have the bucks to spend on custom fit car mats but you still want to add some class and ambience to your car? OK, how giving the Universal Logo Mat from Premier a shot? You get the nice heavy nylon carpet, rubber nib backing and durable edging. You've only got two color choices; Beige and Smoke but ... Best of all though you get to pick from Premier's big selection of logos to have embroidered on your new mats. These mats come in 2 piece sets and are washable.

Logo Themes - Universal and Custom Fit

Peace Symbol
Poker Designs
Skulls
Flip Flops
Anarchy
Anchor
Ghost
Pink Flamingos
Cactus
Bulldog
Chihuahua

Ribbons
Baseball
Basketball
Bowling
Boxing
Football
Soccer
Golf
Surfing
Cheerleading
Tennis
Other Sports
Skunk
Cats
---
Roses
Zodiac Signs
Aliens
Devil Girl
Hearts
Kanji
Lightning Bolt
SCUBA Flippers
Star
Sun/Moon
Truck Girl
Rainbow
Pirate Flag
Checkered Flag
Hurricane Flag
Broncos
Horses
Indian Feathers
Horseshoes
Western Boot
Rodeo
Saddles




Dream Catcher
Kokopelli
Angel
4 Leaf Clover
Bear Claw
Black Labs
Black Widow
Butterfly





Bumble Bee
Cherries
Deer
Dolphin
Gecko
Lady BUg
Turtle
Wolf

... and lots more

Note :  As of 18-Nov-2014 the Premier Plus type of mat appears to be discontinued. It may still be available through the larger on-line websites that sell automotive accessories and products. So I left the info below just in case.
The Premier Plus Custom Cut Floor Mat is an upgrade to Global Accessories Premier Custom Cut offering. It comes with a denser pile than the Premier Custom and resistance to water, stains and odors built right into the carpeting. If you have messy kids or animals riding with you in the car the odor resistant feature of this mat makes it a good choice for you. I mean, you can dump milk, food, chocolate and all kinds of nasty kid gunk on these carpets and they easily cleanup even if the milk has soured and the food has decayed. You get to pick from 8 colors and you still get the 90 day warranty. And after all this you can still choose to take advantage of the beautiful monograms, embroidery and big collection of colorful logos that Global Accessories will customize these mats with ... So ... what are you waiting for? A personal invite from Global Accessories? 
Note: You must have an RSS Reader installed and configured before clicking on the Orange RSS Button. An RSS Reader allows automatic download of changes/updates made to this website without having to visit this page. Saves time, effort and keeps you up to date.


Click Orange RSS Button to Subscribe to Site Updates