Nifty's Catch-All Car Floor Mat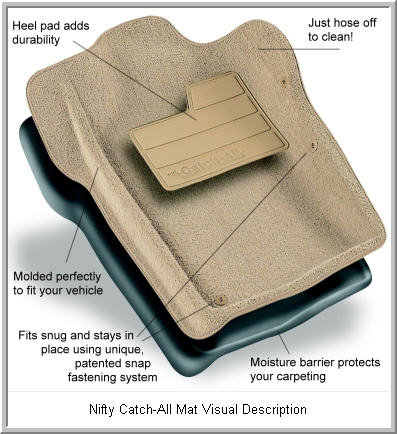 The Catch-All Car Floor Mat from Lund International (used to be Nifty) is a nifty way to keep mud, snow, dirt and other gunk off the carpet in your vehicle. This car floor mat is custom molded from layers of rubber backing and plush nylon carpeting to precisely fit the contours of your car's floor.
Note, Nifty is now owned by Lund International and most of the product names have been changed to reflect the new ownership. It's not flexible like a regular carpeted mat, but is rigid, kinda like a big bowl that perfectly fits the floor of your car. The nylon plush carpet is stain resistant, an exact color match for your car's model year and is bound on the edges with color coordinated binding.
You can use the patented "Snap Fasteners" that come with the mat to anchor to the vehicle floor or you may request grommets to match your car's factory anchor posts. If you do select grommets, just remember, you can't use this mat to wash dishes, as the grommets leave an open hole in the mat where the anchor post comes through!


TIP : Speed up your cleanup! Use universal absorbent mats to absorb additional liquids and dirts before they get between your new car floor mats and your carpeting. This reduces mold and mildew smells. These mats also reduce the amount of free water that can get on your shoes.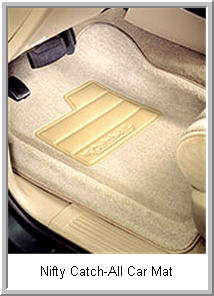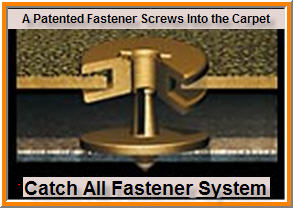 Nifty Catch-All Additional Features
- hose off to clean
- exact color matching
- raised outer edge to trap liquids
- electronically welded heel pad
- lifetime warranty
- Made in the USA
Note: You must have an RSS Reader installed and configured before clicking on the Orange RSS Button. An RSS Reader allows automatic download of changes/updates made to this website without having to visit this page. Saves time, effort and keeps you up to date.


Click Orange RSS Button to Subscribe to Site Updates