Crystal Clear Car Floor Mats
Well, OK, two out of six isn't bad, is it? Of the six most popular brands of clear car floor mats, two are not made of crystal clear vinyl. The clear Hexomat from Intro-Tech and the clear RubberTite Mat from Lloyd Mats are the culprits.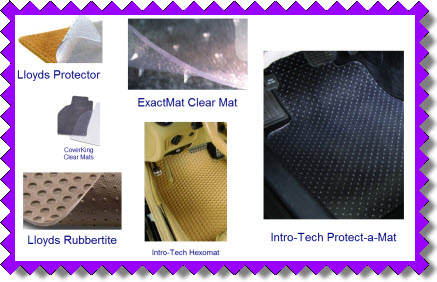 ---
They are both made from an advanced rubber composite material that's flexible, durable and almost as clear as their virgin clear vinyl cousins described below. Besides Clear, they also come in Black, Grey and Tan. But, I digress. The name Hexomat comes from the many small hexagonal wells molded into the Hexomat to absorb water and dirt. I don't know where the name RubberTite comes from ... I do know they are both a great choice if you want a car mat that looks like a cross-sectioned honeycomb(Hexomat) or a piece of swiss cheese(RubberTite) and can suck up a bunch of water and mud. And, uh, did I say that both Lloyds Rubber Tite and IntroTechs Hexomat fit like a glove?
So, the other four Clear Car Floor Mats from CoverKing , Intro-Tech Protect-a-Mat , ExactMats Crystal Clear Mat and Lloyd Mats Protector Mat are really made of clear vinyl. The vinyl is thick, of good clarity and almost feels soft to the touch. All the better if you decide to protect your existing car mats by topping them off with one of these clear vinyl babies.

All the brands of clear car floor mats above are backed with non-slip material and are textured to be non-slip on top. So don't worry, if you don't have really nice car mats to begin with, you can throw your old, gungy mats out and replace them with one of these champs.

Finally, some boring stuff. Clear Car Floor Mats are usually cut and precisely shaped from sheets of vinyl or rubber like material, in some cases, to the original mat specifications of your vehicle. They are used primarily to protect your car, truck, van or suv carpeting and floor mats from wear and tear while still allowing the original carpet/mats to be visible but might not always fit perfectly over the top of your existing suv, van, truck or auto floor mats. The clarity, thickness and feel of the vinyl or rubber like material are important considerations when choosing this type of rubber car floor mat. They are usually nibbed or channeled on the back and textured on the front to prevent slippage.
Tip !!! Make sure any mat, clear or otherwise, that you place on top of an existing car floor mat is adequately anchored to the other mat and to the floor to prevent bunching up or interference with automobile controls (like brake and accelerator pedals).

Cleanup is similar to a regular rubber car floor mat. The vinyl car mat doesn't absorb water/mud and usually doesn't have raised edges, so beware, water and mud may overflow the mat and get under the mat making the carpet smelly and soggy. While this type of mat is resistant to mold and mildew it still doesn't stop accumulation of moisture and gunk between the mat and your vehicles carpeting which may result in the growth of mold and mildew. A Universal Absorbent Car Floor Mat can help prevent the buildup of water and dirt on the surface of the mat, prevent it from getting on your shoes, and keep your carpet dry and smelling good.


Note: You must have an RSS Reader installed and configured before clicking on the Orange RSS Button. An RSS Reader allows automatic download of changes/updates made to this website without having to visit this page. Saves time, effort and keeps you up to date.


Click Orange RSS Button to Subscribe to Site Updates