Custom Carpeted Truck Mats
Carpeted, custom fit, truck mats for your Class 8 Big Rig are available from a variety of distributors and manufacturers.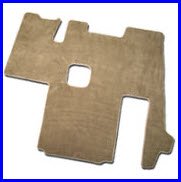 Fleet Interiors(Averys) Carpeted Truck Floor Mats.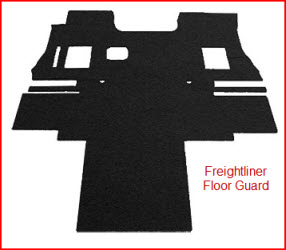 Freightliner Floor Mats from now defunct Class 8 Products.
---
Most of these companies carry floor mats for Freightliner, Kenworth, Peterbilt, International, Volvo, Western Star or Mack. The mats are typically made from automotive grade polypropylene or nylon yarns, come in variety of colors and can be embroidered with initials or a logo. As an alternative to a floor mat, you may want to consider a commercial strength carpeting that covers the entire floor of your truck, including the sleeper area. Keep your mats and your carpeting in better shape and reduce cab odors by using universal absorbent truck mat protectors. Now, let's look at some specific manufacturers.

Fleet Interiors is a sister company of Avery's FloorMats. Both companies are subsidiaries of Guardian Industries. It appears that the Fleet Interiors Product Line is now being branded as Averys as I review these products on 10/8/2014. Fleet Interiors (Averys) has the most extensive collection of truck floor mats available in the industry. Ranging from economy to luxurious European style berber mats, Fleet will have a set of mats to fit your budget. Fleet Interiors also manufacturers a one piece truck mat. Heel pads, edge serging, custom personalized embroidery and an awesome collection of logos are available for these mats. Here's a quick summary of the different truck floor mats, all made in the USA, from Fleet Interiors / Averys.
Luxury Sport 18 oz. economy polypropylene mat

Touring 22 oz. tufted nylon yarn in 25 colors

Grand Touring 28 oz. tufted nylon yarn in 13 colors

Luxury Touring 42 oz. nylon yarn with sculpted, serged edges in 5 colors

Newark Auto Products is based in East Orange, New Jersey. The company makes and sells both protector floor mats and replacement carpeting for Class 8 trucks.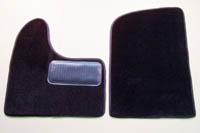 Newark Auto Products Protector Carpet Floor Mats for Class 8 Big Rig Semi Trucks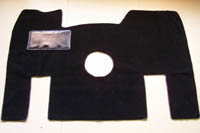 Newark Auto Products Replacement Carpet for Class 8 Big Rig Semi Trucks
---
The Protector Floor Mats are made from an 18 ounce cut pile polypropylene carpet. The edges are cloth bound to prevent unraveling. There's a vinyl heelpad on the drivers mats to prevent wear through and to protect your precious leather boots! You can buy these mats for the Freightliner FLD & Century models, and for some Kenworth, Peterbilt, Mack and Volvo models.

Newarks Replacement Carpeting is made with a deep plush, cut pile carpeting that is heavily padded on the back to reduce noise and keep your tootsies warm! Just like their floor mats, Newark sews binding around the outside edges and puts a heel pad just where it should be for the driver. All in all, its a pretty quick and efficient way to replace the old ragged carpet in your rig. You can buy these mats for the Freightliner FLD & Classic & Century models, and for some Kenworth, Peterbilt, Mack and Volvo models.
Superior Mats LLC is based in Russellville Arkansas. The company has manufactured custom fit floor mats for Class 8 Trucks since 1995. Their factory and workers are protected by several vicious Chihuahua guard dogs – so don't mess with them! Note, on 10/8/2014 this company appears to be Out of Business.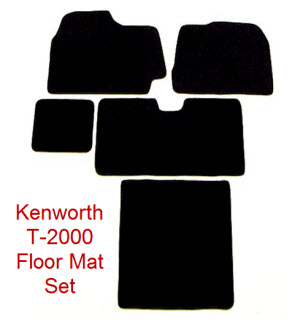 Superior's mats are constructed from 20 oz or 24 oz automotive grade nylon carpeting. They are backed with 80 oz rubber nibbed backing – so they don't slide on your floor. The edges are bound with nylon mesh tape and you can pick from 4 colors (for 20 oz carpet) or 7 colors (for 24 oz carpet). The mats are stain resistant and cleanup is with soap and water.


Note: as of 2/1/2017 these truck floor mats are sold through the Lund International website and from authorized distributors.
Belmor Heavy Truck Products is a sister company of Nifty Products ( the manufacturer of the Catch-All product line for cars, vans and light trucks) and both companies are divisions of Lund International.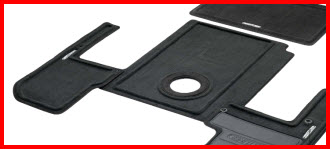 Belmor's (Lund International) custom fit Catch-All truck mats are made from rugged automotive grade nylon carpet. A raised, molded outer edge prevents liquids, mud, snow and gunk from escaping the clutches of the Catch-All mat. You can get OEM or custom logos embroidered on the included heel pads. These truck mats come in black or grey and use a patented snap fastener system to keep the mat from sliding on the floor. As of 2012 Belmor has discontinued its' truck floor mat product line except for a few International models. If you really need the old Belmor quality mats though, give them a call and see if they can help you.
Class 8 Products brings a nice alternative to the world of custom fit truck floor mats. Class 8 Products manufacturers a pre-cut, commercial strength carpeting that covers the entire floor of your truck, including the sleeper. Holes are pre-cut for shifter, seatbelts, seats, air hoses, etc. The carpeting can be installed over existing carpet or rubber floors since it has a non-slip backing to keep it securely in place. You can clean the carpeting with full strength bleach and/or a pressure washer, if you feel the need! Currently, only Freightliner, Peterbilt and Kenworth patterns are available. You can also get the same durable carpeting in a 3 piece mat set with custom logos. Note, on 10/8/2014 this company appears to be Out of Business.
Note: You must have an RSS Reader installed and configured before clicking on the Orange RSS Button. An RSS Reader allows automatic download of changes/updates made to this website without having to visit this page. Saves time, effort and keeps you up to date.


Click Orange RSS Button to Subscribe to Site Updates