Berber Auto Floor Mats
Intro-Tech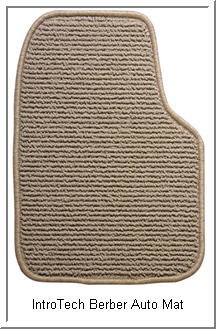 Note: As of 14-Jan-2017 we have observed that IntroTech no longer manufactures these Berber Weave Luxury Car Mats. Rather, Designer Mat International (DMI), a company associated with IntroTech has assumed the manufacturing and distribution of this product. The remaining info on this page is superceded by the new info page for DMI. This page has been retained for historical information purposes only. 

A nice pair of auto floor mats from Intro-Tech , constructed of a tight pile Berber carpet made of 100% polypropylene yarn, is just what your car needs. You get maximum wear resistance and a Berber carpet is pretty good when you need to scrape mud off your shoes.

---
The little ridges in the carpet trap dirt, dust and liquid. The mat edges are serged with matching or contrasting colors. Rubber nibs on the bottom of the mat prevent it from slipping. If you want to increase the elegance quotient of your car, get a pair. Don't forget to check out the nice optional embroidery you can have stitched on these mats. Your personal initials or name embroidered on your car mats gives a certain air of prominence to your car.


Intro-Tech Berber Features:
- over 10000 patterns
  for a custom fit
- made from 100%
  polypropylene yarn
- serged edges to
  prevent mat unravel
- rubber nibs to prevent
  the mat from sliding
- available in 5 colors
- very tight weave
- Lifetime Warranty
- Made in the USA


Stop Dirt, Stains and Smells
Universal absorbent mats will
help prevent stains and smells
on your berber car floor mats.

Alternative Berber Car Mats
- Lloyd Mats Berber Car Mat
- Designer Mat International Berber Car Mat
- Covercraft Berber Car Mats
- Averys Berber Car Mats

Note: You must have an RSS Reader installed and configured before clicking on the Orange RSS Button. An RSS Reader allows automatic download of changes/updates made to this website without having to visit this page. Saves time, effort and keeps you up to date.


Click Orange RSS Button to Subscribe to Site Updates